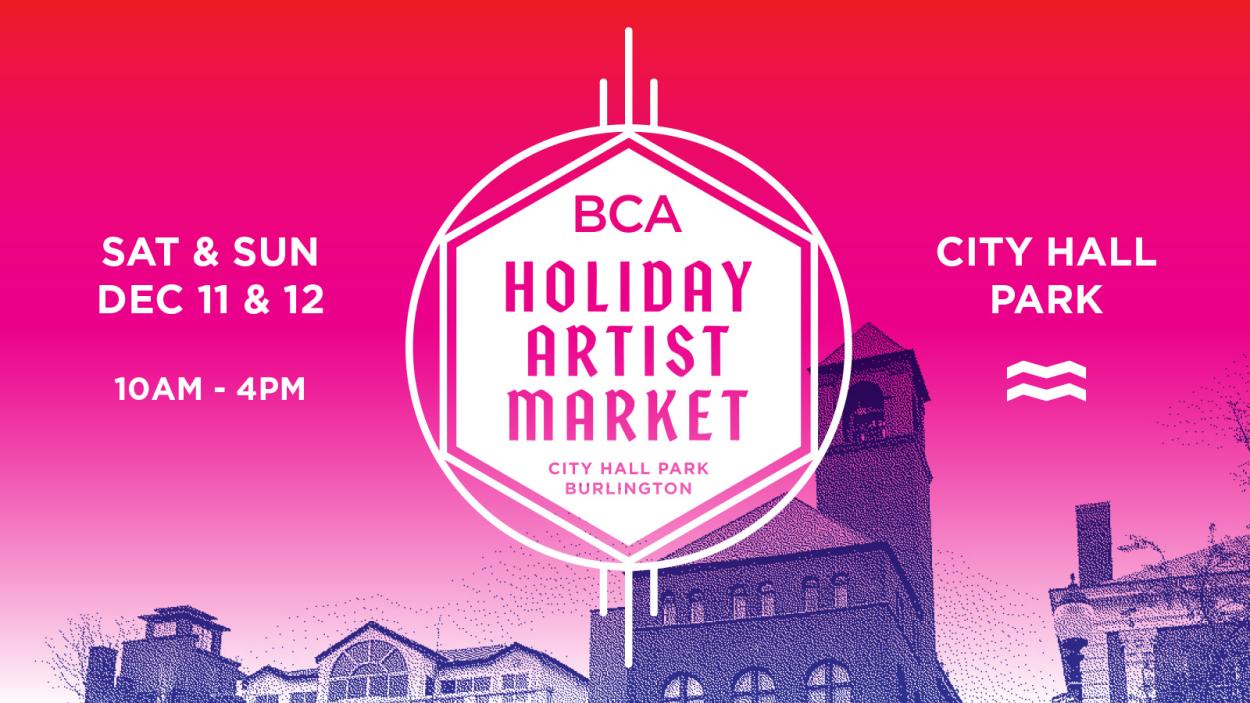 The 2021 BCA Holiday Artist Market takes place Saturday-Sunday, December 11-12, in Burlington's City Hall Park. The market offers a unique, contemporary, and diverse shopping experience that supports local artists.
With support from Love Burlington.
---
Participating Artists:
Forest City Designs, Todd Cummings
todd@forestcitydesigns.com 
https://www.forestcitydesigns.com/ 
IG: @forest_city_designs 
Forest City Designs creates travel prints, cards, and apparel using drawings and photographs created by the artist/owner Todd Cummings. These prints are inspired by Cumming's favorite Vermont natural sights, eliciting warm, nostalgic memories for the state's beauty, and the iconic Green Mountains. 
MJH Ayurvedic Body Oils, Marisa Hall 
marisa@mjhyanda.com 
IG: @mjhyogaveda 
MJH Ayurvedic Body Oils + Ritual Elixirs represent a unique offering to the Vermont community. Drawing from the owner's background in Ayurvedic studies and herbology, they have crafted a line of nutrient-rich, nourishing body oils and topical elixirs that demonstrates a cross-cultural blend of Western and Eastern plant therapeutics. 
Edie & Glo, Kelly Hickey
edieandglo@gmail.com 
FB: Edie & Glo  
IG: @edieandglo 
Edie & Glo makes upcycled clothing and accessories from vintage fabrics. Creating their own patterns, each hand-sewn creation is unique and well-made. With a range of 26 different types of items for sale, there is a wide selection of choices for shoppers. 
Cedar Tree Pottery, Jessica LaBonte 
cedartreepottery@gmail.com 
www.cedartreepotteryvt.com 
IG: @CedarTreePotteryVT 
Cedar Tree Pottery creates functional, wheel-thrown stoneware pieces including mugs, serving bowls, spoon rests, and vases. With hand-brushed glazes adorning the surface, these exceptionally crafted works that make excellent additions to any home. 
 
A Revolutionary Press, John Vincent  
arevolutionarypress@gmail.com 
Revolutionary Press creates original prints and cards that draw upon historical and contemporary thoughts, quotes, and poems and using a variety of traditional and experimental relief printing techniques. Pairing text with visual imagery on handmade paper, the artist creates each message with individual, hand-set type from 19th and 20th century typeface. Revolution Press rejects quick, contemporary digital imagery to embrace the rich detail and art of traditional typography.   
 
Rory Pots, Rory Shamlian 
roryshamlian@gmail.com 
IG & FB: @Rorypots 
Rory Pots is a small-batch ceramics business inspired by the human experience.  Evoking memories and everyday living, Rory Pots creates relatable pieces that invite individuals to hold, touch, drink, or eat from their finely crafted forms.  Consumers instantly connect with their simple, clean lines and stylish design. 
 
GB Fused Glass, Gabriele Baumann 
gamabaumann@burlingtontelecom.net 
IG & FB: @gbfusedglass 
GB Fused Glass offers handmade glassware that contains bright, decorative patterns and colors culminating in clean modern designs. Baumann is inspired by her European heritage, nature, textiles, photography, geometric patterns, and re-occurring color themes. The result is both functional and beautiful, with glass bowls, plates, and votives in a variety of styles. 
Adler Ceramics, Adler Chris 
addie.chris@gmail.com 
IG & FB: @adlerceramics 
Adler Ceramics creates wearable and decorative ceramics that are entirely hand-built.  Based out of Burlington, VT, the artist enjoys using bright colors, soft textures, and impressions that represent spirit, joy, and creativity. Adler Ceramics aims to instill hope and positivity in buyers and the world with her work. 
 
Olivia Stone Jewelry, Olivia Glascoe 
oglascoe@gmail.com 
IG & FB: @oliviastonejewelry 
Olivia Stone Jewelry makes hand-crafted botanical jewelry using pressed flowers and forest finds from Vermont. Using a press, the artist prepares the botanicals with a non-toxic epoxy resin that preserves the organic material while giving the work functional strength and durability. Metals including brass and 14K gold-filled wire, are used to form earrings and wall hangings that capture a preserved moment from nature.  
Cravn59 Jewelry, Meredith White 
cravn59@gmail.com 
IG & FB: @cravn59 
Cravn59 creates lightweight jewelry comprised of leather remnants and mixed metals. Using die cuts on a press or roller, Cravn59 cuts the leather into geometric shapes and individual patterns The artist combines the leather pieces with mixed metal such as brass, to create a finished product that is naturally beautiful. 
Stain Studio, Lindsay Damici 
stainstudioco@gmail.com 
IG & FB: @thestainstudio 
Stain Studio makes hand-dyed tie-dye apparel and accessories in a large array of sizes and styles. Focusing on an eco-conscious mentality, many raw materials are sourced from the manufacturer Allmade - an environmentally friendly company that manufactures their shirts from partially recycled plastic bottles. These shirts help lower our impact on the planet, and are also SUPER soft and cozy for all who wear them! 
 
Grooves and Grain, Alyssa Guyette 
info@groovesandgrain.com 
IG: @groovesandgrain 
Grooves and Grain believes in slow fashion and sustainability, shown through their commitment to source leather from surplus supply and remnants from the upholstery industry. Grooves and Grain uses techniques such as patchworking, hand painting, and dying to transform each hide into something entirely new. The collection of work, spanning from bags and backpacks to small clutches and wallets, show a great love for the outdoors as well as for retro fashion. 
Amazing Vermont Calendars, Jonathan Hart 
jonathan@amazingvermont.com 
IG: @amazingvermontcalendars 
Amazing Vermont Calendars showcases the natural beauty of Vermont in calendars, plaque prints, and planners. With over 45 years of experience in photography, Jonathan has captured Vermont in all its seasons and colors. 
 
Moontan Creations, Lucy Jermyn 
loosegerm@gmail.com 
Moontan Creations offers a variety of clothing and accessories, including thrifted and upcycled tees, dresses, bags, skirts, and handmade jewelry with a focus on gender and size inclusivity. Upcycled items are reworked through sewing, painting, bleaching, and embroidery to form unique and sustainable designs. 
Gosia Meyer Jewelry, Gosia Meyer 
gosiameyer@hotmail.com 
IG: @gosiameyerjewelry 
Gosia Meyer Jewelry offers delicate jewelry made of sterling silver, 14K Gold-Filled, Rose gold filled and 14K solid gold pieces accented by gemstones and freshwater pearls. All of her one-of-a-kind pieces are designed and made by hand in her Burlington, VT studio. 
 
Zoe Rae 
zobirdpottery@gmail.com 
IG: @zobirdpottery 
Zoe Rae creates functional, handmade ceramics that bring beauty to your everyday life. Designed and produced by the artist, all creations are wheel-thrown in black, brown, and speckled stoneware that is inspired by the natural world and the artist's local community. 
 
Dakin Fuller  
Email: karamtorres@gmail.com 
IG: @fine_forager 
Dakin Fuller makes original artwork that is designed to be accessible to our community and to appeal to a wide gamut of art lovers. Colorful work ranging from original paintings, refrigerator magnets, and drawings will be available for purchase in their booth.  
 
Amjed Jumaa Art, Amjed Jumaa 
amje570@yahoo.com 
https://vermontforall.com/amjedjumaa 
IG: @Amjed.Jumaa2185 
Amjed Jumma creates a variety of colorful paintings and prints that tell a dynamic story of the artist's journey to America from his homeland of Iraq. Using bold, expressionistic brushwork, Jumma conveys themes that are both personal and universal.    
Found & Feral, Molly Bosley  
foundandferal@gmail.com 
IG: @foundandferal 
Found and Feral makes minimalist brass jewelry inspired both by travel and Turkish metal techniques. The large array of designs and textures are a result of the artist's love of history, textiles and architecture. Offering necklaces and earrings, this work makes a great gift!  
 
Malas & Mandalas, Laura Neal  
laura@malasmandalas.com 
IG: @malasmandalas 
Malas & Mandalas is a jewelry and wellness brand rooted in bringing mindfulness and intentionality to the forefront of everyday life. Inspired by a trip to India, Laura Neal began making gemstone jewelry such as necklaces, bracelets, earrings, and more.  
Hemlock Shop, Gina Glenbowski  
glenbowskig@gmail.com 
IG: @hemlock_shop 
Hemlock Shop offers hand-made stone jewelry made from crystals and precious stones. The creator of Hemlock Shop, Gina Glenbowski, wishes to share the healing powers of nature through her wares. Selling necklaces, earrings, bracelets, hair clips, keychains, magnets, and more, there is a gift for everyone! 
Barnes Made, Kaity Barnes  
kaity@barnesmade.com 
IG: @barnesmade 
Barnes Made is the creator of artfully designed, aromatic, and gentle products. They make natural soaps, candles, beard oils, and salves that are great for all occasions.  
 
MTN GRL Studio, Zarabeth Duell  
zarabeth.duell@gmail.com 
IG: @mtngrlstudio 
Printmaker and painter Zarabeth Duell is the person behind MTN GRL Studio. Offering original artwork, earrings, ornaments, and postcards inspired by the natural Vermont landscape, this shop gives anyone the chance to take a little of the green mountain state home! 
New Century Woodworks, Adam Wager  
adamrwager@gmail.com 
IG: @newcenturywoodworks 
New Century Woodworks is a company started by woodworker Adam Wager. Wager creates incredible hand-turned bowls, platters, holiday ornaments, bottle stoppers, and vases that look lovely in any home.  
Back to Events