In addition to our exhibitions at the BCA Center on Church Street, BCA hosts external exhibitions at partnering locales in and around Burlington. All artwork is available for sale. For more information, to purchase, or to see additional works by these artists, please contact Kate Ashman at (802) 865-7296 or kashman@burlingtoncityarts.org.
Image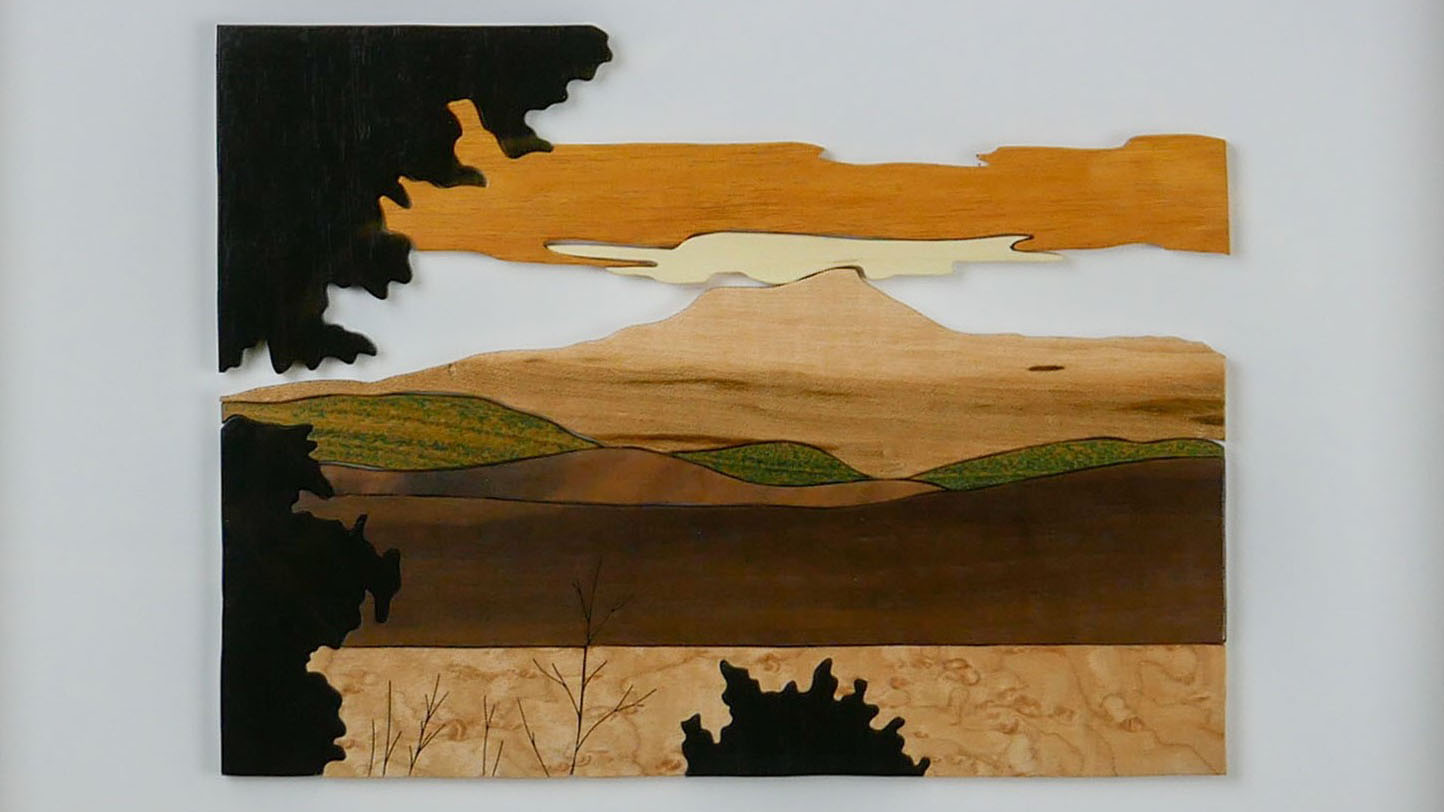 Airport Gallery
The Burlington International Airport features Vermont artists from BCA's External Exhibitions program in several spaces. These exhibits are located in the Skyway and Gates 1-8 (both located on the 2nd floor) as well as above the escalator in the main building. Artwork rotates every few months in these locations. These exhibitions run through June 2022.
Howard Center Arts Collective, mixed media group exhibit, Skyway 
Sixteen members of the Howard Center Arts Collective have addressed the theme "Arrival and Departure" for this exhibition, each in their own unique way. Through their interpretations, we 'arrive' in and 'depart' from geographical areas, physical spaces, memories, dreams, mental states, and life itself.
Each artist was asked to make their work on a 20" x 20" canvas. For some, this came naturally. For others, it was a new and compelling challenge, encouraging them to step out of their comfort zone and into new mediums and practices. The artists all share their thought processes along with their work, and they welcome you to consider your own interpretation of "Arrival and Departure."
The Howard Center Arts Collective is open to adult artists who have lived experience with substance use and mental health challenges, via their own personal lived experience, through family members or friends, or through their work. Artists of all skill and experience levels are welcome, and no connection to Howard Center is needed to participate. Their mission is to ensure that there are opportunities for artists with lived experience of substance use and mental health challenges to connect, create, and exhibit work. They deeply value the transformative power of the creative process and of being part of a community that cares for and supports one another. For questions or more information, contact them at artscollective@howardcenter.org
Sam Macy, wooden shadow boxes, Gates 1-8 (pictured)
Sam Macy is a graduate of The University of Vermont where he studied mathematics, art, and architecture. His love of the outdoors and the natural beauty of each species of tree-inspired his vision to create not only iconic landmarks and landscapes but commissioned pieces as well.
Sam lives in Vermont with his wife, Ali and GSP pup, Blue. When he isn't head-down in his scroll saw, he loves spending time outside. Whether he is messing around in the back yard, building a pigeon loft, hiking, paddle boarding, snowshoeing, or finishing up something on Ali's "honey-do" list, he makes sure as much of it as possible happens in the VT snow or sunshine. He is constantly looking for new projects or things to learn which is where the inspiration for so many of his Shadow Boxes comes from.
Image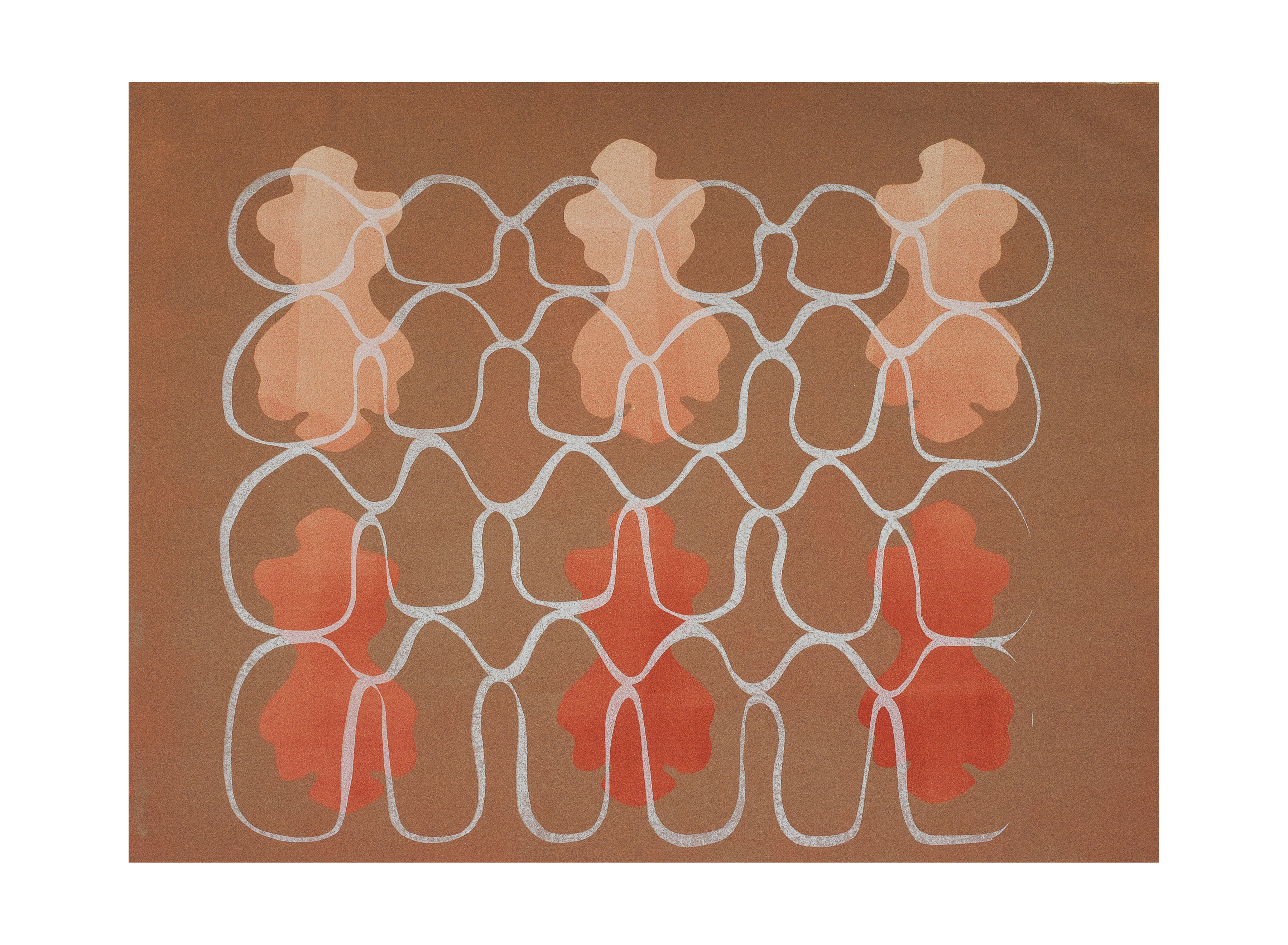 City Hall
The City Hall Gallery is located on the main level of Burlington's City Hall and features Vermont artists from BCA's external exhibitions program on a rotating basis. This exhibit runs through the end of May.
Elizabeth Powell
Bodily, suggestive, and alluring, Powell's work is often comprised of torsi-like forms complete with breasts, belly, and pelvis. The imagery comes from a lexicon of figures that she began developing when she was immobilized by an illness. Experiencing physical limitations, she instinctively began to draw and abstract the shape of her own body to reconnect and reclaim it. She now draws these forms automatically and obsessively. They now deviate far from the figure, yet remain cohesive and bodily.
While she makes overt references to the body, she also creates shapes that resemble bones or organs; visceral and sinewy. The forms are unusual, riddled with bulbous protuberances, abject and grotesque. Yet, they are beautiful. Unexpected and sometimes disconcerting, the forms are not quite what they are expected to be from the first impression of beauty, symmetry, and patterning. They retain autonomy as they tease perfection with a pseudo-repetition. The empowered forms are somewhat contradicted by the overlying skeletal structures that often accompany them.
The "cages" or "nets" entered her work when, on a quest for plain, utilitarian underwear, she was pulled into the abyss of online shopping. She became fascinated by over-the-top lingerie. She is intrigued by the way the fabric forces women's bodies into a series of geometric shapes as if packaged. Between the nets and figures, her work is able to begin exploring the perplexities of femininity created by the societal decorum of beauty and the conflation of expression and repression found in the female form.
Image
Hilton Garden Inn
BCA was honored to partner with the Hilton Garden Inn to select artwork from 10 local artists to be included in the design and décor of Burlington's newest boutique hotel. Learn more about Hilton Garden Inn here. This exhibition is ongoing.
Casey Blanchard
Primarily a self-taught artist, Casey explores her experiences through the engaging and often     unpredictable print medium of monoprinting. She is most interested in the spiritual aspects that emerge in the image, particularly relating to how we live in the world and how the world lives in us. In the beginning the work may be a search for answers, but in the end it's more about being here without them.
Casey Blanchard was born in Greenwich, CT in 1953. She lives in Shelburne, VT with her husband, Dan Cox, and their daughter, Julia Cox. Her artwork is found on the walls of health care facilities, private residential collections, corporate offices, the hospitality industry, on web designs and various published materials.
Johanne Durocher Yordan    
Johanne is a Burlington based artist who works out of her studio on Pine Street. She was born in Quebec, Canada, but has lived most of her life in Vermont. It was not until 1998 that Johanne began committing herself to her artwork and finding her own voice. She studied at the University of Vermont and has since developed a diverse body of work that is a testament to her ability to succeed as an independent artist. Creating work that fits a variety of audiences, while always building upon her unique self-taught style, is the secret to her success. Johanne has always been the type of person who explores on her own, tapping into the unknown and developing her own fashion and techniques. Many of her paintings include found or collected items which add depth and meaning to combine form and function to her work. Her abstract work captures her emotions and represents her unique style and expression. Johanne has exhibited her work extensively throughout Vermont in both solo and group exhibitions over the past 12 years.
Cameron Schmitz
Cameron Schmitz grew up in Greenwich, Connecticut and spent idle time in her youth drawing. Encouraged by two artistic parents, including her mother who is also a painter, she learned at a very early age the joy and satisfaction of participating in the visual arts. 
Schmitz holds a Master of Fine Arts in Painting from the Pennsylvania Academy of Fine Arts and Bachelor of Fine Arts in Painting & Drawing from the University of New Hampshire, in addition to studying Art and Art History at Studio Arts Center International in Florence, Italy. 
Following a month-long artist residency at the Vermont Studio Center in 2006, Schmitz moved to Vermont after discovering Vermont's rugged landscape to be uniquely inspirational. Now located in the Brattleboro area, Schmitz actively exhibits her work regionally and nationally. Her work has been featured at Fitchburg Art Museum's biannual exhibition, Ne England/New Talent, Green Mountain College, Kyoto Seika University in Japan, Emory University, Northern Arizona University Art Museum, and Rogue Space in Chelsea, New York. Her work is represented by The Drawing Room Art Gallery in Cos Cob, CT and Furchgott Sourdiffe in Shelburne, VT, and she is an artist member of the Copley Society of Art in Boston. In addition to her painting practice, Schmitz is also the Gallery Curator of The Drawing Room Art Gallery and teaches painting at the River Gallery School in Brattleboro, VT.
Carl Rubino
 
I strive to create unique interpretive, impressionistic and abstract images that relate my personal vision of or reaction to the subject matter before me.   Before I even pull out the camera I try to experience all that my subject reveals, or even what it makes illusive – not just the obvious, like the literal view, the colors, texture and patterns - but the less obvious sensual aspects, the energy and the "feeling" that it conveys. Whether in landscape, abstract, street photography, fine art nude or whatever else captures my interest, I seek to find and interpret life's visual symphonies, one click at a time. 
I feel that to a large extent my photographs consist of three different points of view: the raw material that is the literal subject matter of the image that my camera captures; what I see, sense, and work to portray when I interpret that subject; and what the viewer sees when looking at the image on the wall.  Those may be three very distinct views of what is essentially rooted in the same thing.   That, to me, is stimulating art.  And that is a great part of what draws me to photography.
Jeff Schneiderman 
Jeff Schneiderman works as a wedding, portrait and fine art photographer in Williston, VT.  He has been taking photographs for over 35 years, traveled extensively throughout the U.S. and the world and has made Vermont his home for the last 27 years. Patterns are a major theme in Jeff's work as he is fascinated with the designs in nature how they are reflected in things manmade.  More of Jeff's work can be seen at: www.jeffschneiderman.com."
Krista Cheney
Krista Cheney is a native Vermonter, currently living in St. George, Vermont. She studied English Literature and Agricultural Economics at the University of Vermont. She has studied photography since 2003, taking classes and workshops at local venues and the Maine Media Workshops in Rockport, Maine.
Carolyn Enz-Hack
Carolyn Enz-Hack's work includes painting, sculpture, and scenery design. While she has spent most of her life on a farm she holds a degree in theatrical design from Rutgers University and has spent years designing for the theatre. Her rural sensibility is informed by themes explored in ancient theatrical and religious literature, and by developments in cross-disciplinary Science. Each piece is an attempt to process the exterior world through an internal lens. Her most recent solo exhibitions have been at the Castleton Downtown Gallery in Rutland, Vermont, and Creare Inc. and the Dartmouth Hitchcock Medical Center both in Lebanon, New Hampshire. She is the recipient of a Vermont Arts Endowment Award, a painting merit award from the Chaffee Center for the Arts, a residency at the Vermont Studio Center, and her work has been selected for exhibition in regional and nationally competitive shows.
Erinn Simon
Erinn Simon is a fiber artist and yarnbomber. She crochets tapestries, toys, baby mobiles, vegetables, baked goods, blankets, scarves for trees, and the occasional bloodthirsty zombie cupcake. Her work has appeared in group shows in Burlington, Seattle, and Australia and she ships her one of a kind creations to customers around the world. She lives in the Old North End of Burlington with her husband and three kids. You can find her on facebook as Callie Callie Jump Jump.
Image
Maltex Gallery
The Maltex Building, located at 431 Pine St, holds four floors of artwork curated by the BCA's External Exhibitions Program. This venue features artwork from nine Vermont artists, rotating bi-annually, and can be visited during regular business hours (Monday - Friday 7am - 7pm). These exhibitions run through August, 2022. 
James Vogler
Vogler's paintings reflect a mixture of moments gleaned from past or present experiences. The results are expressed in a blending of abstraction and figuration. In combination, these elements infuse his work with a curious ambiguity. Born in New Jersey, Vogler received his BA in Painting from Kean University in 1976. He continued his education in the Masters Art History program at Rutgers University and later in the Masters Painting program at Kean University. While working for the next 10 years as an art installer for the Metropolitan Museum of Art in New York, he continued to paint and develop his style of abstraction. In 1991, he and his family moved to Vermont to pursue new careers. Since returning to painting full-time in 2007, Vogler has exhibited works widely in the New England region and Canada. Working largely in oil on canvas, he continues to draw upon his personal experience and surroundings for inspiration in his work.
Myles Moran (pictured)
Moran is an artist from Winooski, Vermont who is passionate about art, design, travel, culture, and music. He likes to use images of outdoor landscapes and scenery inspired by growing up in Vermont and traveling. He recreates scenes and landscapes from photographs using layered stencils. The more layers of stencils, the more color and detail the painting will have. The result is a photorealistic painting from a distance but impressionistic and abstract as the viewer looks closer and sees the particles of spray paint. He also loves doing custom work!
Kathleen Grant
Grant loves to create; she also loves to share her passion, and hopes to inspire her viewers, peers, students, friends, and family through her art. As an artist, she finds there are no boundaries when sticking to a specific artistic medium. She found that her calling was to share her love and enthusiasm for art through teaching and at the age of 27 became a K-8 art teacher. Kathleen found that while she worked with the children, they were bringing more inspiration to her art. After teaching for thirty years, she has retired from her teaching career to work as a full-time artist and jewelry designer.
Nancy Tomczak
Birds of the Northeast, some with unusual encounters, are the most common subjects of Tomczak's watercolor paintings. Combining the spontaneous flow of color and added anatomical detail has pooled with her love of watercolor painting for seemingly endless inspiration. More recently, she has deconstructed paintings and collaged the images in order to push the boundaries of her compositions. Hand gestures are another fascination of hers, which she frequently incorporates to add a human element of interaction. Spirograph designs have evolved in her work as well, leading to a less literal reference though suggesting the interplay of nature and math.
Originally from Buffalo, Tomczak has spent most of her life in the snow belt areas of western New York and in the Finger Lakes region. A job relocation for her husband, James brought her to Milton, Vermont in 2008.
Kristina Pentek
The intention of Pentek's work is to capture beautiful and otherworldly moments as they happen, often in unexpected places. Color and light are of particular interest to her, and she is fascinated with abstractions created by the natural world and juxtapositions where nature intersects with mankind. She looks for beauty in her day-to-day by paying attention to the details. Sometimes a simple change of perspective makes all the difference. Her purpose as a photographer is to present the viewer with scenes that are absolutely real but look otherworldly, painterly, fantastical, or abstract. Nonetheless, her prints are the result of real scenes. Nothing is ever staged and none of her images are ever retouched or superimposed. The only alternations made are cropping and minor color corrections.
Bear Cieri
The Quarry Survey series of photographs is an extension of a separate photographic project about Barre, VT. It explores a landscape that would otherwise be overlooked were it not for human intervention. Beauty is buried deep within the earth, but it takes human ingenuity, energy, and opportunity to extract it. Therein lies a contradiction that applies not only locally to the granite industry, but globally to any industry that exploits natural resources. By creating abstract compositions, Cieri is decontextualizing each element, forcing the viewer to consider smaller and more constructed pieces of a larger idea. Made in active quarries these images express his appreciation for and connection to the natural world, while simultaneously exploring the way humans have evolved to not only command ownership of the land but also the way we depend on it for our way of life
Image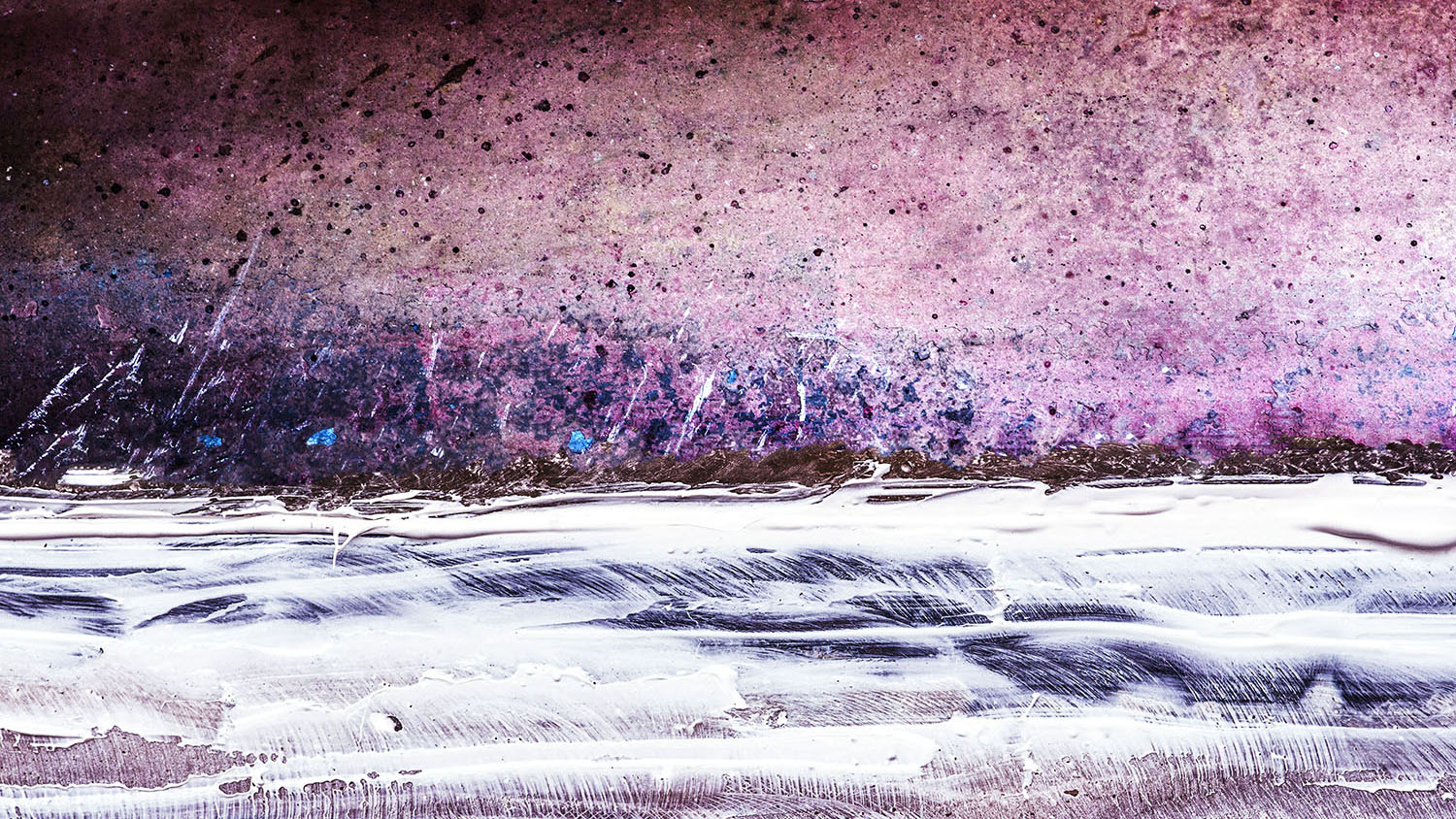 Lorraine B. Good Room
The Lorraine B. Good room is located on the 2nd floor of the BCA Center. The art in this room is available for viewing during our regular open hours, except when the room is being used for programming, meetings, and rental events. This exhibition runs through June, 2022.
Douglas Biklen, Photographs
Biklen is a fine art photographer who specializes in abstract images. He first developed an interest in photography as a child, using a Kodak Brownie camera, and later progressed to 35 mm single-lens reflex cameras. He was an avid photographer while a Peace Corps Volunteer in Sierra Leone, West Africa during the 1960s. In the 1970s and 80s, he pursued his interest in visual arts by becoming involved in film, executive producing, and working as Educational Advisor for several award-winning documentaries. He is also internationally known for his research on autism, co-producing and directing several films, and authoring more than a dozen books. It was not until the 1990s that he returned to Medium Format photography, using a Hasselblad. He studied color photo techniques with Alison Shaw at the MainePhotographic Workshops and digital scanning and image preparation for printing at LightWork/Community Darkrooms at Syracuse University. Biklen resides in Orwell, Vermont, and his work can regularly be seen at the Brandon Artists Guild in Brandon, Vermont. 
Image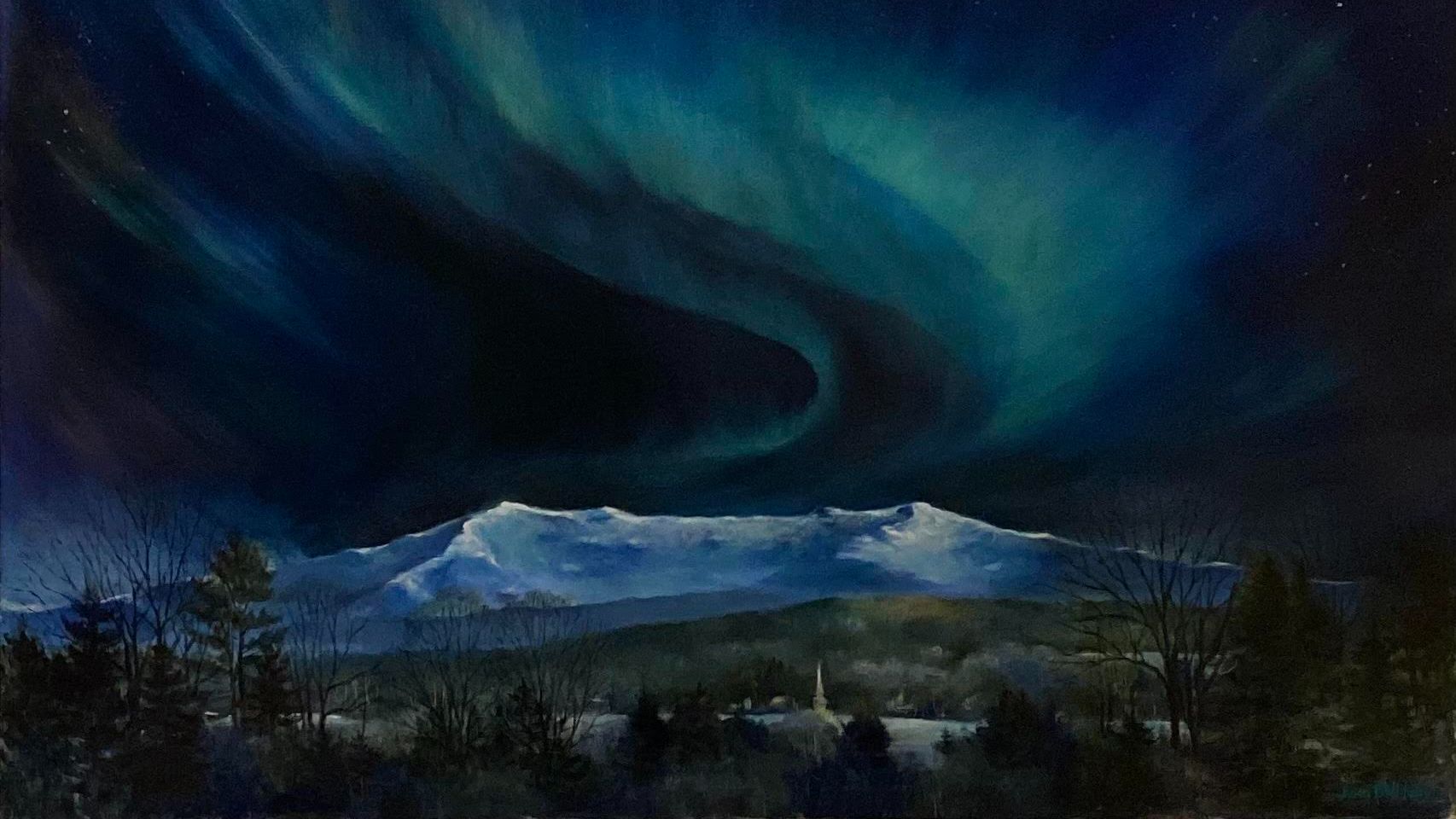 UVM Medical Center
The University of Vermont Medical Center, located at 111 Colchester Avenue, has been exhibiting and purchasing the work of Vermont artists on the main medical center campus in various locations for many years, thanks to its ongoing partnership with Burlington City Arts. Rotating artwork can be found in the ACC East Pavilion 2 & West Pavilion 3, McClure 4, Breast Care Center, and Cancer Center.  Permanent artwork is also on display throughout the hospital. Current exhibitions are on view through May 2022.
Susan Bull Riley,  Oil paintings & Watercolors, Pictured Above (Main Street Connector, ACC 3),
Susan's large oil landscapes reflect her delight in how light, the ultimate designer, amplifies the beauty of Vermont's landscape everywhere she turns.  Each completed oil painting is the end product of multiple sketching visits to a location. Her watercolors are created in the tradition of botanical painting that flourished before the advent of photography. This art form, which is undergoing a renaissance today, requires many unbroken hours of direct observation so as to marry botanical accuracy with aesthetic concerns. The medium is different, and the emotional energy of a different sort, but the source of her inspiration is the same: awe and delight in what she sees around her in Vermont. 
Mike Strauss, Acrylic & Ink Paintings (Main Street Connector, BCC & Patient Garden)       
Mike's primary interest is in how color and value create the illusion of light and shadow.  For example, when he paints landscapes depicting early morning or late afternoon, the light is often filtered by dust or moisture, resulting in a warm red-orange glow.  In this circumstance, portions of objects lit by orange light reflect warmth in the viewer's eye, even if the reflection is from snow.  The cooler blue, purple and green shadows in these warmly lit scenes build depth. This is reinforced using linear perspective, which is most evident in the lines of lanes, houses, poles, trees, and wires in his street scenes. He uses bright, bold, color shapes, often with hard and sometimes black edges, to create interesting patterns and designs.  Though the colors and lines he uses are sometimes not found in nature, the resulting images retain the logic of light and shadow. He often tries to make the brightest objects seem lit from within as well as from incident light, to create an otherworldly glow, like electrified neon in glass.  It is this luminous quality of saturated and impressionistic color that pleases him most.   
Brecca Loh, Acrylic Paintings (McClure 4)  
For Brecca, the act of painting is a meditative process allowing her to leave her head and step into a deeper, intuitive space. It is about being in the 'now' consciously suspending judgment and self-criticism.  Trusting the colors and the canvas to guide her as she opens the door to freely express herself. Her paintings are about the harmony of colors and the feelings that they provoke. To her, colors have a language. They speak to one another. Her process is to create a dance of colors that fosters a sense of intimacy and wonder for the viewer. By painting in a non-representational way it allows the viewer to bring their personal experiences and interpretations to the canvas. The painting then becomes theirs, not hers. 
Michelle Turbide, Acrylic Paintings (Pathology hallway, ACC 2) 

Michelle is an intuitive artist who explores the archeology of the spaces we inhabit and the ancestral marks that are left by previous generations. Each piece is created using layers of paint, mark-making, pastels, inks, excavating line, shape, and texture while using additive and reductive techniques to tell a story of our human journey through these lands. Her process involves entering a state of liminal space and collective unconscious and unearthing a visual narrative that holds the energy of the experience. She strives for her art to be a journey for the viewer to relate to the emotions, mystery, and depth of the essence behind the piece. She creates from her home studio in Grand Isle, VT.  EARTH POEMS: The pastoral landscape holds special meaning to Michelle and is a central element of her work. The lands are a space holder for the stories and a metaphor of the human journey. This new body of abstract acrylic paintings became a meditation and communication with mother earth herself and evolved into an exploration of the layers, rhythms, and poetry of the lands herStory. Mother Earth holds the story of the people who have lived upon these lands. Those who have tended, grown, and nurtured. The marks and textures of her fields are the memory keepers of the evolution of the people. These paintings are the poems of her memories. Layers and rhythms of flowing waters, wild grasses, and ancestral marks left from all the generations that have come before us. 
Image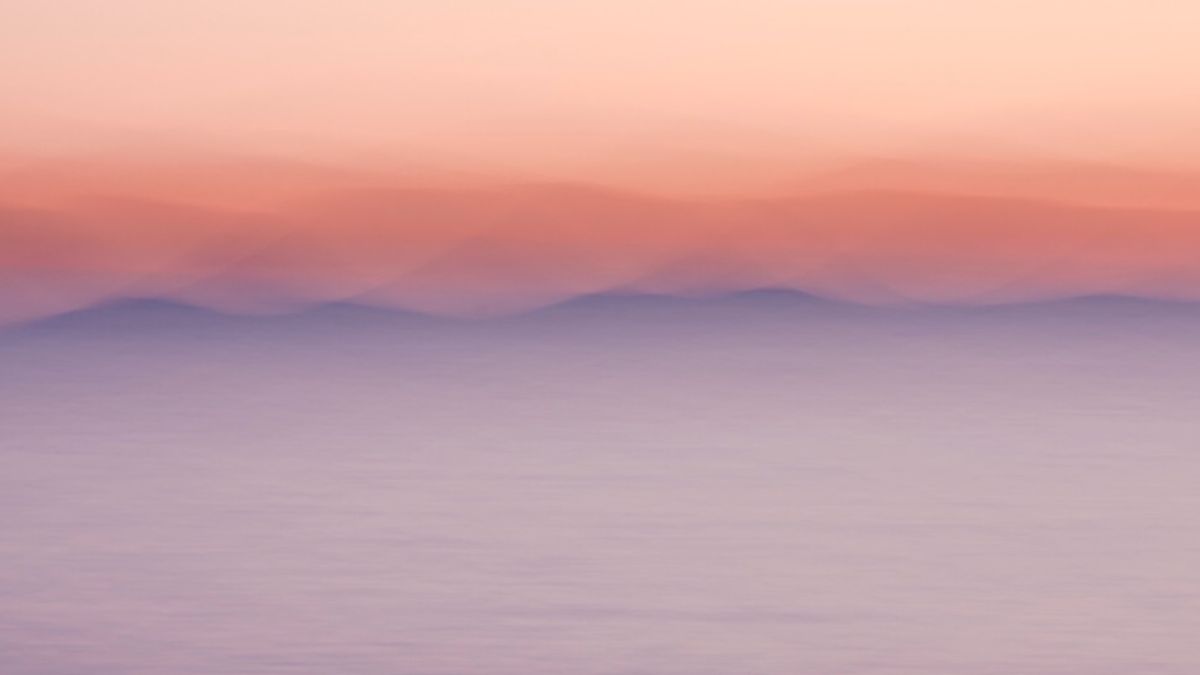 Pierson Library
The Pierson Library, located at 5376 Shelburne Road, in Shelburne, features artwork curated by the BCA's External Exhibitions Program on a rotating basis. These exhibitions run through Mid-June 2022.
Lisa Balfour, Acrylic Paintings (1st floor Merrill Community room:) 
With an art education degree, Balfour began her career as a photo stylist at Hallmark Cards, working alongside photographers to create imagery for greeting cards, calendars, and other social expressions. A lifetime of experience has reawakened her talent of discovery through painting. The excitement as her creations unfold in front of her is what drives her to further explore and discover. As she feels it should be, her interpretation of the work is often different from that of the viewer's experience. She hopes for you, the viewer, to make your own discoveries and interpretations. 
Kelly O'Neal, Photographs, Pictured Above (2nd Floor Pierson Room)
Photographer, traveler, data nerd, foodie, geographer, dog lover, sunset enthusiast: O'Neal creates ethereal, painterly photographs of the beauty of place.  Unlike most photographers, she seeks to move the camera during exposure, relying on years of practice to create the look she wants on her digital film.  Rather than documenting what your eyes directly see, she captures colors & shapes and seeks to evoke the essence of a locale and its quintessential moments.   
Kelly self-taught this technique beginning in 2007 in her basement apartment, combating the stress of a consulting job by photographing flower bouquets at midnight. Soon she expanded this technique to landscapes and took the technique on the road during her travels.   
Image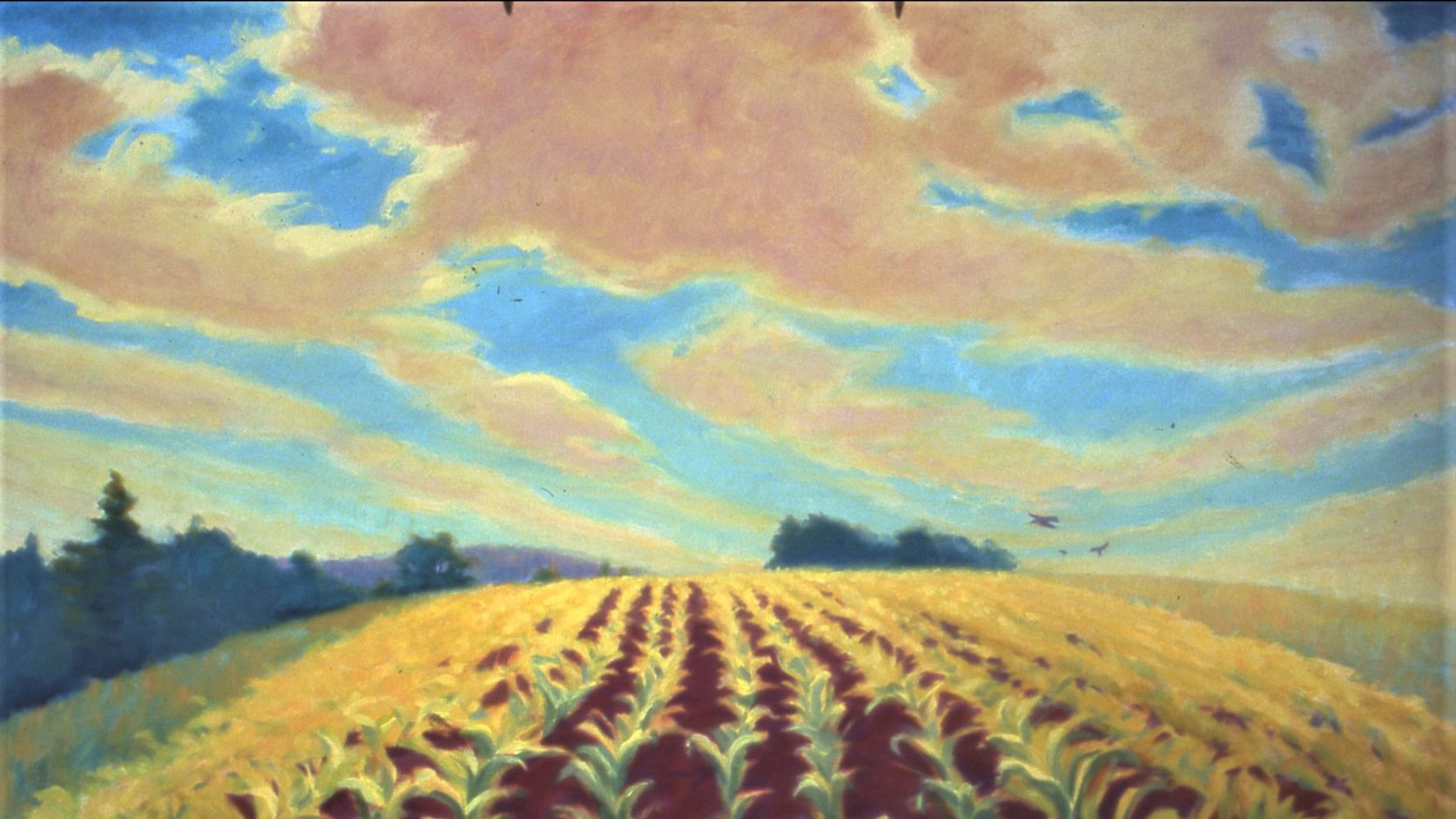 Mascoma Bank
Mascoma Bank is located at 431 Pine Street in Burlington and features artwork curated by BCA's External Exhibitions Program on a rotating basis. These exhibitions run through June, 2022.
Joy Huckins-Noss, Oil paintings 
Joy's love for nature is translated through her vibrant canvases. Her paintings feature tiny spots of color which combine optically in a style similar to pointillism, but with a fresh contemporary edge. She applies color in multiple layers to create a uniquely textured surface of color and light.   
These paintings focus on our relationship with the natural world. Landscapes of trees and bodies of water, plants, and objects found in nature, draw viewers into a deeper relationship with our environment.  Her art relies on the perceptive ability of the eye and mind of the viewer to mix the color dots. Her surfaces are rich, intense, and seem to vibrate. She loves to work with the color to make the paintings glow. Her goal is to bring the feelings and sensations of being outdoors into the painting.