In addition to our exhibitions at the BCA Center on Church Street, BCA hosts external exhibitions at partnering locales in and around Burlington. All artwork is available for sale. For more information, to purchase, or to see additional works by these artists, please contact Kate Ashman at (802) 865-7296 or kashman@burlingtoncityarts.org.
Image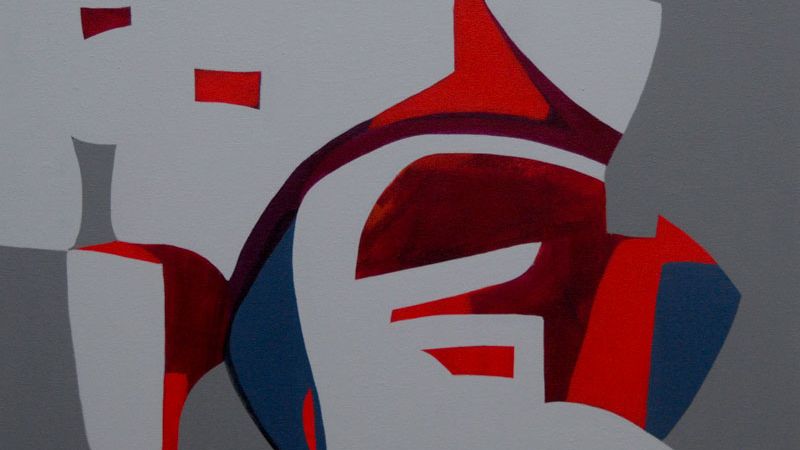 Airport Gallery
The Burlington International Airport features Vermont artists from BCA's External Exhibitions program in several spaces. These exhibits are located in the Skyway and Gates 1-8 (both located on the 2nd floor) as well as above the escalator in the main building. Artwork rotates every few months in these locations. These exhibitions run through March 2022.
Erika Lawlor Schmidt, relief monotypes, Skyway
The expression "warp and weft" is used metaphorically the way "fabric" is; e.g., "the warp and weft of a person's life" equates to "the fabric of a person's life". Warp and weft are sometimes used even more generally in literature to describe the basic dichotomy of the world we live in, as in, up/down, in/out, black/white, Sun/Moon yin/yang, etc.
Mareva Millarc, acrylic paintings, Gates 1-8 (pictured)
Motivated by the love of painting, Millarc creates art that is free of representational reference. She delves into each piece with passion, intuition, and vision. Each painting becomes a deliberate dance of joy as each mark reveals beauty and truth. Spending time in the studio each day, she delights in the freedom to voice her thoughts and feelings, translating them into abstract forms of expression. With no reference to the real world, she eagerly explores the wild places where hidden feelings dwell. Through her work, she hopes to share her experience as something to behold.
Image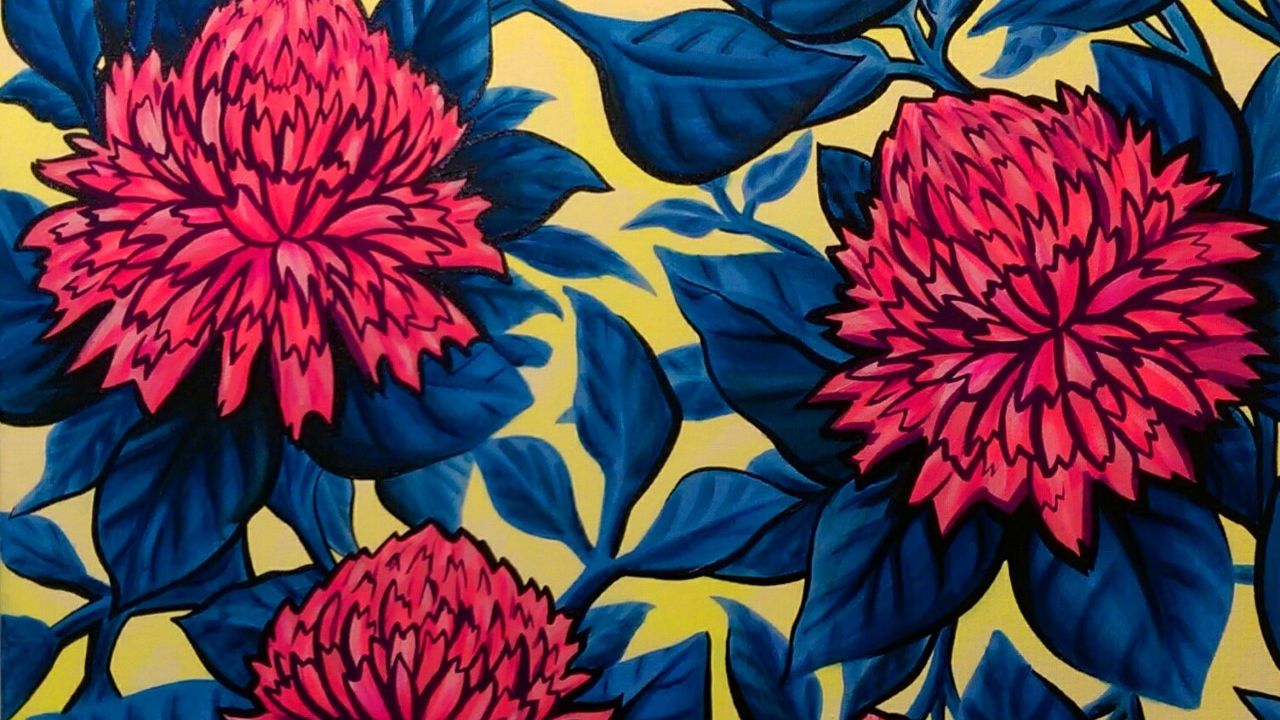 City Hall
The City Hall Gallery is located on the main level of Burlington's City Hall and features Vermont artists from BCA's external exhibitions program on a rotating basis. This exhibit runs through March 2, 2022.
Shannon O'Connell, acrylic paintings
Shannon focuses on detail and dreamlike color combinations. Many of her botanical paintings have phosphorescent and UV-sensitive pigments mixed into the paint, allowing secondary paintings to be revealed. She has always been enchanted by the magic in flowers. Over her years as an artist, she has acquired a love for travel, exploring botanical gardens for inspiration. Having lived in Hawaii for 15 years, her love for the ocean and flora shaped her art and the way she sees color. Surfing, Skiing and Roller skating put her mind in a relaxed state. For her it's very much a meditation. The same feeling when she paints or creates something. When she finishes a painting, she hopes that it gives the viewer a genuine feeling of paradise. Balance in each painting is important for her, having the right amount of patterns and loose elements complete a piece. Sometimes the glowing, secondary painting represents how a bee would see a blossom, in ultraviolet. Many patterns remain invisible on flowers to the human eye. Subject matter is around every bend, every petal and her "Bee Series" is an homage to our planet's flower keepers. When she creates each series, all the details come from a place of respect and enjoyment.
Image
Hilton Garden Inn
BCA was honored to partner with the Hilton Garden Inn to select artwork from 10 local artists to be included in the design and décor of Burlington's newest boutique hotel. Learn more about Hilton Garden Inn here. This exhibition is ongoing.
Casey Blanchard
Primarily a self-taught artist, Casey explores her experiences through the engaging and often     unpredictable print medium of monoprinting. She is most interested in the spiritual aspects that emerge in the image, particularly relating to how we live in the world and how the world lives in us. In the beginning the work may be a search for answers, but in the end it's more about being here without them.
Casey Blanchard was born in Greenwich, CT in 1953. She lives in Shelburne, VT with her husband, Dan Cox, and their daughter, Julia Cox. Her artwork is found on the walls of health care facilities, private residential collections, corporate offices, the hospitality industry, on web designs and various published materials.
Johanne Durocher Yordan    
Johanne is a Burlington based artist who works out of her studio on Pine Street. She was born in Quebec, Canada, but has lived most of her life in Vermont. It was not until 1998 that Johanne began committing herself to her artwork and finding her own voice. She studied at the University of Vermont and has since developed a diverse body of work that is a testament to her ability to succeed as an independent artist. Creating work that fits a variety of audiences, while always building upon her unique self-taught style, is the secret to her success. Johanne has always been the type of person who explores on her own, tapping into the unknown and developing her own fashion and techniques. Many of her paintings include found or collected items which add depth and meaning to combine form and function to her work. Her abstract work captures her emotions and represents her unique style and expression. Johanne has exhibited her work extensively throughout Vermont in both solo and group exhibitions over the past 12 years.
Cameron Schmitz
Cameron Schmitz grew up in Greenwich, Connecticut and spent idle time in her youth drawing. Encouraged by two artistic parents, including her mother who is also a painter, she learned at a very early age the joy and satisfaction of participating in the visual arts. 
Schmitz holds a Master of Fine Arts in Painting from the Pennsylvania Academy of Fine Arts and Bachelor of Fine Arts in Painting & Drawing from the University of New Hampshire, in addition to studying Art and Art History at Studio Arts Center International in Florence, Italy. 
Following a month-long artist residency at the Vermont Studio Center in 2006, Schmitz moved to Vermont after discovering Vermont's rugged landscape to be uniquely inspirational. Now located in the Brattleboro area, Schmitz actively exhibits her work regionally and nationally. Her work has been featured at Fitchburg Art Museum's biannual exhibition, Ne England/New Talent, Green Mountain College, Kyoto Seika University in Japan, Emory University, Northern Arizona University Art Museum, and Rogue Space in Chelsea, New York. Her work is represented by The Drawing Room Art Gallery in Cos Cob, CT and Furchgott Sourdiffe in Shelburne, VT, and she is an artist member of the Copley Society of Art in Boston. In addition to her painting practice, Schmitz is also the Gallery Curator of The Drawing Room Art Gallery and teaches painting at the River Gallery School in Brattleboro, VT.
Carl Rubino
 
I strive to create unique interpretive, impressionistic and abstract images that relate my personal vision of or reaction to the subject matter before me.   Before I even pull out the camera I try to experience all that my subject reveals, or even what it makes illusive – not just the obvious, like the literal view, the colors, texture and patterns - but the less obvious sensual aspects, the energy and the "feeling" that it conveys. Whether in landscape, abstract, street photography, fine art nude or whatever else captures my interest, I seek to find and interpret life's visual symphonies, one click at a time. 
I feel that to a large extent my photographs consist of three different points of view: the raw material that is the literal subject matter of the image that my camera captures; what I see, sense, and work to portray when I interpret that subject; and what the viewer sees when looking at the image on the wall.  Those may be three very distinct views of what is essentially rooted in the same thing.   That, to me, is stimulating art.  And that is a great part of what draws me to photography.
Jeff Schneiderman 
Jeff Schneiderman works as a wedding, portrait and fine art photographer in Williston, VT.  He has been taking photographs for over 35 years, traveled extensively throughout the U.S. and the world and has made Vermont his home for the last 27 years. Patterns are a major theme in Jeff's work as he is fascinated with the designs in nature how they are reflected in things manmade.  More of Jeff's work can be seen at: www.jeffschneiderman.com."
Krista Cheney
Krista Cheney is a native Vermonter, currently living in St. George, Vermont. She studied English Literature and Agricultural Economics at the University of Vermont. She has studied photography since 2003, taking classes and workshops at local venues and the Maine Media Workshops in Rockport, Maine.
Carolyn Enz-Hack
Carolyn Enz-Hack's work includes painting, sculpture, and scenery design. While she has spent most of her life on a farm she holds a degree in theatrical design from Rutgers University and has spent years designing for the theatre. Her rural sensibility is informed by themes explored in ancient theatrical and religious literature, and by developments in cross-disciplinary Science. Each piece is an attempt to process the exterior world through an internal lens. Her most recent solo exhibitions have been at the Castleton Downtown Gallery in Rutland, Vermont, and Creare Inc. and the Dartmouth Hitchcock Medical Center both in Lebanon, New Hampshire. She is the recipient of a Vermont Arts Endowment Award, a painting merit award from the Chaffee Center for the Arts, a residency at the Vermont Studio Center, and her work has been selected for exhibition in regional and nationally competitive shows.
Erinn Simon
Erinn Simon is a fiber artist and yarnbomber. She crochets tapestries, toys, baby mobiles, vegetables, baked goods, blankets, scarves for trees, and the occasional bloodthirsty zombie cupcake. Her work has appeared in group shows in Burlington, Seattle, and Australia and she ships her one of a kind creations to customers around the world. She lives in the Old North End of Burlington with her husband and three kids. You can find her on facebook as Callie Callie Jump Jump.
Image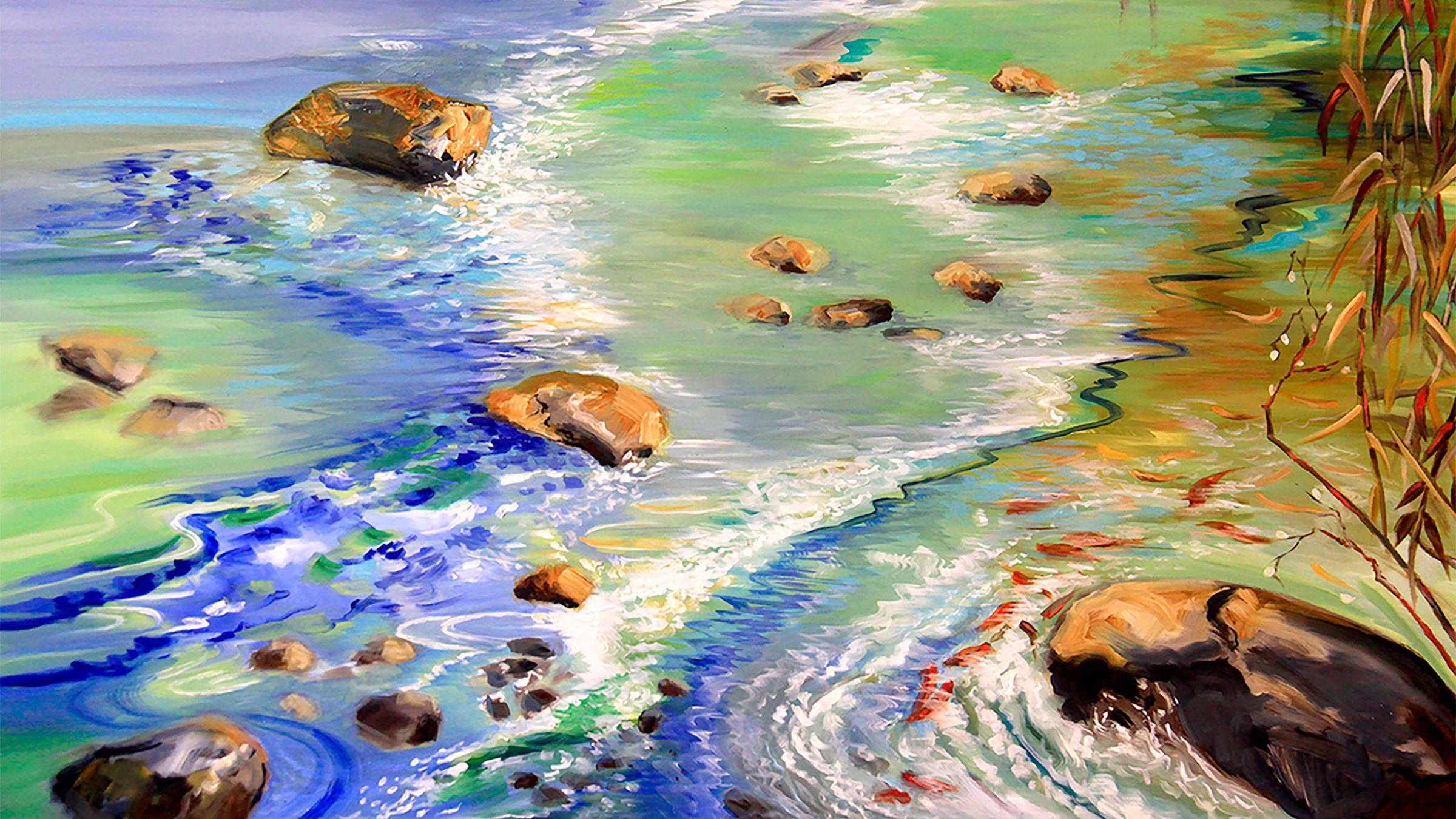 Maltex Gallery
The Maltex Building, located at 431 Pine St, holds four floors of artwork curated by the BCA's External Exhibitions Program. This venue features artwork from nine Vermont artists, rotating bi-annually, and can be visited during regular business hours (Monday - Friday 7am - 7pm). These exhibitions run through April, 2022. 
Dierdra Michelle
In 2010, Dierdra took the leap to become a full-time studio artist, creating art every day as her job. Since then, she has continued to learn and grow as an artist. The desire to create happiness and beauty for the viewer has always been her motivation.
Judy Hawkins (pictured)
Hawkins' paintings are recollections of the rich and inspiring landscapes she sees around her. She tries to capture the mood and feeling she has experienced when seeing dramatic clouds, ultramarine skies, and marshy setbacks and reflections. She loves using gestural brushwork and unexpected color and often creates her colors by mixing them right on the painting. She exaggerates and loosely interprets color, conveying passion, excitement, and moments of calm. Discovering something new whenever she puts brush and color to canvas brings a new perspective and vocabulary to her work. She usually begins a new painting at the top and works her way down, working quickly to establish mood through color and composition. She allows the paint, drips, and accidental color combinations to guide her vision. Often, a serendipitous moment happens in the process, inspiring her to expand and explore new ideas. She works on three or four paintings at a time which allows her to have some perspective and keep her work fresh. Her paintings often don't resemble their beginnings; they go through a continual process of change. This is the joy!
Nancy Chapman
Chapman's work is landscape-based and stems from memory. She is aware of nature's active dialogue. Painting can be a way for her to touch what cannot be literally touched. Her work celebrates natural beauty through form, texture, line, and color with oil paint on canvas and/or on paper. Her goal is not to describe a scene for the viewer, but rather to render the setting's spirit; to reveal the story.
Jean Cherouny
Cherouny makes rollerblade painted textured, large layered paintings with stencil-like, stitched paint marks from tools, showing evidence of time. She uses her recycled rollerblades to paint. Time that is spent painting together and alone is the result of a shared experience, creating evidence of construction in making art. Her progression starts with layers, textured, unidentifiable marks and evolves with shape identification from a collective idea. This abstraction contains references to the absurdly odd, playful parts of nature and color relationships. Live performance paintings are environments at parks and street side corners with people. Then painting in her studio, she is driven to keep painting from the energy that is performed. She creates painted original, layered, texture with a stenciled overlay to show a sharper contrast of foreground and background. The speed of her wheel rolls the paint and then morphs into scraped paint. She uses her menagerie of wheeled tools. Mostly by working with others, she commits to evolving her experimentation with different tools. The laser cutter is another tool to create stenciled shapes. In her controlled effort to paint layers appearing like stitched grass she overlays Fibonacci propagating "forms" in her social/science experiment
Caleb Kenna
As a photographer, Kenna is often looking for new perspectives. As a kid, he loved to climb up into trees, peering out over the Vermont landscape. Later as a young photographer, he would hire an airplane once or twice a year and hope for good weather to photograph the Green Mountains from above. He started his photography career working for the Rutland Herald and Addison Independent newspapers and was often tasked with searching for "wild art", stand-along photos depicting moments of daily life. That habit of looking and searching has stayed with him. Later, he enjoyed getting photos published in Vermont Life, the respected chronicler of the Green Mountains. Four years ago Kenna started using a drone. At first, he would fly as high as possible – 400 feet – and make traditional Vermont landscape photos. But as he developed, he started pointing the drone straight down and flying lower and lower to zoom in on certain aspects of the landscape – apple orchards, maple trees, old barns encircled by cornfields. Making pictures with his DJI Mavic 2 Pro has become a nearly daily practice, a brief visual meditation, soaring above the landscape on flights of discovery, wonder and visual appreciation for Vermont's varied terrain.
Michael Couture
These photographs were made during a brief three-day trip to Iceland in October of 2019 where Couture chose to travel in the relatively small southwest part of the country. His son commutes from Burlington to Iceland about every two weeks (when there's not a pandemic) and he wanted to see his business and witness what wonders of the island he could in that brief period. Traveling over 300 miles per day provided the showcase to reveal this magical part of the world and is impetus to return to photograph more of the island and learn more about the people and their culture
Image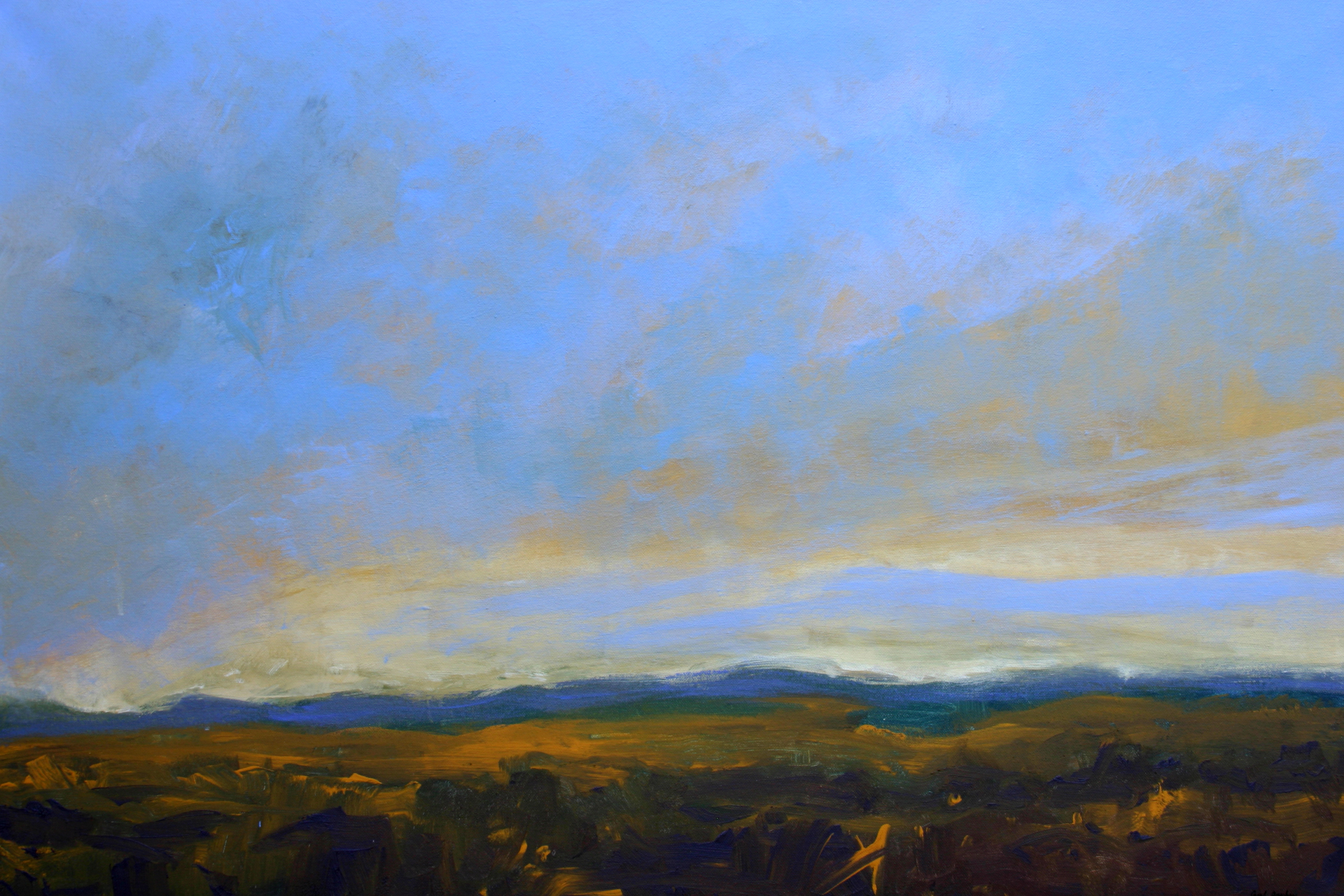 Lorraine B. Good Room
The Lorraine B. Good room is located on the 2nd floor of the BCA Center. The art in this room is available for viewing during our regular open hours, except when the room is being used for programming, meetings and rental events. This exhibition runs through February, 2022.
Carol Boucher
In this series of paintings, Boucher focuses on imagined/remembered landscapes, done in acrylic on canvas or panel.  In the warmer months, she paints with oils on location (Plein Air). 
Boucher has been painting since childhood, and for over 25 years has sold her artwork at galleries and at juried outdoor art festivals.  You can view more of her work at www.carolboucher.com and at Shore Acres in North Hero, VT, in addition to other venues through BCA. The artist thanks you for taking the time to view her work!   
Image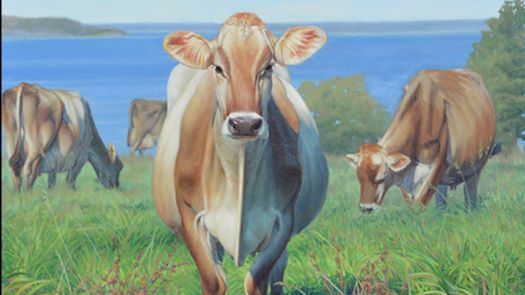 UVM Medical Center
The University of Vermont Medical Center, located at 111 Colchester Avenue, has been exhibiting and purchasing the work of Vermont artists on the main medical center campus in various locations for many years, thanks to its ongoing partnership with Burlington City Arts. Rotating artwork can be found in the ACC East Pavilion 2 & West Pavilion 3, McClure 4, Breast Care Center, and Cancer Center.  Permanent artwork is also on display throughout the hospital. Current exhibitions on view through January 2022.
Stephanie Bush, oil paintings (pictured above)
Main Street Connector, ACC 3
Cows are an everyday presence in her experience of Vermont, but they are largely peripheral. It was the desire to examine more closely that which is peripheral and overlooked, that lured the artist to look more closely at a being that shares her space and ecology. Bush grew up in the city of Montreal with only the occasional weekend or camp experience in the country, so cows are in many ways as foreign to her as a camel. The first thing that overwhelmed her when confronted with the actual presence of a cow, was simply their size, and this translates directly into the size of her canvases. Next was the strange experience, repeated again and again, of having them look directly at her. She had the unshakable feeling of being seen, and seen deeply. One can get lost in their eyes and so the gaze has become an integral part of the series, expressing the relationship between the witnesser and the witnessed.
Sam Macy, wood shadowboxes
Main Street Connector, ACC 3
Sam Macy's collection celebrates one of Vermont's most loved and iconic places: Shelburne Farms. As born-and-bred Vermonters who grew up enjoying the farm's acres of hiking trails and other notable features, the farm epitomizes "home" for Sam and his wife, and was a natural first choice for his premier Collection.
Maria Anghelache, mixed media paintings
Main Street Connector, ACC 3 & Cancer Ctr, ACC 2
In her Butterfly series, Anghelache explores the subject of nature through abstract expression and movement. She strives for uniqueness and creativity in her paintings, and to combine abstract sensibilities with sophisticated and high imagination. Here she orchestrates the conception and intensity of vertical and horizontal lines to represent the minuscule veins of wings and body. Anghelache has chosen to paint butterflies because they are a symbol of fragility and beauty, and a deep and powerful representation of life, change, endurance, and hope. The symbolism she conveys with her purple butterflies is a less common theme. The color purple is often associated with royalty and strongly represents spirituality. She finds the message of purple butterflies to be about having courage and trusting in yourself. The artist feels that joy and inspiration have arrived to her artwork through nature.
Kathleen Grant, mixed media paintings
McClure 4
Kathleen loves to create; she also loves to share her passion and hopes to inspire her viewers, peers, students, friends, and family through her art. As an artist, she finds there are no boundaries when sticking to a specific artistic medium. She found that her calling was to share her love and enthusiasm for art through teaching and at the age of 27 became a K-8 art teacher. Kathleen found that while she worked with the children, they were bringing more inspiration to her art. After teaching for thirty years, she has retired from her teaching career to work as a full-time artist and jewelry designer.
Elizabeth Powell, acrylic paintings & monotypes
Pathology hallway, ACC 2
Bodily; suggestive and alluring, Powell's work is often comprised of torsi-like forms complete with breasts, belly, and pelvis. The imagery comes from a lexicon of figures that she began developing when she was immobilized by an illness. Experiencing physical limitations, she instinctively began to draw and abstract the shape of her own body to reconnect and reclaim it. She now draws these forms automatically and obsessively. They now deviate far from the figure, yet remain cohesive and bodily. While she makes overt references to the body, she also creates shapes that resemble bones or organs; visceral and sinewy. The forms are unusual, riddled with bulbous protuberances, abject and grotesque. Yet, they are beautiful.
Unexpected and sometimes disconcerting, the forms are not quite what they are expected to be from the first impression of beauty, symmetry, and patterning. They retain autonomy as they tease perfection with a pseudo-repetition. The empowered forms are somewhat contradicted by the overlying skeletal structures that often accompany them. The "cages" or "nets" entered her work when, on a quest for plain, utilitarian underwear, she was pulled into the abyss of online shopping. She became fascinated by over-the-top lingerie. She is intrigued by the way the fabric forces women's bodies into a series of geometric shapes, as if packaged. Between the nets and figures, her work is able to begin exploring the perplexities of femininity created by the societal decorum of beauty and the conflation of expression and repression found in the female form.
Kristina Pentek, photographs
Breast Care Center, ACC 2
The intention of Kristina's work is to capture beautiful and otherworldly moments as they happen, often in unexpected places. As with any photographer, color and light are of particular interest to Kristina. She is fascinated with abstractions created by the natural world and juxtapositions where nature intersects with mankind. Kristina looks for beauty in her day-to-day by paying attention to the details. Sometimes a simple change of perspective makes all the difference. Her purpose as a photographer is to present the viewer with scenes that are absolutely real but look otherworldly, painterly, fantastical or abstract. Nonetheless, her prints are the result of real scenes. Nothing is ever staged and none of her images are ever retouched or superimposed. The only alternations made are cropping and minor color corrections.
Image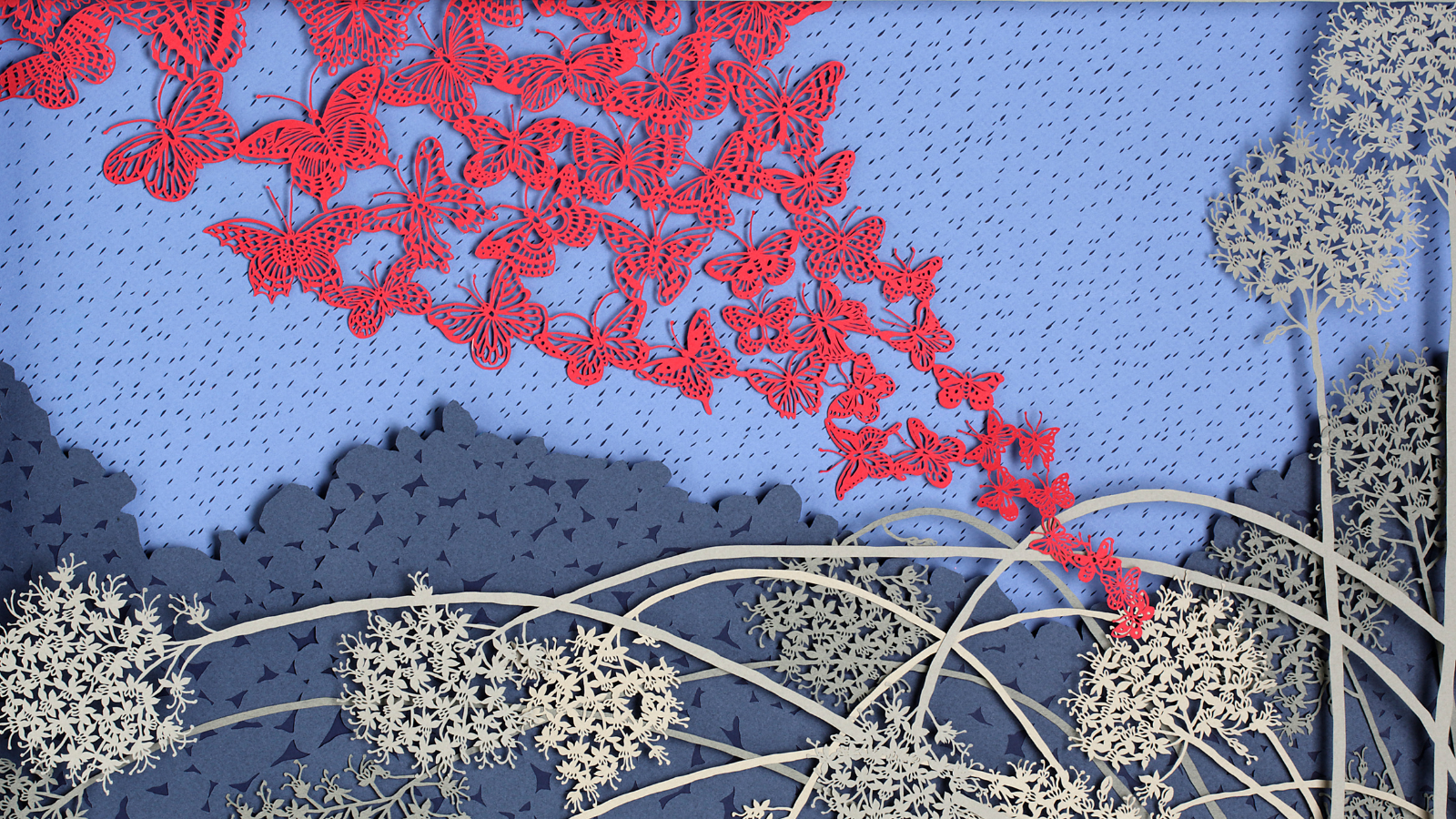 Pierson Library
The Pierson Library, located at 5376 Shelburne Road, in Shelburne, features artwork curated by the BCA's External Exhibitions Program on a rotating basis. These exhibitions run through February, 2022.
Adrienne Ginter, pictured
Ginter's approach to making art is that of an exploration into the reoccurring oddities and subtle fascinations of the natural world. The uniqueness of it all provides her with aesthetic inspiration, and she draws parallels between these narratives and the stories of human beings- whether from ancient myths, history, or her own personal experiences.
Every scene in nature tells a million little stories, and she works to incorporate an extreme amount of detail to tell not only the macro, but the micro stories in a scene. This gives the viewer a greater sense of depth, not only visually, but narratively, depending on how close they choose to engage with the piece.
Erika Lawlor Schmidt
Every spring Erika waits for the sights and sounds of birds, frogs, bees, and animals returning to her surrounding hills and forests. This relationship to the natural world and understanding its delicate balance is integral to her very being, a link to her youth and a real hope for the sustenance and wellness for her children and grandchildren. A reasonable route and motivation for her work as an artist is now compelled by and linked to forms of activism in support of efforts and legislation to protect wild places and wildlife.
She has for a long time, been focused on making work about the interconnectedness and interdependence of all things, a kindred spirit to Eastern philosophies. This recent series of monotypes is celebratory yet elegiac not exactly different from earlier work, except that she has created this primarily for children. Playful, imaginary in color and scale, the images are meant to prompt inquiry and invite children to identify the mammals, birds, reptiles, and insects and to then perhaps to write about them, a poem or story that comes from what they know, what they are curious about or what they imagine. A child's creative process is important, sharing what we create is important and the discussion about our fragile relationship with all living creatures on this miraculous planet is important. The role of artists today is to create awareness and platforms for action.
Image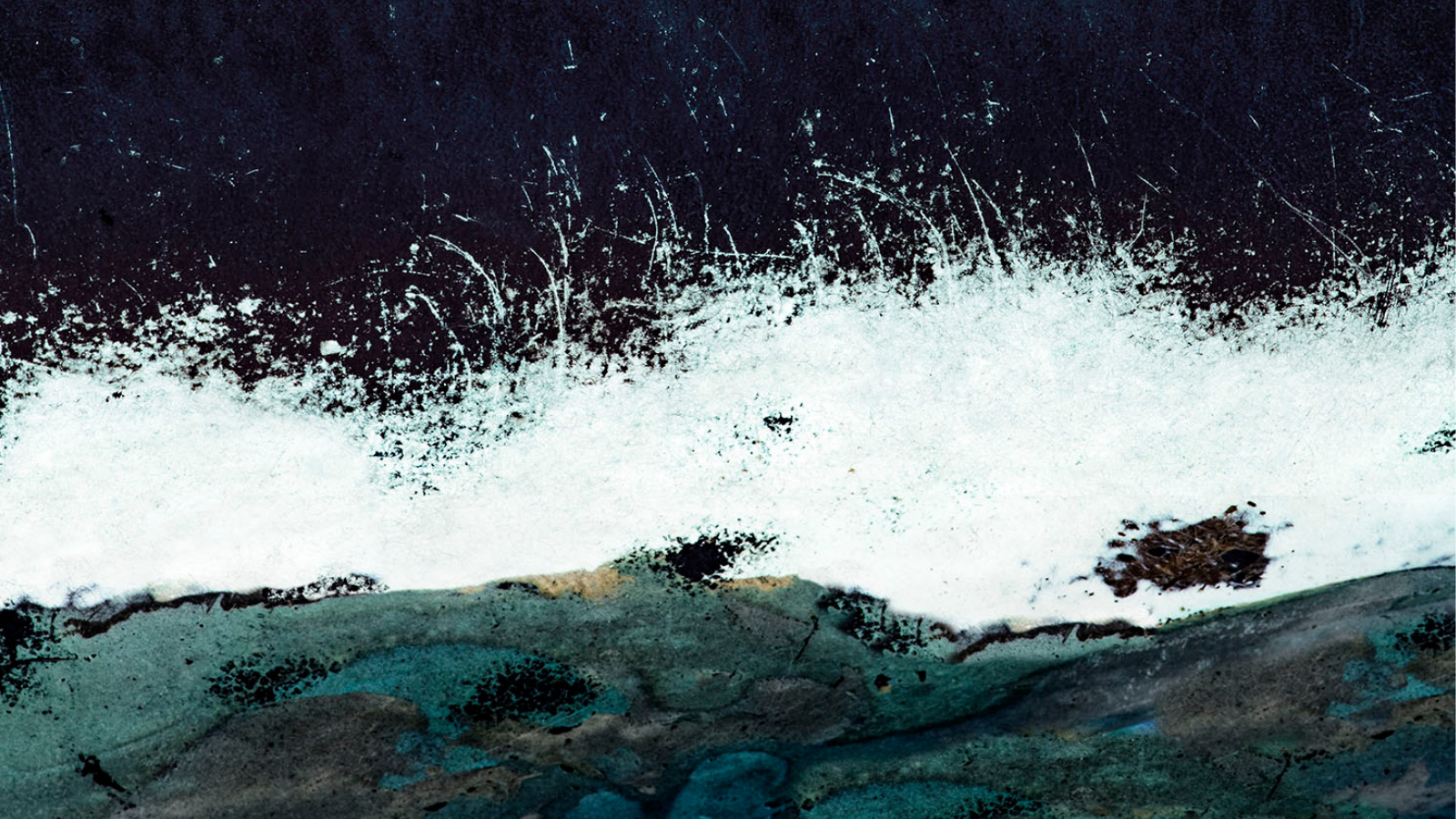 Mascoma Bank
Mascoma Bank is located at 431 Pine Street in Burlington and features artwork curated by BCA's External Exhibitions Program on a rotating basis. These exhibitions run through February, 2022.
Douglas Biklen, photographs
Biklen is a fine art photographer who specializes in abstract images. He first developed an interest in photography as a child, using a Kodak Brownie camera, and later progressed to 35 mm single lens reflex cameras. He was an avid photographer while a Peace Corps Volunteer in Sierra Leone, West Africa during the 1960s. In the 1970s and '80s he pursued his interest in visual arts by becoming involved in film. In 1988 he was executive producer of an award-winning documentary Regular Lives that aired nationally on PBS. It was not until the 1990s that he returned to Medium Format photography, using a Hasselblad. He studied color photo techniques with Alison Shaw at the Maine Photographic Workshops and digital scanning and image preparation for printing at Light Work/Community Darkrooms at Syracuse University.
Biklen's work has been exhibited at the Nancy Price Gallery (Jamaica, Vermont), the Delavan Art Center (Syracuse, New York), and the Brandon Artists Guild (Brandon, Vermont) where he is a member, as well as other venues through BCA. The artist formerly served as Dean of the School of Education at Syracuse University and now resides in Orwell, Vermont.