In addition to our exhibitions at the BCA Center on Church Street, BCA hosts external exhibitions at partnering locales in and around Burlington. All artwork is available for sale. For more information, to purchase, or to see additional works by these artists, please contact Kate Ashman at (802) 865-7296 or kashman@burlingtoncityarts.org.
Image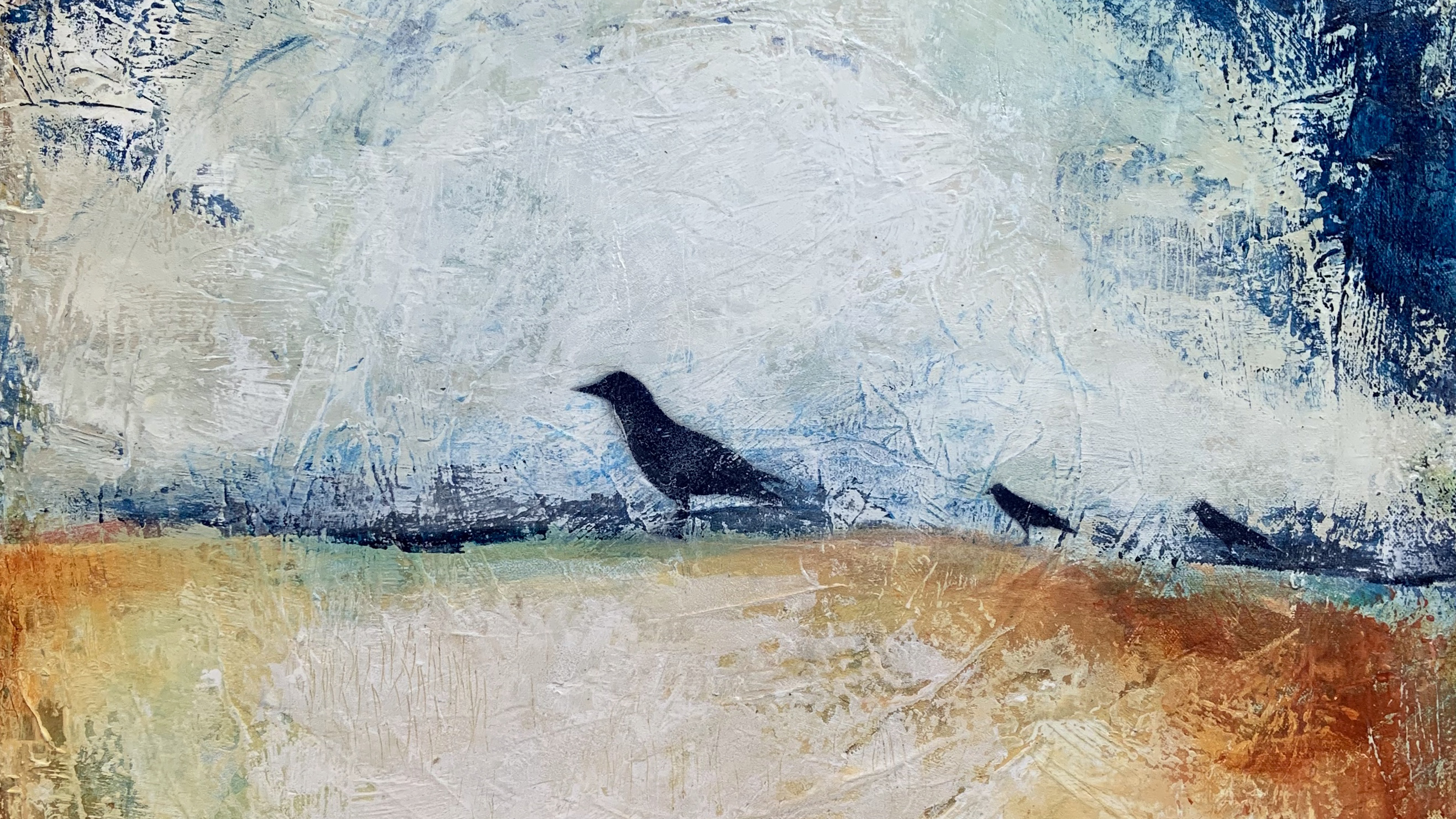 Airport Gallery
The Burlington International Airport features Vermont artists from BCA's External Exhibitions program, with rotating exhibits in two locations at the south end of the 2nd-floor Skywalk. The current exhibits run through June 2023.
Elizabeth Nelson, acrylic paintings
After a short visit to Iceland in 2012, Nelson experienced an irresistible magnetic pull, a need to be there again for a longer time to paint what she saw and felt of the landscape and weather; to be a part of the life there. Five years later she was able to return to Iceland via a month-long Arts Residency with SĺM, (the Association of Icelandic Artists) an organization that supports a cultural exchange of visual artists with all countries of the world.
These paintings are the result of that experience. Sometimes exactly what she thought she was painting remained as she had painted it, but quite often when the paint dried the image had changed. Instead of being the solitary maker, she became a collaborator with the paint and the surface. The progression of time became important to the process. Each level of the painting simultaneously revealing and camouflaging– perhaps reflecting the changing weather of Iceland, or the changing stability of the earth underneath, or her deepening shifts of perception.
Michelle Turbide, acrylic paintings (pictured)
Michelle is an intuitive artist who explores the archeology of the spaces we inhabit and the ancestral marks that are left by previous generations. Each piece is created using layers of paint, mark-making, pastels, inks, excavating line, shape, and texture while using additive and reductive techniques to tell a story of our human journey through these lands. Her process involves entering a state of liminal space and collective unconscious and unearthing a visual narrative that holds the energy of the experience. She strives for her art to be a journey for the viewer to relate to the emotions, mystery, and depth of the essence behind the piece. She creates from her home studio in Grand Isle, VT.
EARTH POEMS: The pastoral landscape holds special meaning to Michelle and is a central element of her work. The lands are a space holder for the stories and a metaphor of the human journey. This new body of abstract acrylic paintings became a meditation and communication with mother earth herself and evolved into an exploration of the layers, rhythms, and poetry of the lands herStory. Mother Earth holds the story of the people who have lived upon these lands. Those who have tended, grown, and nurtured. The marks and textures of her fields are the memory keepers of the evolution of the people. These paintings are the poems of her memories. Layers and rhythms of flowing waters, wild grasses, and ancestral marks left from all the generations that have come before us.
Image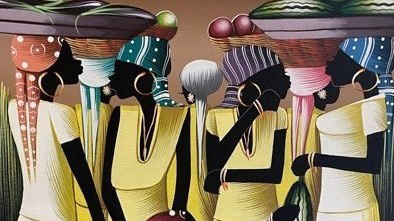 The City Hall Gallery is located on the main level of Burlington's City Hall and features Vermont artists from BCA's external exhibitions program on a rotating basis. This exhibit runs through September 2023
Pievy Polyte
Polyte is an artist, coffee farmer, and founder of Peak Macaya Coffee. He is from Peak Macaya, Haiti and has been living in Burlington, Vermont since 2016. Peak Macaya is the second tallest mountain region in Haiti, and home to the country's last area of cloud forest – characterized as a tropical and moist climate at high altitudes. Polyte has been working with the local community to repair this area and support farming efforts since the devastation of Hurricane Matthew in 2016. Polyte grew up around coffee, having learned the trade and growing techniques from his father, he and his brother Otheniel expanded the family coffee production into a model that supports, involves, and invests in their local community. They are focused on protecting the region, its diversity, and its inhabitants through education, nutrition, and sound environmental practices. Through this lens, Polyte founded a school that provides eco-friendly education along with daily nutritional programs and medical services. Today, the school has over 500 students. All products sold by Peak Macaya Coffee Co-Op are made by Peak Macaya artisans using materials from the region. The coffee and cocoa are produced using sustainable and environmental practices. A portion of proceeds from artworks sold during this exhibition will be generously donated by Polyte towards the installation of composting toilets in Peak Macaya, Haiti
Image
Hilton Garden Inn
BCA was honored to partner with the Hilton Garden Inn to select artwork from 10 local artists to be included in the design and décor of Burlington's newest boutique hotel. Learn more about Hilton Garden Inn here. This exhibition is ongoing.
Casey Blanchard (pictured)
Primarily a self-taught artist, Casey explores her experiences through the engaging and often unpredictable print medium of monoprinting. She is most interested in the spiritual aspects that emerge in the image, particularly relating to how we live in the world and how the world lives in us. In the beginning, the work may be a search for answers, but in the end it's more about being here without them.
Casey Blanchard was born in Greenwich, CT in 1953. She lives in Shelburne, VT with her husband, Dan Cox, and their daughter, Julia Cox. Her artwork is found on the walls of health care facilities, private residential collections, corporate offices, the hospitality industry, on web designs, and various published materials.
Johanne Durocher Yordan    
Johanne is a Burlington based artist who works out of her studio on Pine Street. She was born in Quebec, Canada, but has lived most of her life in Vermont. It was not until 1998 that Johanne began committing herself to her artwork and finding her own voice. She studied at the University of Vermont and has since developed a diverse body of work that is a testament to her ability to succeed as an independent artist. Creating work that fits a variety of audiences, while always building upon her unique self-taught style, is the secret to her success. Johanne has always been the type of person who explores on her own, tapping into the unknown and developing her own fashion and techniques. Many of her paintings include found or collected items which add depth and meaning to combine form and function to her work. Her abstract work captures her emotions and represents her unique style and expression. Johanne has exhibited her work extensively throughout Vermont in both solo and group exhibitions over the past 12 years.
Cameron Schmitz
Cameron Schmitz grew up in Greenwich, Connecticut and spent idle time in her youth drawing. Encouraged by two artistic parents, including her mother who is also a painter, she learned at a very early age the joy and satisfaction of participating in the visual arts. 
Schmitz holds a Master of Fine Arts in Painting from the Pennsylvania Academy of Fine Arts and Bachelor of Fine Arts in Painting & Drawing from the University of New Hampshire, in addition to studying Art and Art History at Studio Arts Center International in Florence, Italy. 
Following a month-long artist residency at the Vermont Studio Center in 2006, Schmitz moved to Vermont after discovering Vermont's rugged landscape to be uniquely inspirational. Now located in the Brattleboro area, Schmitz actively exhibits her work regionally and nationally. Her work has been featured at Fitchburg Art Museum's biannual exhibition, Ne England/New Talent, Green Mountain College, Kyoto Seika University in Japan, Emory University, Northern Arizona University Art Museum, and Rogue Space in Chelsea, New York. Her work is represented by The Drawing Room Art Gallery in Cos Cob, CT and Furchgott Sourdiffe in Shelburne, VT, and she is an artist member of the Copley Society of Art in Boston. In addition to her painting practice, Schmitz is also the Gallery Curator of The Drawing Room Art Gallery and teaches painting at the River Gallery School in Brattleboro, VT.
Carl Rubino
 
I strive to create unique interpretive, impressionistic and abstract images that relate my personal vision of or reaction to the subject matter before me.   Before I even pull out the camera I try to experience all that my subject reveals, or even what it makes illusive – not just the obvious, like the literal view, the colors, texture and patterns - but the less obvious sensual aspects, the energy and the "feeling" that it conveys. Whether in landscape, abstract, street photography, fine art nude or whatever else captures my interest, I seek to find and interpret life's visual symphonies, one click at a time. 
I feel that to a large extent my photographs consist of three different points of view: the raw material that is the literal subject matter of the image that my camera captures; what I see, sense, and work to portray when I interpret that subject; and what the viewer sees when looking at the image on the wall.  Those may be three very distinct views of what is essentially rooted in the same thing.   That, to me, is stimulating art.  And that is a great part of what draws me to photography.
Jeff Schneiderman 
Jeff Schneiderman works as a wedding, portrait and fine art photographer in Williston, VT.  He has been taking photographs for over 35 years, traveled extensively throughout the U.S. and the world and has made Vermont his home for the last 27 years. Patterns are a major theme in Jeff's work as he is fascinated with the designs in nature how they are reflected in things manmade.  More of Jeff's work can be seen at: www.jeffschneiderman.com."
Krista Cheney
Krista Cheney is a native Vermonter, currently living in St. George, Vermont. She studied English Literature and Agricultural Economics at the University of Vermont. She has studied photography since 2003, taking classes and workshops at local venues and the Maine Media Workshops in Rockport, Maine.
Carolyn Enz-Hack
Carolyn Enz-Hack's work includes painting, sculpture, and scenery design. While she has spent most of her life on a farm she holds a degree in theatrical design from Rutgers University and has spent years designing for the theatre. Her rural sensibility is informed by themes explored in ancient theatrical and religious literature, and by developments in cross-disciplinary Science. Each piece is an attempt to process the exterior world through an internal lens. Her most recent solo exhibitions have been at the Castleton Downtown Gallery in Rutland, Vermont, and Creare Inc. and the Dartmouth Hitchcock Medical Center both in Lebanon, New Hampshire. She is the recipient of a Vermont Arts Endowment Award, a painting merit award from the Chaffee Center for the Arts, a residency at the Vermont Studio Center, and her work has been selected for exhibition in regional and nationally competitive shows.
Erinn Simon
Erinn Simon is a fiber artist and yarnbomber. She crochets tapestries, toys, baby mobiles, vegetables, baked goods, blankets, scarves for trees, and the occasional bloodthirsty zombie cupcake. Her work has appeared in group shows in Burlington, Seattle, and Australia and she ships her one of a kind creations to customers around the world. She lives in the Old North End of Burlington with her husband and three kids. You can find her on facebook as Callie Callie Jump Jump.
Image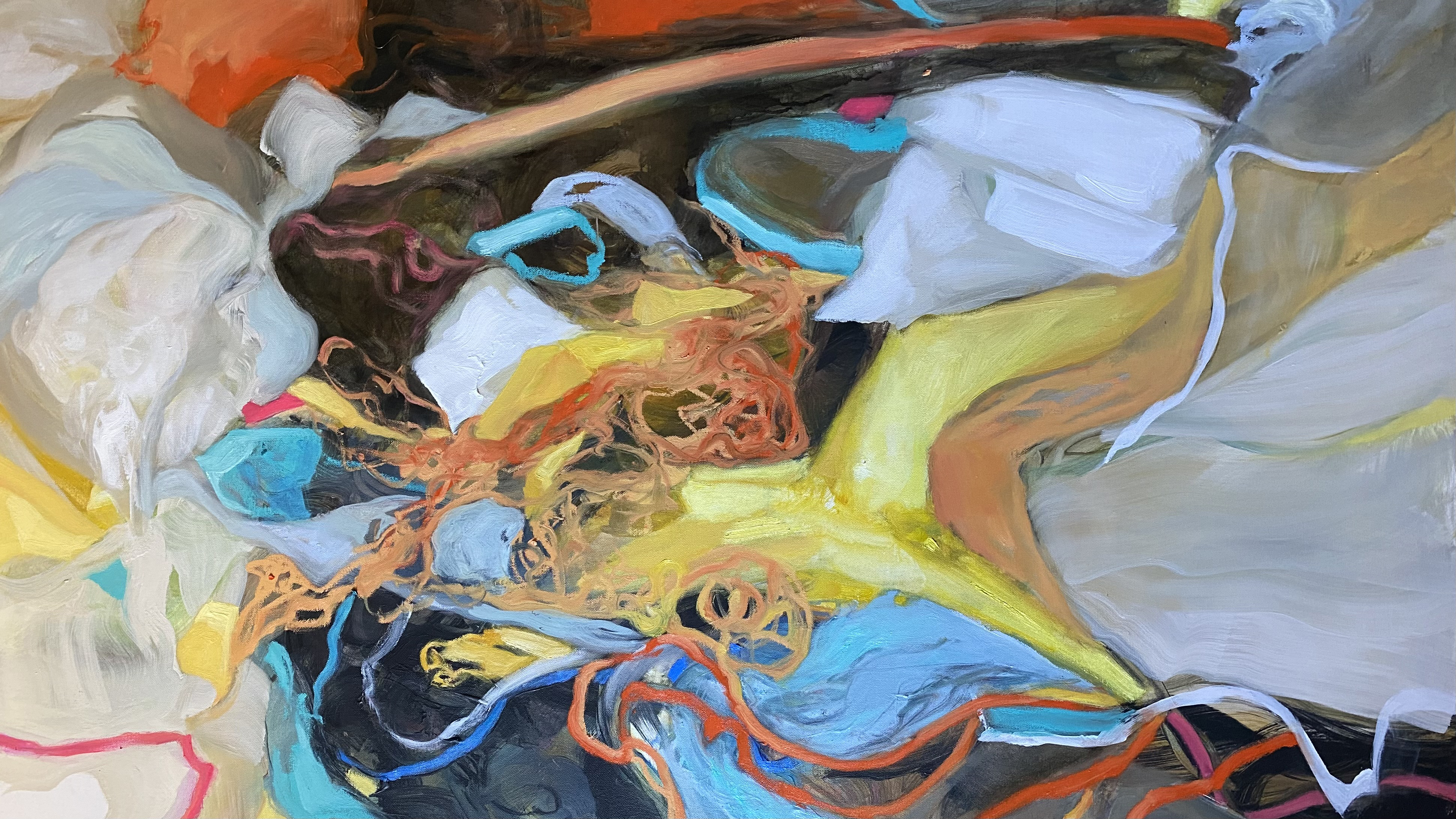 Maltex Gallery
The Maltex Building, located at 431 Pine St, holds four floors of artwork curated by the BCA's External Exhibitions Program. This venue features artwork from nine Vermont artists, rotating bi-annually, and can be visited during regular business hours (Monday - Friday 7 am - 5 pm). These exhibitions run through late August 2023.
Julia Purinton
Whenever Purinton finds herself in nature, whether hiking, gardening, or just taking a walk, she photographs scenes and moments that catch her attention for one reason or another. These photographs form a sort of reference library for her to use in the studio. In this current group of paintings, she has used her image library as a jumping-off point to explore the interplay of color and light in landscape in an abstracted expression. Some of these pieces reference wilderness; others gardens and domestic scenery. She works in the hope that viewers will respond to the energy and beauty inherent in the natural world and be reminded of the importance of a diverse environment to our physical health, our psychological well-being, and our future as humans on our remarkable planet. Each of her paintings is a meditation and a little prayer.
Carol Boucher
These paintings are imagined/remembered landscapes, done in acrylic on canvas or panel. Boucher paints with oils on location (plein air) in the warmer months. She has been painting since childhood, and for over 25 years has sold her artwork in galleries and at juried outdoor art festivals. The artist thanks you for taking time to view her work!
Erika Lawlor Schmidt
The expression "warp and weft" is used metaphorically the way "fabric" is; e.g., "the warp and weft of a person's life" equates to "the fabric of a person's life". Warp and weft are sometimes used even more generally in literature to describe the basic dichotomy of the world we live in, as in, up/down, in/out, black/white, Sun/Moon yin/yang, etc.
Brecca Loh
Loh is an expressive abstract artist residing in Stowe. She grew up in southern Connecticut with easy access to New York City with all its artistic and cultural influences. Specializing in colorful and emotionally rich expressionist paintings using acrylics and mixed media, her paintings are about the harmony of colors and the feelings that they provoke. To the artist, colors have a language. They speak to one another. Her process is to create a dance of colors that creates a sense of intimacy and wonder for the viewer. By painting in a non-representational way, it allows the viewer to bring their personal feelings and experiences to the canvas. The painting then becomes theirs, not hers.
Elizabeth Nelson
After a short visit to Iceland in 2012, Nelson experienced an irresistible magnetic pull, a need to return for a longer time to paint what she saw and felt of the landscape and weather; to be a part of the life there. Five years later she was able to go back to Iceland twice in 2017 and 2018 for a month-long artist residency at SĺM, (the Association of Icelandic Artists), an organization that supports a cultural exchange of visual artists with all countries of the world. As a result of the experience of Iceland, her painting process became a collaboration. She became open to the
suggestions of the paint's motion and interaction with the surface. Instead of being the solitary maker, the paint and the surface had their say too. As she continued, she became acutely aware of the relationship of the changing climate to what was happening on the surface in front of her. All was coming together to become an expression of change, of melting glaciers, of storms, and unsettled weather. As each level of the painting simultaneously revealed and camouflaged, it reflected the changing weather or the very stability of the earth underneath, and her deepening shifts of perception.
Colossal Sanders
David Holub (aka Colossal Sanders) lives at the intersection of words and images, humor and heartbreak, reality and make-believe. His humorous, quirky, and whimsical illustrations adorn greeting cards, stickers, prints, and handmade toys across North America. After a nomadic 20-year career teaching college writing and working at some of the nation's largest and smallest publications, David now creates his work with 100 percent pure, all-natural delight from his in-house factory in N. Ferrisburgh, VT.
Image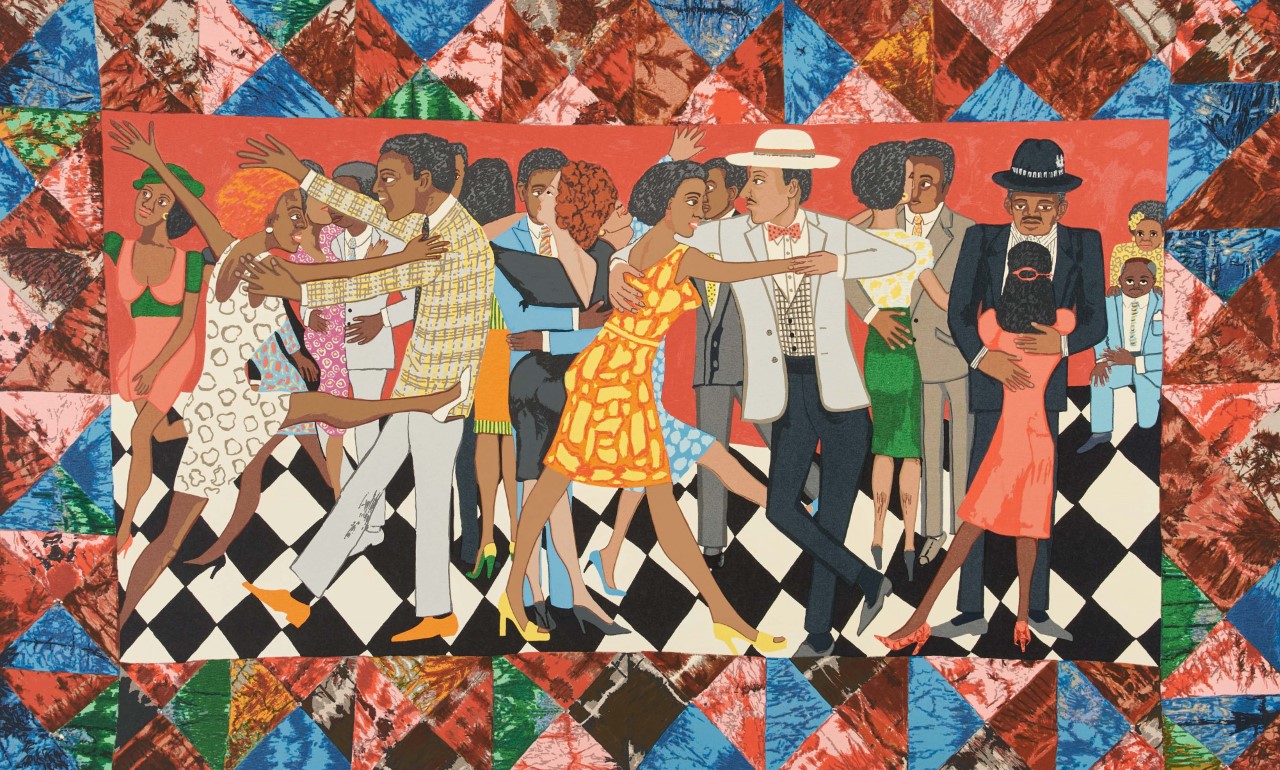 The Lorraine B. Good room is located on the 2nd floor of the BCA Center. The art in this room is available for viewing during our regular open hours, except when the room is being used for programming, meetings, and rental events. This exhibition runs through July 16.
Learn more about Faith Ringgold: Jazz Stories, on view through July 16.
Jazz Stories is presented as part of Jazz Lab. Courtesy of ACA Galleries, NY.
Image: Faith Ringgold, Groovin' High, 1996, silkscreen
Image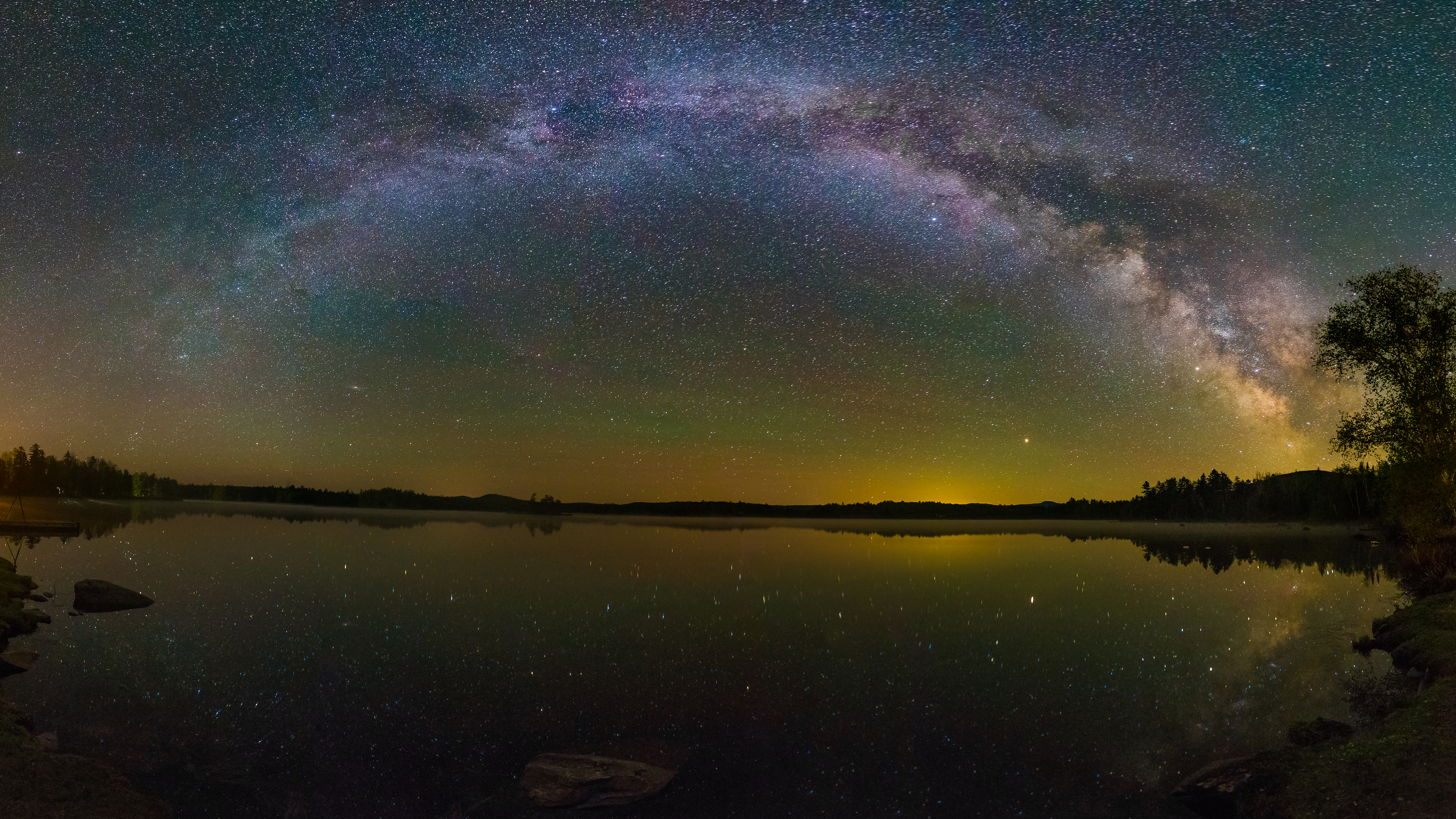 UVM Medical Center
The University of Vermont Medical Center, located at 111 Colchester Avenue, has been exhibiting and purchasing the work of Vermont artists on the main medical center campus in various locations for many years, thanks to its ongoing partnership with Burlington City Arts. Rotating artwork can be found in the ACC East Pavilion 2 & West Pavilion 3, McClure 4, Breast Care Center, and Cancer Center.  Permanent artwork is also on display throughout the hospital. Current exhibitions are on view through late September.
Louise Arnold, oil paintings (Main Street Connector, ACC 3)
Arnold is a landscape painter with a background in Landscape Architecture. She works both en plein air and from her photographs, painting in New England landscapes with which she has great familiarity. Her subject matter ranges from mountains and streams to barns, abandoned farm machinery, and cars, which are prevalent features in many of the landscapes that she paints. She is most interested in capturing the character or spirit of specific places, and in exploring how the qualities of those places affect her as an artist working in them. The paintings that result have evolved from this exploration and engagement.
Mike Sipe, photographs (Main Street Connector, ACC 3)
The Lake Champlain region is Sipe's unparalleled muse; the beauty of the lake, skies, mountains, valley, and the people enjoying its splendor. He doesn't have to travel the world to find world-class beauty; it is here, in his own backyard. His ability to find the area's essence is evolving and it is exhilarating to him. He loves to capture vistas with just the right light accenting a center of interest, the effects of natural elements and motion, and when he finds a wide tonal range, the elegant impression of black and white. Sipe's objective is to use natural light in capturing images, by being in the right place at the right time with the right equipment, evoking a magical light and an interesting confluence of elements. His goal is to offer carefully selected prints to an audience that is also captivated by the beauty of the region and the exquisiteness just outside our doorsteps.
Jean Gerber, oil paintings (Main Street Connector, ACC 3)
Gerber's art begins in her journals. These journals have traveled many rivers in zip lock bags in a canoe in Maine, the Adirondacks, Alaska, The Yukon, and Northwest Territories. The North is vast and wild. She sees things in the North she knows many will never see. So she sketches and records with pens and watercolors – a Gwitchin fish camp falling into the river due to melting permafrost, a bear searching for salmon along the shore, and wide empty gravel bars stretching on forever. This is her art. It's bound up with an outdoor life as a guide and living in an off-grid cabin in Vermont. Back home in the cabin she works from the sketches to create oil paintings. Because of sketching and spending many full days, sometimes a month, with the landscape, the memory of the scene is clear. She feels she is back there as she works on the paintings. So her art begins with a journey. To travel far into the wilds and record and bring it back is the most fulfilling way for her to do art.
(pictured) Brian Drourr, photographs on metal (McClure 4)
Drourr is a 4th generation photographer. Some of his earliest memories are of playing with his father's Nikon FM3 camera. He has learned as much from just getting out there and taking photos as he has from any formal photography education he has received. He has carried his love of adventure and photography together over the years, and thus his "photographic style" evolved from his passion for the outdoors and being in nature. He always strives to evoke that sense of "being there" to the images he captures, and he hopes to bring that sense of awe and amazement that he feels when capturing his photos to the viewer.
Linda Blackerby, acrylic & mixed media paintings (Breast Care Center)
Blackerby is a Vermont-based abstract mixed-media painter whose work is influenced by her passion for both interior design and travel. As she continues to evolve as an abstract and mixed-media artist, she suspects she may be a colorist. She considers herself a color theory nerd and can happily experiment and mix colors for days. She is fascinated by what she can create with limited palettes, how colors interact, and can be used to create unlimited effects within a painting. She's incorporating more texture into her art and that is taking her in new directions. She believes our spaces may be more important to us as safe havens and places to express our true selves than ever before. Her passion is to help art lovers use original work as a meaningful way to express their unique personalities through their individual décor and style. She has a blast exploring color, shape, and texture in her studio to create expressive art that makes you feel uplifted, energized, and joyfully connected every time you walk by it!
Colleen Murphy, acrylic & mixed media paintings (EP2)
Murphy works in mixed media—primarily acrylic paint and collage—on both canvas and wood panels. The collage elements may appear as photographic, textural, or patterned images and shapes. She has explored a variety of themes over many years, but the overarching themes are architecture, interiors, and landscapes. They are all environments she is attracted to, both external and internal. Occasionally, there is a narrative she wants to communicate or a feeling she wants to express. Most times she follows her intuition as best she can, rather than overthink her process.
Image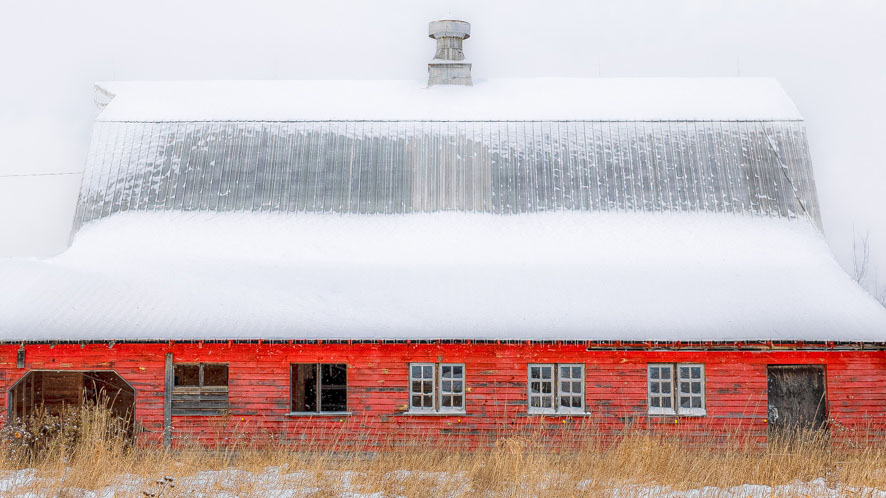 Pierson Library
The Pierson Library, located at 5376 Shelburne Road, in Shelburne, features artwork curated by the BCA's External Exhibitions Program on a rotating basis. These exhibitions run through June 2023.
Greg Nicolai, photographs
Nicolai's goal is to take something that he photographs and turn it into something that is more interesting. As much as he enjoys the end result, he enjoys the process even more. Forms, shapes, and patterns, no matter what the environment, create the initial interest. Black and white photographs seem to emphasize and intensify these details. Color is used only if it helps to further define the subject. Finding the best composition is a fun challenge. Discovering that elusive element that animates a photograph is the reward.
Image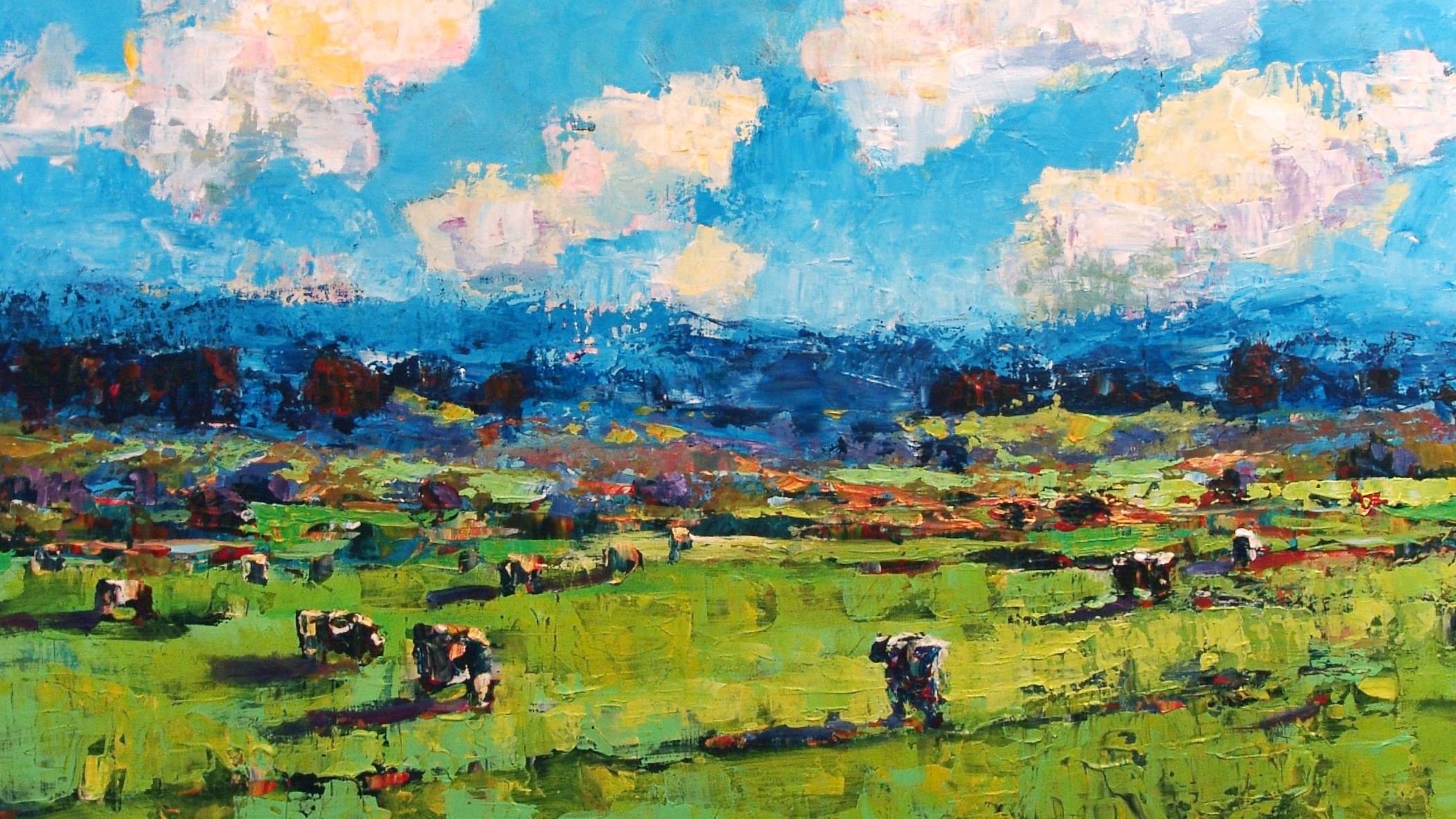 Mascoma Bank
Mascoma Bank is located at 431 Pine Street in Burlington and features artwork curated by BCA's External Exhibitions Program on a rotating basis. These exhibitions run through June 2023.
Gabriel Boray, oil paintings