In addition to our exhibitions at the BCA Center on Church Street, BCA hosts external exhibitions at partnering locales in and around Burlington. All artwork is available for sale. For more information, to purchase, or to see additional works by these artists, please contact Kate Ashman at (802) 865-7296 or kashman@burlingtoncityarts.org.
Image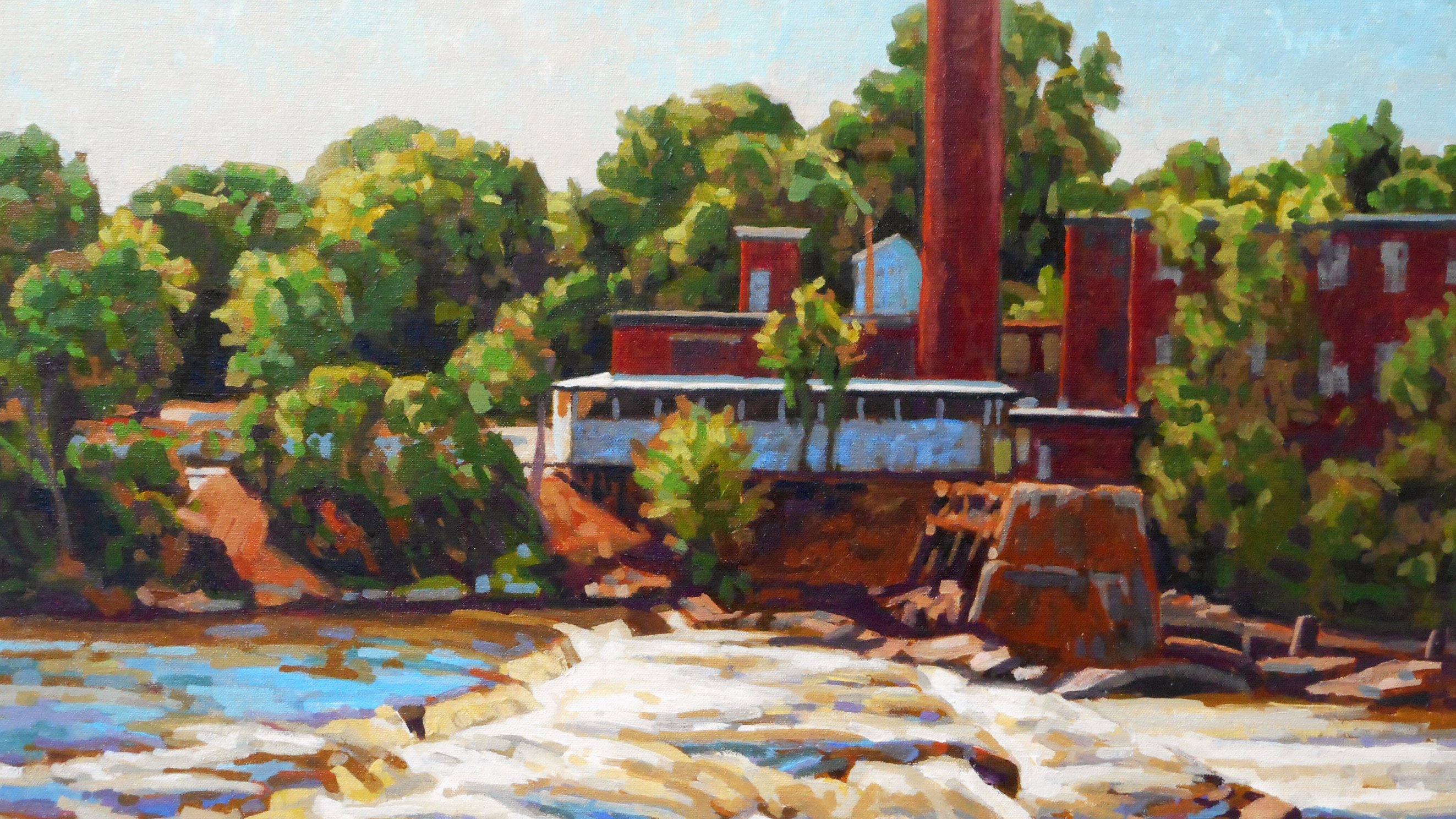 Airport Gallery
The Burlington International Airport features Vermont artists from BCA's External Exhibitions program in several spaces. These exhibits are located in the Skyway and Gates 1-8 (both located on the 2nd floor) as well as above the escalator in the main building. Artwork rotates every few months in these locations. These exhibitions run through September 2021.
Phil Lauglin, oil on canvas (Skyway)
I take color and shape, raw materials with no intrinsic value and assemble them into something coherent that has the power and purpose to speak. If there ever were societies without art, we don't know about them. It's artists, through their art, that tell the future who we are.
Michael Strauss, acrylic and ink on canvas (Gates)
Strauss's work is strongly influenced by the Canadian and California colorists, both in style and subject matter. He is particularly indebted to Mike Svob, Nicholas Bott and Min Ma for inspiration in the subject matter and style of the paintings in this small collection. Like these artists, he sometimes uses bright, bold, color shapes, often with hard and sometimes black edges, to create interesting patterns and design. Though the colors and lines he uses are sometimes not found in nature, the resulting images retain the logic of light and shadow. He often tries to make the brightest objects seem lit from within as well as from incident light, to create an otherworldly glow, like electrified neon in glass. It is this luminous quality of saturated and impressionistic color that pleases him most
Image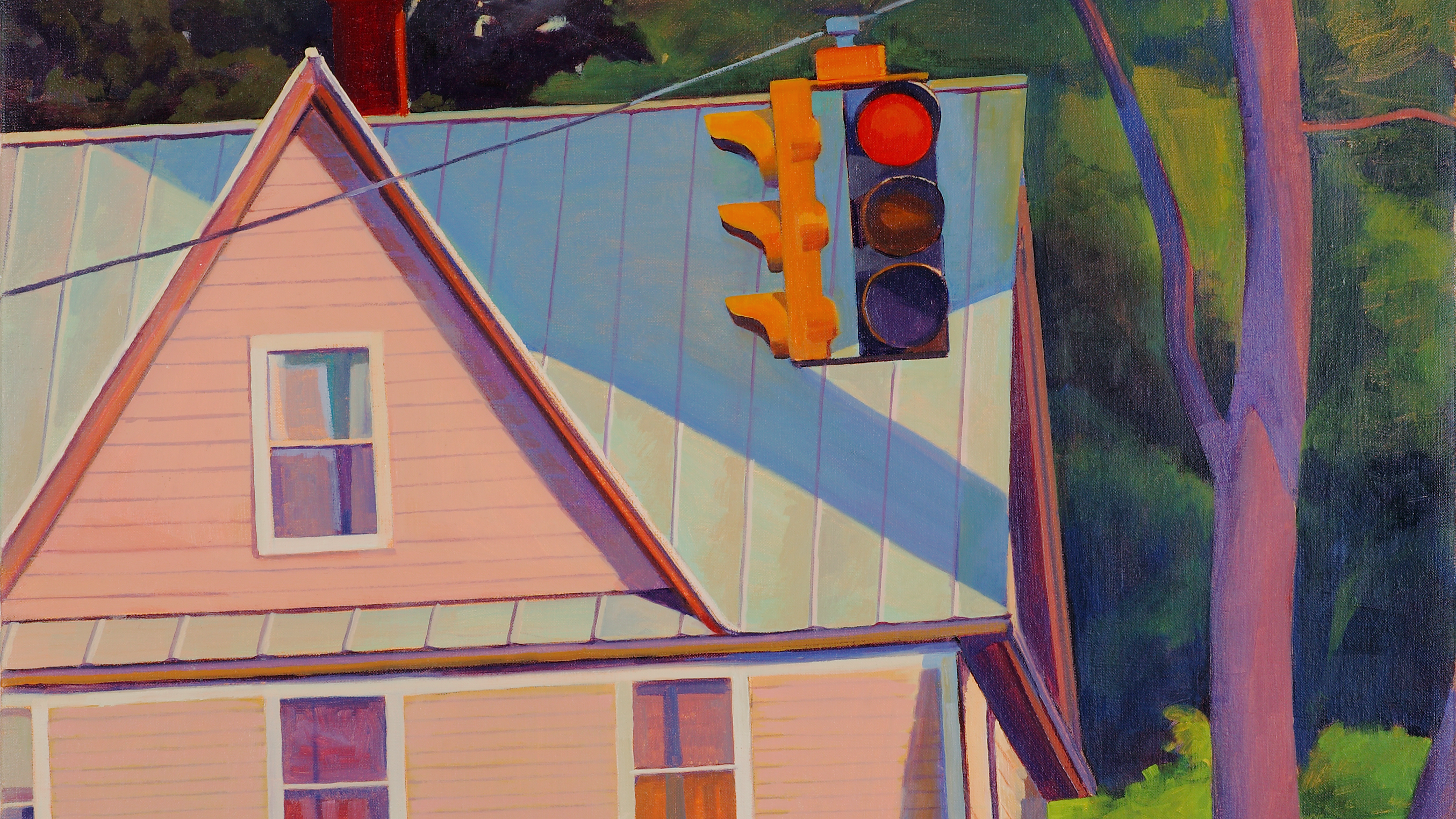 City Hall
The City Hall Gallery is located on the main level of Burlington's City Hall and features Vermont artists from BCA's external exhibitions program on a rotating basis. This exhibit runs through October 2021.
Susan Abbott, oil on linen
In these landscapes, the mood may be melancholy, the meaning ambiguous. Both mood and meaning in my landscapes—images of old houses, old farms, old towns, old trucks–have to do with age and time. Like many Vermonters, I value the old. Even when a barn has outlived its purpose, we respect its venerable presence and want to see it endure. The Japanese concept of "wabi-sabi" has helped me understand why I find these old, ordinary, and sometimes broken-down places so beautiful. Wabi-sabi embraces the aged, the imperfect, the modest, the subjective, the natural, the seasonal, the private, the mysterious. In Vermont and Maine, I find wabi-sabi everywhere I look. In my painting, I find beauty in the ordinary, and try to hold on to the changing, the disappearing, the memory, and the first glimpse.
Image
Hilton Garden Inn
BCA was honored to partner with the Hilton Garden Inn to select artwork from 10 local artists to be included in the design and décor of Burlington's newest boutique hotel. Learn more about Hilton Garden Inn here. This exhibition is ongoing.
Casey Blanchard
Primarily a self-taught artist, Casey explores her experiences through the engaging and often     unpredictable print medium of monoprinting. She is most interested in the spiritual aspects that emerge in the image, particularly relating to how we live in the world and how the world lives in us. In the beginning the work may be a search for answers, but in the end it's more about being here without them.
Casey Blanchard was born in Greenwich, CT in 1953. She lives in Shelburne, VT with her husband, Dan Cox, and their daughter, Julia Cox. Her artwork is found on the walls of health care facilities, private residential collections, corporate offices, the hospitality industry, on web designs and various published materials.
Johanne Durocher Yordan    
Johanne is a Burlington based artist who works out of her studio on Pine Street. She was born in Quebec, Canada, but has lived most of her life in Vermont. It was not until 1998 that Johanne began committing herself to her artwork and finding her own voice. She studied at the University of Vermont and has since developed a diverse body of work that is a testament to her ability to succeed as an independent artist. Creating work that fits a variety of audiences, while always building upon her unique self-taught style, is the secret to her success. Johanne has always been the type of person who explores on her own, tapping into the unknown and developing her own fashion and techniques. Many of her paintings include found or collected items which add depth and meaning to combine form and function to her work. Her abstract work captures her emotions and represents her unique style and expression. Johanne has exhibited her work extensively throughout Vermont in both solo and group exhibitions over the past 12 years.
Cameron Schmitz
Cameron Schmitz grew up in Greenwich, Connecticut and spent idle time in her youth drawing. Encouraged by two artistic parents, including her mother who is also a painter, she learned at a very early age the joy and satisfaction of participating in the visual arts. 
Schmitz holds a Master of Fine Arts in Painting from the Pennsylvania Academy of Fine Arts and Bachelor of Fine Arts in Painting & Drawing from the University of New Hampshire, in addition to studying Art and Art History at Studio Arts Center International in Florence, Italy. 
Following a month-long artist residency at the Vermont Studio Center in 2006, Schmitz moved to Vermont after discovering Vermont's rugged landscape to be uniquely inspirational. Now located in the Brattleboro area, Schmitz actively exhibits her work regionally and nationally. Her work has been featured at Fitchburg Art Museum's biannual exhibition, Ne England/New Talent, Green Mountain College, Kyoto Seika University in Japan, Emory University, Northern Arizona University Art Museum, and Rogue Space in Chelsea, New York. Her work is represented by The Drawing Room Art Gallery in Cos Cob, CT and Furchgott Sourdiffe in Shelburne, VT, and she is an artist member of the Copley Society of Art in Boston. In addition to her painting practice, Schmitz is also the Gallery Curator of The Drawing Room Art Gallery and teaches painting at the River Gallery School in Brattleboro, VT.
Carl Rubino
 
I strive to create unique interpretive, impressionistic and abstract images that relate my personal vision of or reaction to the subject matter before me.   Before I even pull out the camera I try to experience all that my subject reveals, or even what it makes illusive – not just the obvious, like the literal view, the colors, texture and patterns - but the less obvious sensual aspects, the energy and the "feeling" that it conveys. Whether in landscape, abstract, street photography, fine art nude or whatever else captures my interest, I seek to find and interpret life's visual symphonies, one click at a time. 
I feel that to a large extent my photographs consist of three different points of view: the raw material that is the literal subject matter of the image that my camera captures; what I see, sense, and work to portray when I interpret that subject; and what the viewer sees when looking at the image on the wall.  Those may be three very distinct views of what is essentially rooted in the same thing.   That, to me, is stimulating art.  And that is a great part of what draws me to photography.
Jeff Schneiderman 
Jeff Schneiderman works as a wedding, portrait and fine art photographer in Williston, VT.  He has been taking photographs for over 35 years, traveled extensively throughout the U.S. and the world and has made Vermont his home for the last 27 years. Patterns are a major theme in Jeff's work as he is fascinated with the designs in nature how they are reflected in things manmade.  More of Jeff's work can be seen at: www.jeffschneiderman.com."
Krista Cheney
Krista Cheney is a native Vermonter, currently living in St. George, Vermont. She studied English Literature and Agricultural Economics at the University of Vermont. She has studied photography since 2003, taking classes and workshops at local venues and the Maine Media Workshops in Rockport, Maine.
Carolyn Enz-Hack
Carolyn Enz-Hack's work includes painting, sculpture, and scenery design. While she has spent most of her life on a farm she holds a degree in theatrical design from Rutgers University and has spent years designing for the theatre. Her rural sensibility is informed by themes explored in ancient theatrical and religious literature, and by developments in cross-disciplinary Science. Each piece is an attempt to process the exterior world through an internal lens. Her most recent solo exhibitions have been at the Castleton Downtown Gallery in Rutland, Vermont, and Creare Inc. and the Dartmouth Hitchcock Medical Center both in Lebanon, New Hampshire. She is the recipient of a Vermont Arts Endowment Award, a painting merit award from the Chaffee Center for the Arts, a residency at the Vermont Studio Center, and her work has been selected for exhibition in regional and nationally competitive shows.
Erinn Simon
Erinn Simon is a fiber artist and yarnbomber. She crochets tapestries, toys, baby mobiles, vegetables, baked goods, blankets, scarves for trees, and the occasional bloodthirsty zombie cupcake. Her work has appeared in group shows in Burlington, Seattle, and Australia and she ships her one of a kind creations to customers around the world. She lives in the Old North End of Burlington with her husband and three kids. You can find her on facebook as Callie Callie Jump Jump.
Image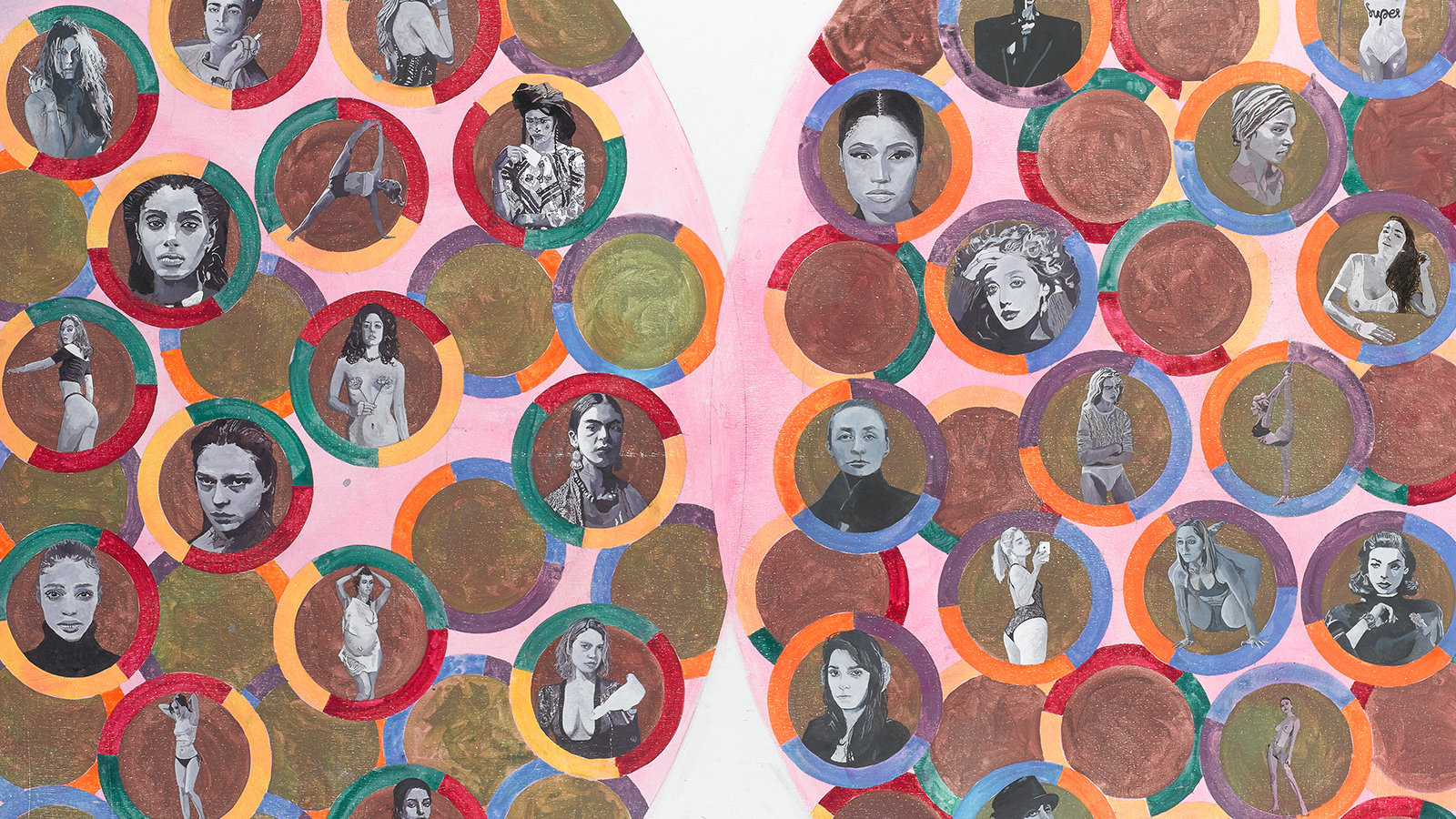 Maltex Gallery
The Maltex Building, located at 431 Pine St, holds four floors of artwork curated by the BCA's External Exhibitions Program. This venue features artwork from nine Vermont artists, rotating bi–annually, and can be visited during regular business hours (Monday - Friday 7am - 7pm). These exhibitions run through August, 2021.
Eric Eickmann (pictured)
I address the female form with respectful insight to the architecture of sexuality, vulnerability, and the rawness of power. Painting is cutting out all pain. The visual and tactile are the same. Art is feeling and energy. The absurdity of making pictures is transcended. I don't know where my own misery and another meet or separate. On the surface I search for a resolution. It seems largely unresolvable. Then an angel reaches down and strokes my head. The resulting peace solidifies in form. Formlessness folds in and amongst the lines. I am lost in the color and meaning of symbols. I consume the media and feel the culture of beauty. I want to drink the skin presented by electrical pulses turning on pixels. The data of our lives is a secondary bridge. Possible evolution of consciousness. Energy doesn't evolve. Energy just is.
Douglas Biklen
Biklen is a fine art photographer who specializes in abstract images. He first developed an interest in photography as a child, using a Kodak Brownie camera, and later progressed to 35 mm single lens reflex cameras. He was an avid photographer while a Peace Corps Volunteer in Sierra Leone, West Africa during the 1960s. In the 1970s and '80s he pursued his interest in visual arts by becoming involved in film. It was not until the 1990s that he returned to Medium Format photography, using a Hasselblad. He studied color photo techniques with Alison Shaw at the Maine Photographic Workshops and digital scanning and image preparation for printing at Light Work/Community Darkrooms at Syracuse University. Biklen's work can regularly be seen at the Brandon Artists Guild in Brandon, Vermont. Biklen formerly served as Dean of the School of Education at Syracuse University and now resides in Orwell, Vermont.
Kathleen Fleming
I paint mixed media pieces inspired by the Vermont landscape, which celebrate both the wonder and complexity of life. For me, painting is the continual process of paying attention. When I remember to slow down, I notice the beauty, laughter, and moments of simple joy that are all around me: the sun dipping over the horizon; crisp leaves under my feet; Mary Oliver's wild geese overhead. These ordinary things inform my work and compel me to return again and again to the easel. I love the little joys and surprises that happen while I'm painting - the way a warm yellow pops next to a cool blue; the drips that can alter a whole composition. Working with the mistakes and the happenstance pushes me to find solutions. How can I create calm from chaos? Beauty from mud? It's all a metaphor for life - to embrace the messy complicated world that is all around and turn it into something beautiful and true. And, hopefully, have some fun along the way.
Kimberly Bombard
My preferred medium is oil. From my very first memories, I have always seen myself as an artist. I vividly remember coloring in kindergarten, experiencing a pleasant feeling like a trance, a kind of meditation, pure joy. I still feel that way when I paint. I enjoy painting still life because it is an easy way to fall into color; I am all about color and movement. In many ways, I have been putting myself through my own school of painting, where I break apart the subject simplify it, and then put it back together. Flowers, to me, are the opposite of still. Growing and dying in a short time frame, they are perfect symbols for life, death, love, and beauty. My brushstrokes are layered with my own internal emotions depicting how I feel when I paint the stroke, weather its happiness, sorrow, satisfaction, or love.
Sam Macy
Sam Macy is a graduate of The University of Vermont where he studied mathematics, art and architecture. His first-ever collection celebrates one of Vermont's most loved and iconic places: Shelburne Farms. As born-and-bred Vermonters who grew up enjoying the farm's acres of hiking trails and other notable features, the farm epitomizes "home" for Sam and his wife. It was a natural first choice for his premier Collection.
Erika Lawlor Schmidt
Every spring I wait for the sights and sounds of birds, frogs, bees and animals returning to our surrounding hills and forests. This relationship to the natural world and understanding its delicate balance is integral to my very being, a link to my youth and a real hope for the sustenance and wellness for my children and grandchildren. A reasonable route and motivation for my work as an artist is now compelled by and linked to forms of activism in support of efforts and legislation to protect wild places and wildlife.
I have for a long time, been focused on making work about the interconnectedness and interdependence of all things, a kindred spirit to Eastern philosophies. This recent series of monotypes is celebratory yet elegiac not exactly different from earlier work, except that I have created this primarily for children. Playful, imaginary in color and scale, the images are meant to prompt inquiry and invite children to identify the mammals, birds, reptiles, and insects and to then perhaps to write about them, a poem or story that comes from what they know, what they are curious about or what they imagine. A child's creative process is important, sharing what we create is important and the discussion about our fragile relationship with all living creatures on this miraculous planet is important. The role of artists today is to create awareness and platforms for action.
Elizabeth Powell
Bodily; suggestive and alluring, my work is often comprised of torsi-like forms complete with breasts, belly, and pelvis. The imagery comes from a lexicon of figures that I began developing when I was immobilized by an illness. Experiencing physical limitations, I instinctively began to draw and abstract the shape of my own body to reconnect and reclaim it. I now draw these forms automatically and obsessively. They now deviate far from the figure, yet remain cohesive and bodily. While I make overt references to the body, I also create shapes that resemble bones or organs; visceral and sinewy. The forms are unusual, riddled with bulbous protuberances, abject and grotesque. Yet, they are beautiful. Unexpected and sometimes disconcerting, the forms are not quite what they are expected to be from the first impression of beauty, symmetry, and patterning. They retain autonomy as they tease perfection with a pseudo-repetition.
The empowered forms are somewhat contradicted by the overlying skeletal structures that often accompany them. The "cages" or "nets" entered my work when, on a quest for plain, utilitarian underwear, I was pulled into the abyss of online shopping. I became fascinated by over-the-top lingerie. I am intrigued by the way the fabric forces women's bodies into a series of geometric shapes, as if packaged. Between the nets and figures, my work is able to begin exploring the perplexities of femininity created by the societal decorum of beauty and the conflation of expression and repression found in the female form.
Maria Anghelache
Anghelache explores the subject of nature through abstract expression and movement, as seen in her explosive Butterflies Series. She strives for uniqueness and creativity in her paintings, as well as to combine abstract sensibilities with sophisticated and high imagination. Here she orchestrates the conception and intensity of vertical and horizontal lines to represent the minuscule veins of wings and body. She has chosen to paint butterflies because they are a symbol of fragility and beauty, and a deep and powerful representation of life, change, endurance, and hope. The symbolism she conveys with her purple butterflies is a less common theme. The color purple is often associated with royalty and strongly represents spirituality. She finds the message of purple butterflies to be about having courage and trusting in yourself. The artists feels that joy and inspiration have arrived to her artwork through nature.
Image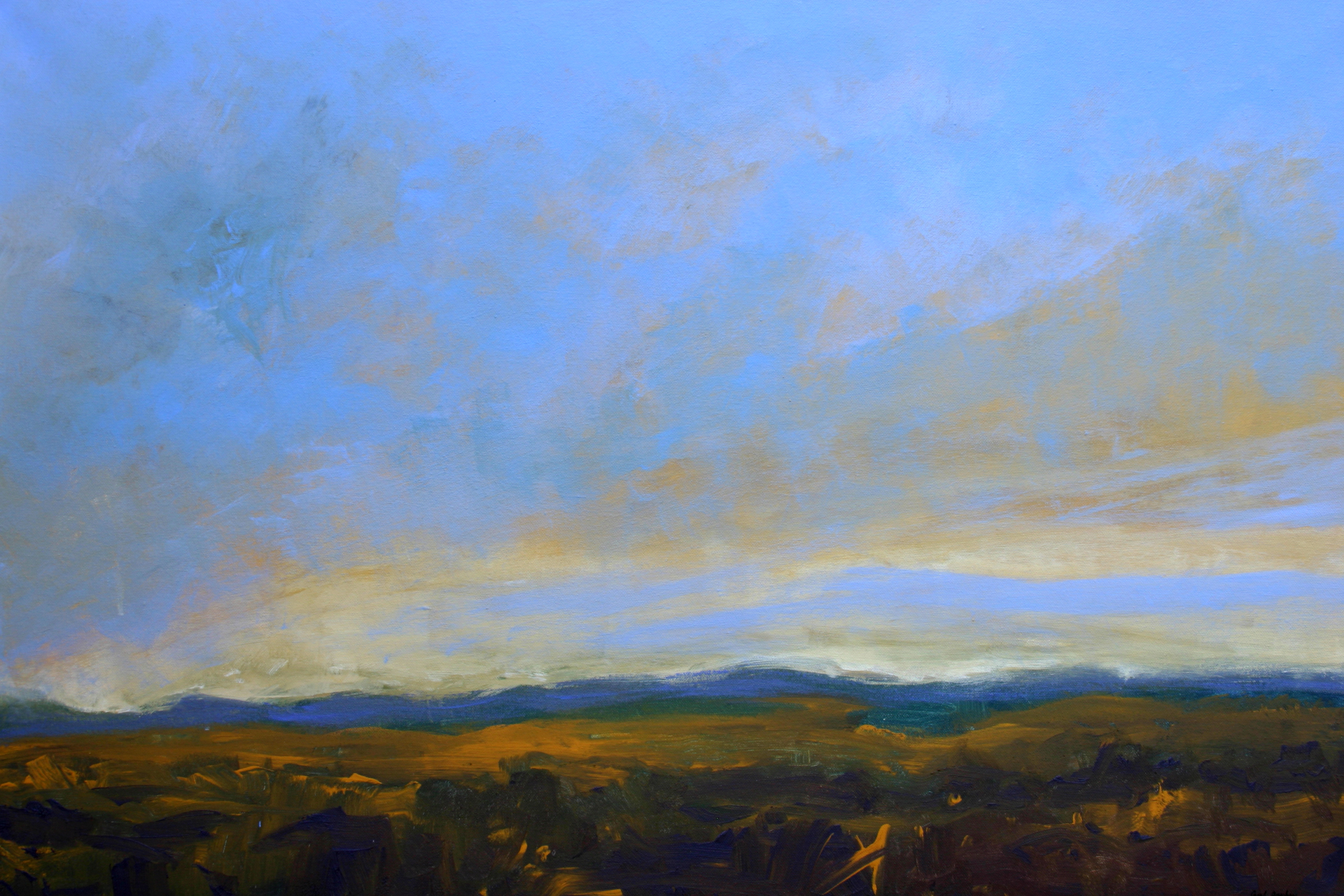 Lorraine B. Good Room
The Lorraine B. Good room is located on the 2nd floor of the BCA Center. The art in this room is available for viewing during our regular open hours, except when the room is being used for programming, meetings and rental events. This exhibition runs through February, 2022.
Carol Boucher
In this series of paintings, Boucher focuses on imagined/remembered landscapes, done in acrylic on canvas or panel.  In the warmer months, she paints with oils on location (Plein Air). 
Boucher has been painting since childhood, and for over 25 years has sold her artwork at galleries and at juried outdoor art festivals.  You can view more of her work at www.carolboucher.com and at Shore Acres in North Hero, VT, in addition to other venues through BCA. The artist thanks you for taking the time to view her work!   
Image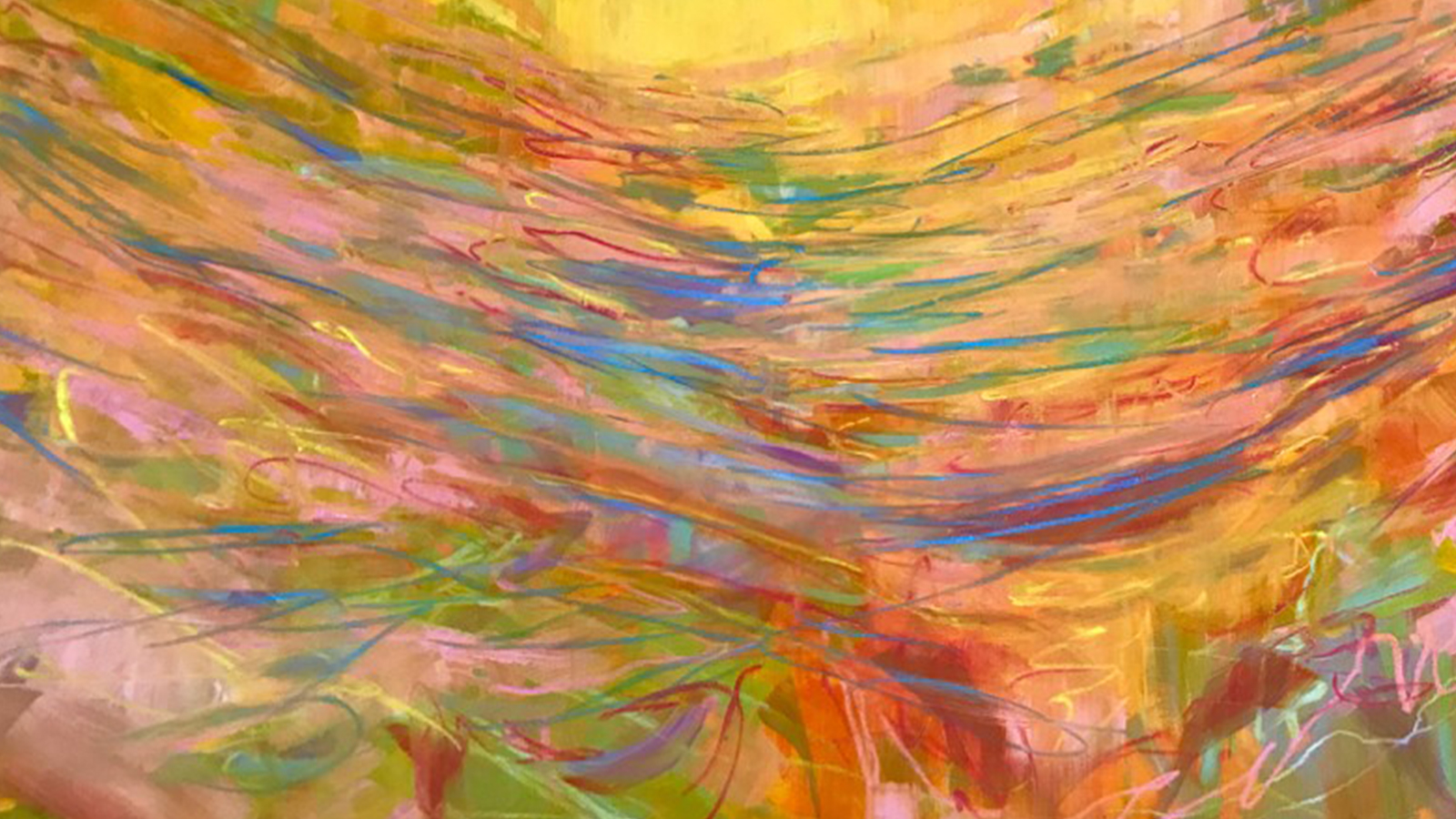 UVM Medical Center
The University of Vermont Medical Center, located at 111 Colchester Avenue, has been exhibiting and purchasing the work of Vermont artists on the main medical center campus in various locations for many years, thanks to its ongoing partnership with Burlington City Arts. Rotating artwork can be found in the ACC East Pavilion 2 & West Pavilion 3, McClure 4, Breast Care Center, and Cancer Center.  Permanent artwork is also on display throughout the hospital. Current exhibitions on view through September 2021.
Artwork through Sept 20, 2021
Cameron Schmitz (pictured)
Main Street Connector, ACC 3
Cameron uses mark-making to express the constantly moving, changing, and morphing of life and nature. Painting to her, is a metaphor of her own life, inspired by tender emotional relationships, rooted in notions of touch love and wonder, that she is able to experience as a woman, a mother, and a humble observer of the world. She embraces uncertainty both intuitively and abstractly, allowing her to relinquish control and give way for the painting to become a dialogue between herself, her materials, and her audience.
Alla Potashnikova
Main Street Connector, ACC 3
Alla is a nurse here at the UVMMC. She has enjoyed sketching and doodling since she was a child. She would develop her habit over time into an interest in formal drawing and painting, both of which she pursued but would not satisfy her inner muse. About two years ago, she stumbled upon pastels, found magic in them, and since then she has been working exclusively with her 'perfect medium'. Her art, she believes, is the way that she can bring the skills and knowledge that she utilizes in her nursing profession, to the world as a whole to show the world her main thought— Nature is the greatest healer.
Bear Cieri
Main Street Connector, ACC 3
This series explores a landscape that would otherwise be overlooked were it not for human intervention. Beauty is buried deep within the earth, but it takes human ingenuity, energy and opportunity to extract it. By creating abstract compositions Bear is decontextualizing each element, forcing the viewer to consider smaller and more constructed pieces of a larger idea. Made in active quarries these images express his appreciation for and connection to the natural world, while simultaneously exploring the way humans have evolved to not only command ownership of the land, but also the way we depend on it for our way of life.
Michael Couture
McClure 4
These photographs were made during a brief three-day trip to Iceland in October of 2019 where Michael chose to travel in the relatively small southwest part of the country. His son commutes from Burlington to Iceland about every two weeks when there is not a pandemic and he wanted to see his business and witness what wonders of the island that he could in that brief period. Traveling over 300 miles per day provided the showcase to reveal this magical part of the world and is impetus to return for more photography of the island and learn more about the people and their culture.
Judy Hawkins
Pathology hallway, ACC 2
Water, with all its varied dimensions, fascinates Hawkins. She is drawn to and inspired by its simplicity and changing nature- from the pond pebbles on the bottom through layers of water, to surface tension, reflection. Minute color relationships and a sense of place have her diving into her oil paints. She remarks that she is continually learning something new whenever she puts brush and color to canvas, each experience bringing a new perspective and vocabulary to her work. Her paintings are inspired by country drives looking at favorite marshes, fields and ever-changing Vermont skies. She expresses her recollections in new paintings, exaggerating key highlights and quickly establishing mood through color and composition.
Barbara Greene
Breast Care Center, ACC 2
Barbra paints to communicate and express instead of using words. For her it is both physical and emotional, trying to capture on canvas the story of why a particular subject appeals to her. Many of her paintings incorporate connections both to her time as a sailor and her lifelong connection to the water. She often paints outdoors from spring to early fall. Not quite abstract, not quite representational, her paintings reveal the basic elements of an approachable identifiable context but not the details. Through her work, she invites viewers to share her visions of her subjects, or to create their own.
Kathleen Grant
Cancer Center, ACC 2
Kathleen's love for art started at a young age. After taking numerous high school art classes, and attending Johnson State to pursue her dream of becoming an artist, Kathleen found that her calling was to share her love and enthusiasm of art through teaching. After thirty years, Kathleen has retired from her teaching career to work as a full time artist and jewelry designer. As an artist, she finds there are no boundaries when sticking to a specific artistic medium. In her paintings, she works in a wide variety of media, including watercolors, pen, oil sticks, acrylic paints, colored pencils, and ink sticks. She loves to create; she also loves to share her passion, and hopes to inspire her viewers, peers, students, friends and family through her art.
Image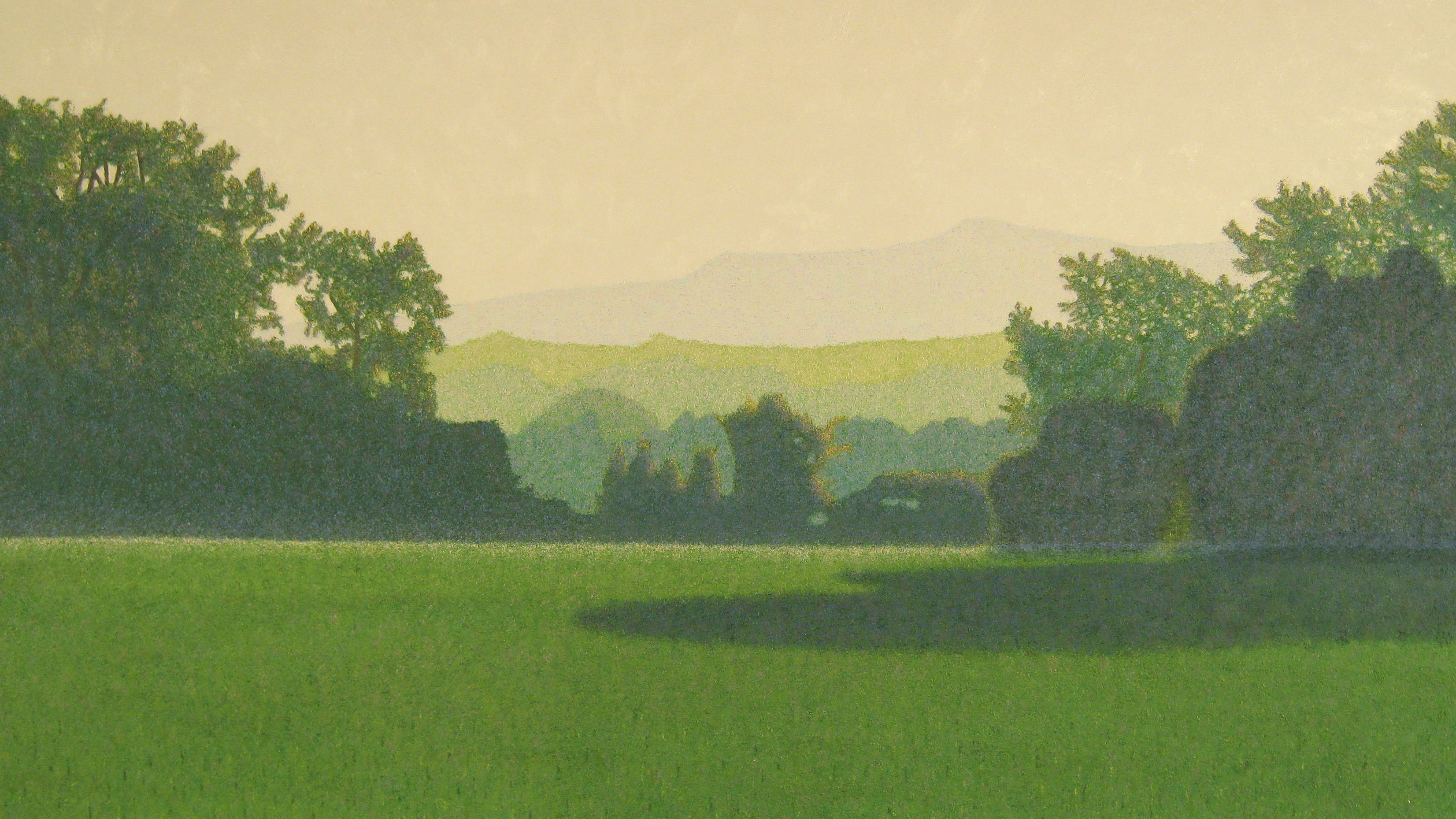 Pierson Library
The Pierson Library, located at 5376 Shelburne Road, in Shelburne, features artwork curated by the BCA's External Exhibitions Program on a rotating basis. These exhibitions run through October, 2021.
Bruce Conklin, acrylic and ink paintings (pictured)
During my working life, I have been involved in various aspects of design and implementation. These have manifested as aerospace hardware design, graphic design, photography and illustration, museum exhibit design, and, most recently, as a working chef. My days now are divided between painting in the mornings and cooking at Vermont Respite House in the afternoons. I am a self-taught painter, working primarily in the studio. My painting is heavily influenced by the Impressionists and by more recent painters as diverse as Milton Avery, Giorgio Morandi, Vilhelm Hammershoi, and Avigdor Arikha.
Tatiana Yakusheva
For me,  Art is Life and Life is Art. Both processes are pretty complicated, but also adventurous, creative, challenging, and infinite. As we look for our paths in life so do I also look for approaches and techniques in the art process. Every time I draw or paint, I try to improvise… with new mediums and styles, the state of creation, or the process of creation, is life in different dimensions. Artwork turns into a separate substance that has energy, light, and lives its own life. The goal for me is not to create a painting with the right succession of strokes, proportions, and perspective. All the beauty is in imperfection. Drawing or painting becomes a separate substance that has energy and light, and lives its own life. Art has no borders and it needs to be free. You should put passion, energy, and love into what you do to create something of artistic value, emotional and spiritual, something that would disturb people's minds and touch the strings of their souls. My works are usually the result of generated experience, passion, feelings, concerns, and questions. I don't create on someone's order or make the copies. You cannot step into the same river twice and you can never feel or think the way you did a moment ago. Every new work should be original, complete, and genuine. You cannot have a formula for inspiration or love. Either it is there or it is not.
Image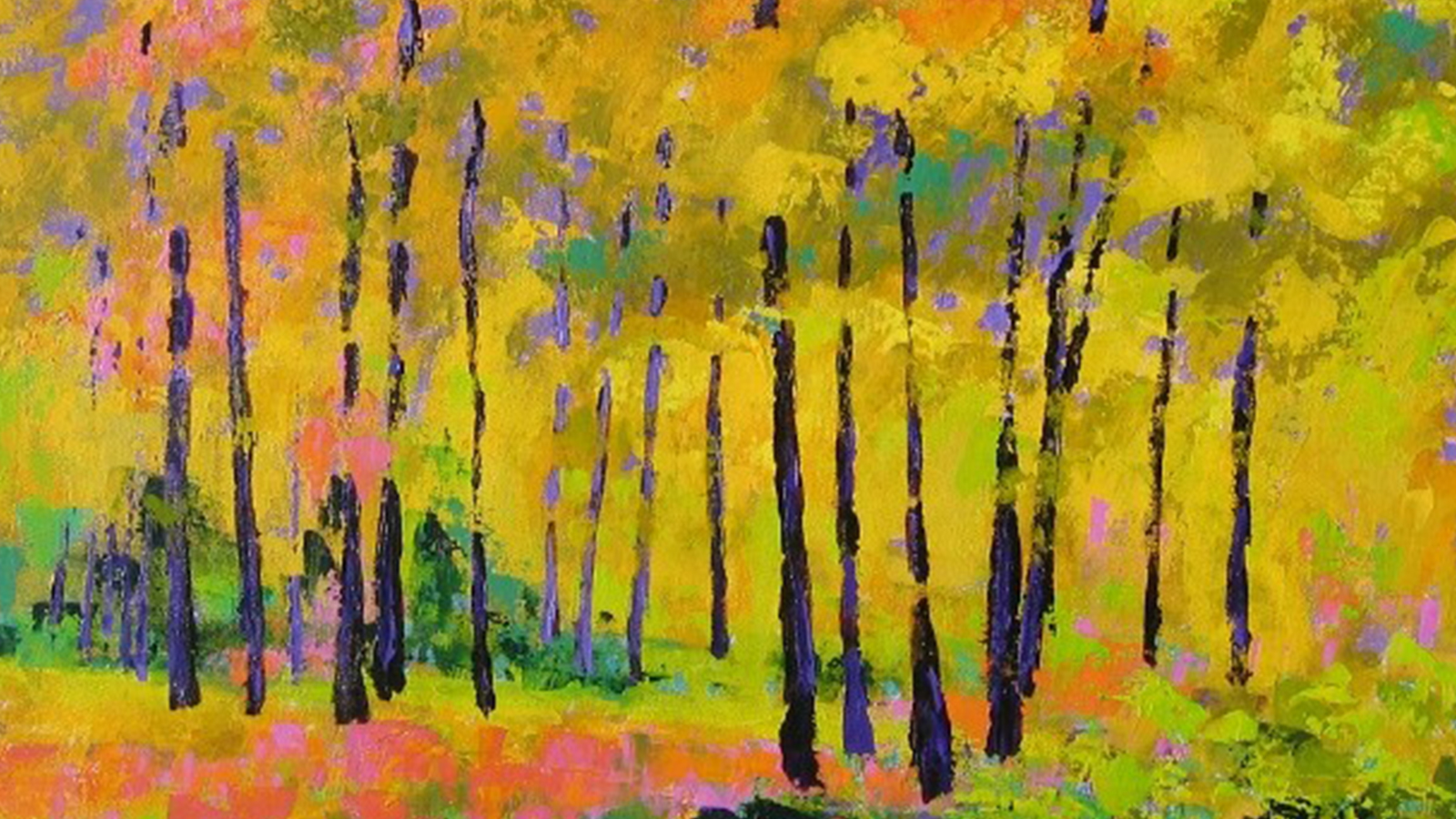 Mascoma Bank
Mascoma Bank is located at 431 Pine Street in Burlington and features artwork curated by BCA's External Exhibitions Program on a rotating basis. These exhibitions run through October, 2021.
Lorraine Manley, acrylic landscapes
Lorraine has been fascinated with art since she was a young girl in St. Albans, VT, when she devoted every spare moment to exploring forms of creative expression. The natural beauty of Lorraine's native Vermont has been the greatest influence in her art. She especially enjoys painting the landscapes near her home in colors vivid, lush, and intense. With intuitive and energetic use of a palette knife and brush, Lorraine looks for those spontaneous "accidents" of oils and acrylics to capture nature's seasons in textural painting both impressionistic and exciting.