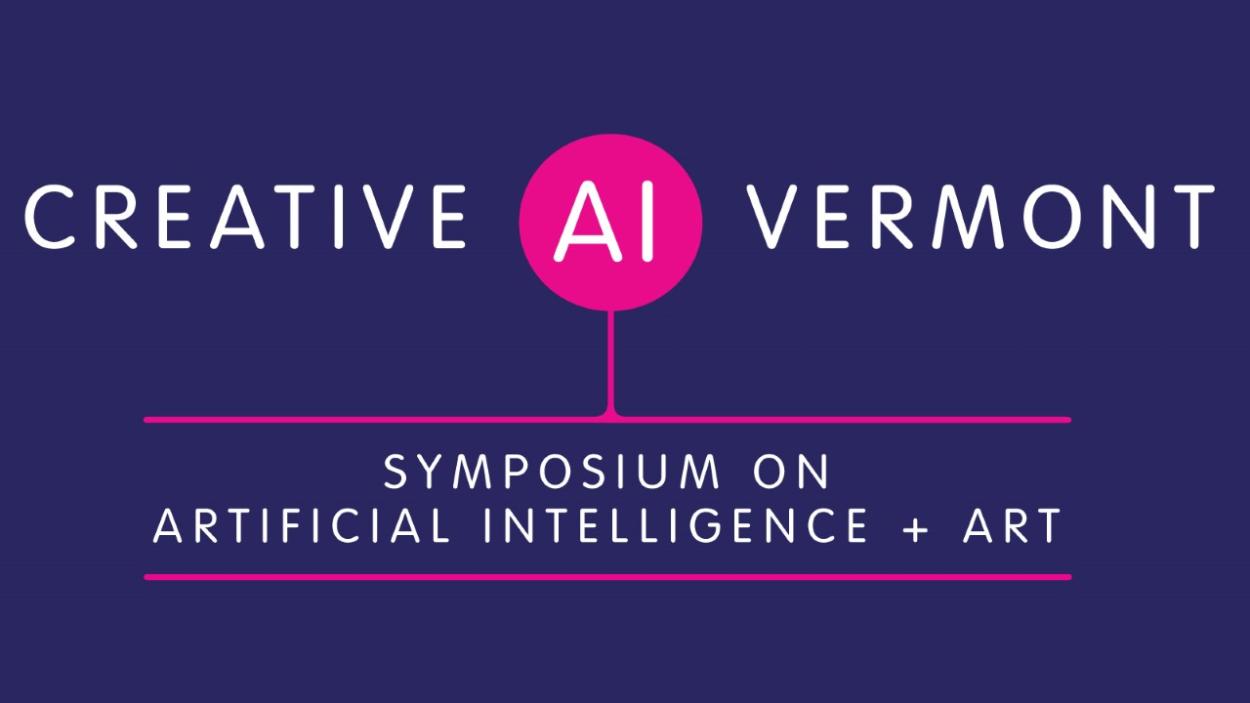 Creative AI Vermont: Symposium on Artificial Intelligence + Art
Creative AI Vermont is a full-day symposium dedicated to examining how artists are engaging with the rapidly emerging field of creative and generative artificial intelligence (AI). Held in conjunction with our exhibition Co-Created: The Artist in the Age of Intelligent Machines and co-hosted by the University of Vermont and Hula, the inaugural Creative AI Vermont symposium presents local and international perspectives, Co-Created artists, and visiting AI thought-leaders while examining creative approaches to AI and artistic practice. The symposium features artist talks and technical workshops as well as a youth-focused, hands-on workshop for Vermont high school students.
Browse the program guide & schedule
Opening Keynote
Natalie Summers, Manager, Communication and Artist Relations, OpenAI, San Francisco
With the disruptive release of both ChatGPT and DALL-E2 in the last six months, OpenAI has captured our cultural imagination and established itself as a driving force in the emerging generative AI industry. A University of Vermont alumna, Summers provides an insider's perspective on the rapidly changing generative AI landscape and explores its future possibilities.
Youth Workshop
Art + AI and Girls Who Code, University of Vermont
High school students learn how to use code to design patterns and introduce ways of automating colorful, geometric compositions with machine learning.  Students receive instruction and time to work collaboratively and independently.
Presentations
Minne Atairu, Artist and Doctoral student, Art and Art Education, Columbia University, NY, Igún
Atairu presents her Igún project, which uses generative AI to explore the consequences of colonial oppression in sub-Saharan Africa while focusing on repatriation of Benin Bronzes.
Jane Adams, Artist and Computer Science Ph.D. student in the Data Visualization Lab at Northeastern University, MA
Aerial View: Reflections on Processing Images, from Code to Artifact
Emergent media artist, Jane Adams, shares her creative process for Aerial View, curating aerial photographs to training a machine-learning model to imagine new landscapes, culminating in an illuminated sculpture that encodes time along another dimension.
Lapo Frati, Artist and PhD Student in Complex Systems and Data Science, University of Vermont
From Cyb to Cyber: A Peek into Loops' Inner Life
Using a unique combination of AI, JavaScript, and GPUs, Lapo Frati explains the creative code behind his CyberLoops project featured in Co-Created. Frati leads an entertaining, deep-dive tour of mathematical spirographing, machine-learning, computer vision integration, graphic shader programming – and the approachable p5.js creative coding environment that holds it all together. Follow along with or without your own laptop.
Jenn Karson, Artist and Lecturer and founder of the UVM Art + AI Research
#OwnYourDataset
Jenn Karson presents on her Co-Created project, The Damaged Leaf Dataset, which uses AI to explore the local effects of climate change through maple and oak leaves damaged by spongy moth outbreaks.
Alex M. Lee, Artist and Asst. Professor, Arizona State University, Tempe and Media and Immersive eXperience Center, Mesa City Imbuing Agents with Qi (氣) Through Synthetic Digital Energy
Alex M. Lee traces the evolution of the use of neural models as a metaphysical form of synthetic energy driving simple to complex avatar performances in his multi-episodic, XR art game, The Fold.
Mauro Martino, Artist and Professor Northeastern University, Director Visual Artificial Intelligence Lab, IBM Research, MA Mauro Martino's Exercises in Style
Mauro Martino presents on his project, Mauro Martino's Exercises in Style, as featured in Co-Created. He discusses the research and process behind the project that employs both live, voice actors and the emerging technology of text to video.
Technical Workshop
Jane Adams, Artist and Computer Science PhD student in the Data Visualization Lab at Northeastern University, MA
Beyond Text-to-Image: How Can I Make My Own AI Art with Custom Data?
Designer-turned-computer scientist, Jane Adams, walks participants through sourcing their own image dataset from the web, and blending automation strategies from graphic design tools and code to develop generative, machine-learning models. Tools run the gamut from no-code approaches to advanced Python strategies, offering more flexibility and reduced material costs. Follow along with or without your own laptop.
Closing Keynote
Josh Bongard, Professor and Director of UVM's Morphology, Evolution & Cognition Laboratory, University of Vermont
The World's First AI-designed Organism
The most creative act yet achieved was the origin of life on Earth and its subsequent evolution. However, the diversity of life on earth represents a vanishingly small fraction of all life forms that *could* exist. What else is out there? To begin answering this question, Bongard's group created an AI that, in turn, created a brand new organism never before seen on Earth – the xenobot. A xenobot is a millimeter-sized "robot" made from genetically unmodified frog cells. Xenobots are but the first of an imminent menagerie of AI-designed organisms that will transform biology from the study of "life as it is" into "life as it could be."
Symposium Organizing Committee
Chris Thompson, Co-Organizer, Co-Created Guest Curator Jenn Karson, Co-Organizer, University of Vermont Sarah Jayne Kennelly, Public Programs Assistant, BCA Heather Ferrell, Curator/Director of Exhibitions, BCA Jacquie O'Brien, Gallery Coordinator/Curatorial Assistant, BCA Donna Rizzo, Advisor, University of Vermont
---
Image

Creative AI Vermont symposium is co-hosted by Burlington City Arts, the University of Vermont, and Hula. Sponsors: the University of Vermont, College of Engineering and Mathematical Sciences, the University of Vermont, Office of the Vice President for Research, and Gravel & Shea PC. Community Partner: the University of Vermont, School of the Arts. Media sponsor, Seven Days. 
Creative AI Vermont symposium is supported in part by a grant from the National Science Foundation (NSF) under award No. 2218063.  
Burlington City Arts is supported in part by The Vermont Arts Council & the National Endowment for the Arts.
Back to Events