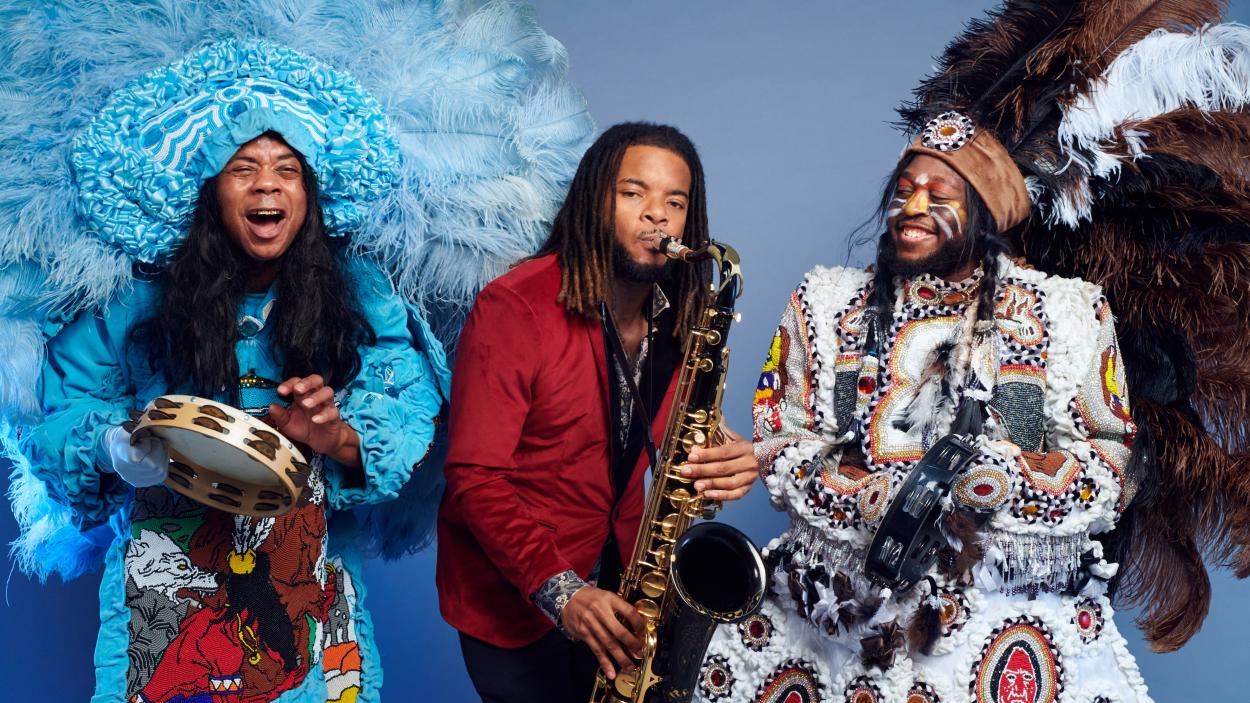 Festival of Fools Twilight Series: Cha Wa (w/ Jack Broadbent)
Image

New Orleans brass band-meets-Mardi Gras Indian outfit Cha Wa radiates the energy of the city's street culture. "My People," the band's follow up to their Grammy-nominated album "Spyboy," feels like pure joy, a distillation of generations of New Orleans expression. But it also never fails to remind us how hard-won that joy was and still is: not least in the tense, funky and explosive title track, with its declaration "My people, we're still here." 
"Mardi Gras Indian songs are inherently songs about freedom," the band's drummer Joe Gelini says. "And that struggle is as relevant today as it's ever been." Popmatters describes the band as "a grand gumbo of singing, intoxicating rhythms, and deep funk grooves that are impossible to resist." 
Opener: Jack Broadbent, 6:30 pm
On each album, Jack Broadbent is used to people saying, "Oh, this is a departure from your previous stuff." That's something the British-born singer, songwriter, and guitarist has heard to varying degrees, over the course of his six albums to date, and is certainly fitting of his latest release, RIDE. As someone who is as connected to the quality of his relationships with people as he is to the quality of his music, rest assured he considers that a compliment. "I think there's a lot of variety on my records. This is no different," Broadbent says. "I'm really getting a sense now that this idea of genre and where you fit in is not as important as it used to be — which I think is good."
Broadbent grew up in rural Lincolnshire, England. His earliest influence, his father, Mick Broadbent, plays bass on RIDE and is a well-established musician, including a tenure with Bram Tchaikovsky. "I fell in love with music at a young age," he says, informed by the steady diet of music played around the house. His father would take Broadbent to open mic nights as a youth, and by his early teens, he was playing drums in his dad's bands. Broadbent gravitated to guitar around the same time as he became interested in songwriting.
Broadbent found acclaim and an audience after the Montreux Jazz Festival hailed him as, "The new master of the slide guitar."  Bootsy Collins famously proclaimed him, "The real thang!" He won over more fans touring with the likes of Ronnie Wood, Peter Frampton, and other musical legends.  
www.instagram.com/jackbroadbentofficial/ 
www.facebook.com/JackBroadbentMusic/ 
---
Catch a concert on the lawn as the sun sets on City Hall Park with this beloved series that presents 16 free evening concerts on alternating Fridays and Saturdays featuring a  lineup of regional luminaries spanning the full spectrum of genres.
2023 City Hall Park programming is underwritten by the Pomerleau Family Foundation and The WaterWheel Foundation. Media sponsor, Seven Days. Twilight Series is presented by Soundtoys.
Back to Events