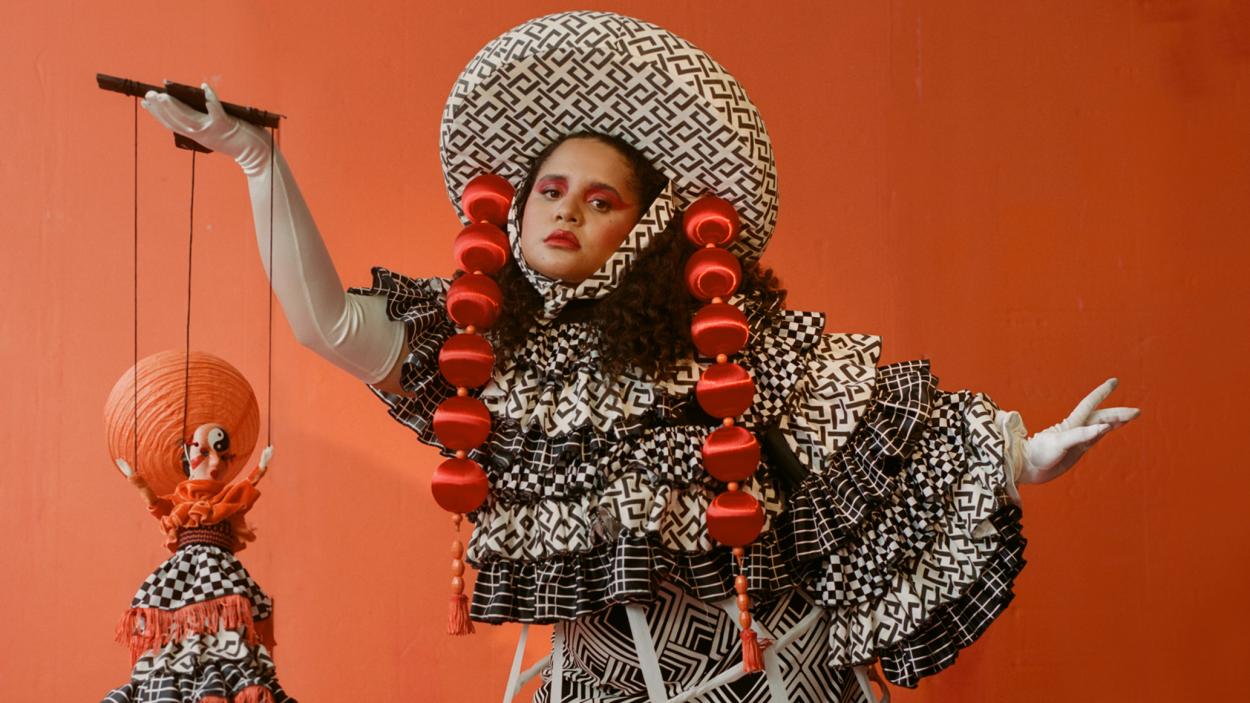 Festival of Fools Twilight Series: Lido Pimienta (w/ Jack Broadbent)
Image

Lido Pimienta's new album 'Miss Colombia,' the anticipated follow-up to 'La Papessa,' which was awarded the Polaris Music Prize in 2017, is available now. The Colombian-born, Toronto-based global beats trailblazer recorded the album in her home studio, with some additional recording done in the historic Colombian town of San Basilio de Palenque. Miss Colombia boasts 11 new and original songs that boldly celebrate Lido's ecstatic musical hybridity of electronic meets cumbia, and is at once defiant and delicate, exploratory and confrontational. All of the songs were written and arranged by Lido, and she co-produced the album with Matt Smith aka Prince Nifty.  
The album title was partly inspired by the Miss Universe gaffe in 2015, when Steve Harvey mistakenly awarded the crown to Miss Colombia instead of Miss Philippines. It caused Lido to reflect on the anti-blackness she's experienced, and how she was viewed as an outsider in adolescence, a "weird artistic tomboy" for not adhering to the expected norms projected upon her. Lido - an Afro- 
Indigenous, queer feminist - created Miss Colombia as a canvas for introspection, with pieces about love (and self-love), and loss. Other songs confront divisive politics in Colombia, Indigenous inequality and racism, and ultimately bring her closer to home. 
Musically it digs deeply into the history of Afro-Latin music, from Palenque to cumbia - styles that Lido embraced after being introduced to Sexteto Tabala, one of the most representative musical expressions of the African communities in Colombia (who are also featured on the album). The album also features Bomba Estereo's Li Saumet. Lido has an affinity for acts like A Tribe Called Red and Inuk throat singer Tanya Tagaq, but her work also resonates with British-Sri Lankan rapper MIA and she draws unabashed inspiration from the New York-bred Dominican-Trinidadian rap queen Cardi B. 
www.facebook.com/Lido.Pimienta.Musica/ 
www.instagram.com/lidopimienta/ 
Opener: Jack Broadbent, 6:30 pm
On each album, Jack Broadbent is used to people saying, "Oh, this is a departure from your previous stuff." That's something the British-born singer, songwriter, and guitarist has heard to varying degrees, over the course of his six albums to date, and is certainly fitting of his latest release, RIDE. As someone who is as connected to the quality of his relationships with people as he is to the quality of his music, rest assured he considers that a compliment. "I think there's a lot of variety on my records. This is no different," Broadbent says. "I'm really getting a sense now that this idea of genre and where you fit in is not as important as it used to be — which I think is good."
Broadbent grew up in rural Lincolnshire, England. His earliest influence, his father, Mick Broadbent, plays bass on RIDE and is a well-established musician, including a tenure with Bram Tchaikovsky. "I fell in love with music at a young age," he says, informed by the steady diet of music played around the house. His father would take Broadbent to open mic nights as a youth, and by his early teens, he was playing drums in his dad's bands. Broadbent gravitated to guitar around the same time as he became interested in songwriting.
Broadbent found acclaim and an audience after the Montreux Jazz Festival hailed him as, "The new master of the slide guitar."  Bootsy Collins famously proclaimed him, "The real thang!" He won over more fans touring with the likes of Ronnie Wood, Peter Frampton, and other musical legends.  
www.instagram.com/jackbroadbentofficial/ 
www.facebook.com/JackBroadbentMusic/ 
---
Catch a concert on the lawn as the sun sets on City Hall Park with this beloved series that presents 16 free evening concerts on alternating Fridays and Saturdays featuring a  lineup of regional luminaries spanning the full spectrum of genres.
2023 City Hall Park programming is underwritten by the Pomerleau Family Foundation and The WaterWheel Foundation. Media sponsor, Seven Days. Twilight Series is presented by Soundtoys.
Back to Events