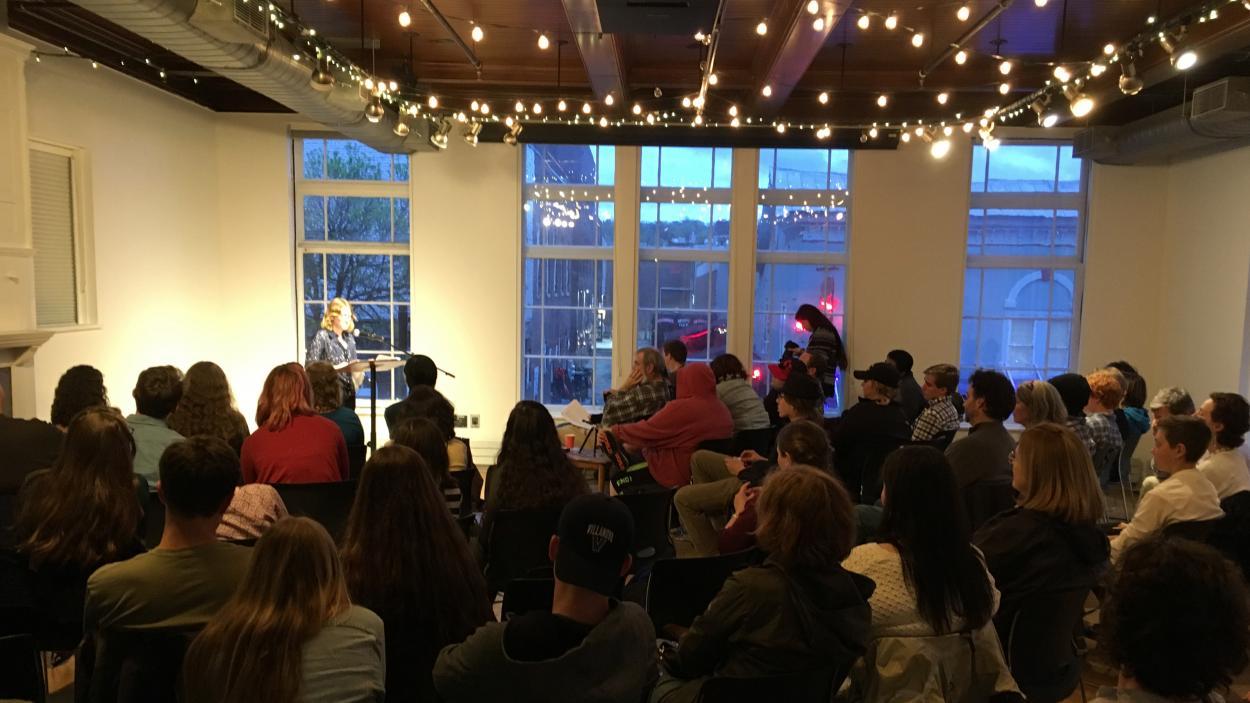 Jazz Lab Panel Discussion: Jazz in the Green Mountains: Local Legends and the Growth of Jazz in Vermont 
Lorraine B. Good Room, 2nd Floor BCA Center
Space is limited, so register here to save your seat
BCA's Jazz Lab is part of the Burlington Discover Jazz Festival, presented by New England Federal Credit Union.
Join us for a panel discussion on how jazz became so popular in Vermont. That Burlington is now celebrating its 38th year of a ten-day music festival devoted exclusively to jazz is truly amazing. In this hour-long panel, we will hear firsthand from some of Vermont's longstanding contributors and stalwarts of the genre as to how this phenomenon came to be. Moderated by veteran broadcast journalist Fran Stoddard, panelists discuss how jazz was first introduced to the state and how generations of jazz musicians helped cultivate a resounding interest. Panelists will also discuss the venues and nightclubs where jazz was most supported, and how touring big bands and other jazz ensembles made their way to the Green Mountains. Panelists include guitarist and educator Paul Asbell, sax/woodwind player and educator Rich Davidian, bassist and mandolin player Will Patton, pianist and teacher Rob Guerrina, and jazz singer Jenni Johnson.
Paul Asbell 
In his 55 year professional career, Paul Asbell has played and recorded with Muddy Waters, John Lee Hooker, Howlin' Wolf, Lightnin' Hopkins, Paul Butterfield, Magic Sam, Earl Hooker, David Bromberg, Paul Siebel, Mary McCaslin, Sonny Stitt, Jon Hendricks, Bobby McFerrin, and many others. 
His jazz-fusion group Kilimanjaro has released several award- winning recordings, and performed at jazz festivals worldwide, including Montreux, Montreal, Atlanta, and Roskilde, in Copenhagen. Their latest, "Homecoming", was picked by Jazziz magazine for their "Best of 2009" CD, along with tracks by Chick Corea, John McLaughlin, Branford Marsalis, and other heavyweights. 
Paul's 3 solo acoustic CDs, "Steel-String Americana", "Roots and Branches", and "From Adamant To Atchafalaya", have received numerous rave reviews for their fresh takes on blues and jazz standards, old- timey country tunes, and original pieces from the "american roots" tradition. Recent appearances include Healdsburg, Woodstock (NY) and Newport Guitar Festivals, MerleFest, Lunenburg Folk Festival, and many other venues. Acoustic Guitar Magazine recently did an article on him, featuring his composition "Chunky Monkey Gumbo". 2018 saw the release of "Burmese Panther", a CD of Paul's original jazz compositions, featuring a quintet of world-class players. 
Paul has taught guitar for over 45 years, including positions at Dartmouth, Skidmore, and other colleges. He presently teaches at Middlebury College and the University of Vermont. 
For more info, please visit www.paulasbell.com All content Copyright 2022 Busy Hands Records - All Rights Reserved 
Rich Davidian 
Rich Davidian has played woodwind instruments in all genres of music and shared the stage with many talented Vermont musicians as well as an array of talent ranging from Big Joe Burrell, to Ray Vega, to Jerry Bergonzi, to The Temptations, to The Who. 
He is a charter member and music director [since 1976] of the Vermont Jazz Ensemble. He retired from teaching instrumental music after 40 years, 38 of those in Montpelier. Rich continues to provide private instruction to adult instrumentalists, and is a principal in Jazz in the Mountains, a Vermont-based adult jazz camp. 
Rich has also done live sound reinforcement & recording for groups including the Vermont Humanities Council, Montpelier Community Gospel Choir, VT AllState Music Festival, and local VT high schools. His family members are also active musicians, including his wife, Shawn, and sons, PJ and Joe. 
Rob Guerrina 
Rob started playing accordion at the age of four and began performing professionally in his early teens. After graduating from New England Conservatory of Music in Boston, he moved to Vermont to teach music in Swanton and soon began performing. Rob, Larry McCrorey, and two of their students, Randy Miller and David Morwood, formed a group called Just Jazz that played for many years. When Big Joe Burrell came to Vermont he often played with them. Rob continued performing for 50+ years, playing with most of the people on this panel, among many, many others. 
Jenni Johnson 
Singing jazz, blues and funk has been a central part of Jenni's life since her teen days in New York City, where she was born and raised. In the 1970's, while working towards her Masters in Education, Jenni was involved in several musical productions at UVM, and sang in various settings, including local clubs, private parties, college campus events, receptions, fraternities and sororities. 
The 1980's found Jenni completing graduate work and pursuing projects in Houston, Texas and Boston. Among these was a unique repertoire of song and music which included a work she titled "The Billie Holiday Story." Another project kept her busy in a Boston recording studio producing demo tapes for Star Search and the Coca-Cola Company. 
Jenni Johnson has been described as "a renaissance woman" in the many articles written about her in the Burlington Free Press, Seven Days, Vermont Woman the Rutland Herald, as well as for newspapers across the lake in New York State. Born in NYCs Harlem Hospital and raised in the Big Apple, she now resides in Burlington, VT. 
Her resume includes Supervisor of Physics and Counselor at Mass. Institute of Technology. Private counseling practice in Cambridge, Massachusetts. Her dual appointment at the University of Vermont meant working as a counselor at the Counseling Center and instructor for the College of Education. Some of Jenni's community involvement over the years include: Commissioner of Parks & Recreation;(elected official) Ward Clerk; Board member Howard Mental Health; organizer of fund raisers for Alzheimer's Association, Katrina flood victims, Honduras flood victims, and other humanitarian causes. 
Jenni now combines her formal education with her passion for teaching fitness, coaching vocal-performance and performing music. She has an M.Ed. from the University of Vermont with credits towards a Ph.D and is a certified Fitness Instructor. 
Jenni says she's still learning how to use her instrument, the vocal chords, with each performance. She has performed the song "Moonlight In Vermont" around the world in places such as Yaroslavl and Rostov in Russia, Paris, France and Montreal, Canada. In addition, she has sharpened her musical skills with opportunities working with national jazz/blues musicians from New Orleans. 
Jenni has become a regular presence around the State of Vermont. Her full, smooth voice offers an ideal format for the collection of American jazz classics, as well as, blues, swing and funk music. Your audience will be mesmerized by her unique style and versatile renditions. She'll have them smiling from their souls, while their feet dance happily to the beat. Jenni has three album cd's available. Check her website: jennijohnson.net for additional gig information and the release information of her new album the end of May 2013. 
Will Patton 
A multi-instrumentalist and composer, Will has been playing music since the age of 6, starting on piano and taking up guitar at age 12. Mandolin and bass soon followed, and he's been leading bands since he was thirteen In demand as a jazz bass player and session mandolinist, he has traveled to Rio, Paris and the Caribbean as well as all over the U.S. and Canada. During the last 25 years he has been leading his own quintet, focusing on Gypsy jazz and Brazilian styles as well as straight up bebop and perform many original compositions in their repertoire and on their 6 CDs. His bands have opened for Van Morrison, Ray Charles, Bonnie Raitt, Earl Scruggs, Maynard Ferguson, John McLaughlin and Toots Thielemans. His collaborations with legendary gypsy guitarist Ninine Garcia as documented on his recordings have received critical acclaim both in the U.S. and abroad. He is an enthusiastic and focused teacher, having given workshops at Ashokan, Pinewoods, Django in June, Classical Mandolin Society and many other camps and festivals in the U.S. and Canada. 
Fran Stoddard 
Fran Stoddard has been involved in education, public relations, media production, facilitation, and strategy development for over 30 years. A national award-winning media producer, Fran is the current host of "Across the Fence," America's longest running daily community television program that airs on WCAX-TV. She has also served as producer/host of Vermont Public Television's weekly "Profile," interview program, a health care series "Vital Signs," and Vermont Public Radio's call-in program, "Switchboard," as well as other public broadcasting programs. Stoddard was an adjunct associate professor of media studies and production at Champlain College, where she developed and ran the media communications program. She is a trained facilitator and frequently serves as moderator/host for community events, panels and debates. Fran holds a master's degree in Psychology from Goddard College and a bachelor's degree in Communications from Northwestern University. 
---
Jazz Lab is presented with support from the Media Factory
Back to Events