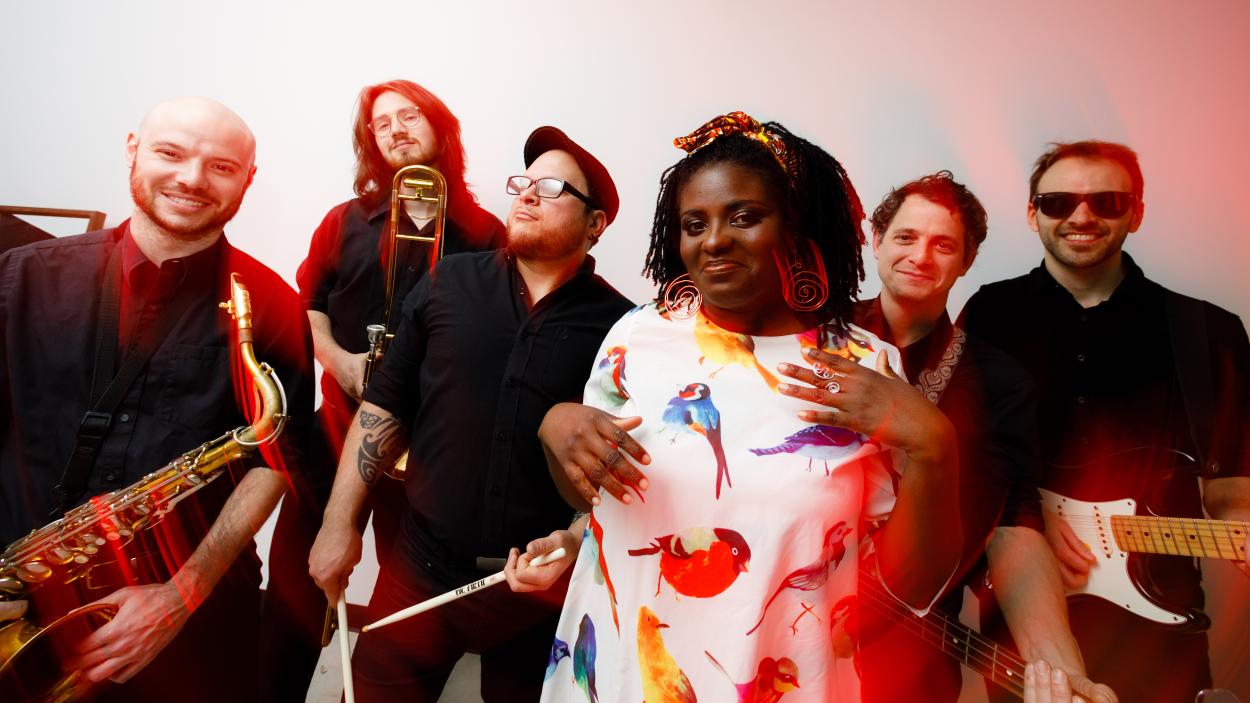 Twilight Series: The Big Takeover (w/ Aída O'Brien)
Image

Traditionalists or progressives? Fronted by the charismatic Jamaican-born singer and songwriter Nee Nee Rushie, the seven-piece New York band The Big Takeover plays original music that is rooted in and reverent toward the genres and rhythms of Jamaican pop: reggae, rocksteady, ska. They are devotees of Desmond Dekker and the way the old school did it.  At the same time, The Big Takeover crosses lines and blends traditions like global pop fusionists. Their deceptively complex arrangements and big hooks connect with the spirit of Motown and the uptown sophistication of the 21st century retro soul and R&B revival scene. 
That rich sound, along with their rigorous performing schedule and studio work, has been paying off. In 2018, the Big Takeover completed a successful 12-state tour. They were enthusiastically received by 10,000 at Omaha's Jazz on the Green festival. They delivered an outrageously infectious and nuanced acoustic performance on the popular reggae-centric Sugarshack Sessions. Meanwhile, their current standalone single "Rainboots" has scored big with the discerning tastes at National Public Radio. The Big Takeover has appeared live in studio on several NPR stations, while "Rainboots" is in rotation on all of them. 
www.facebook.com/bigtakeoverband 
www.instagram.com/bigtakeoverband/ 
Opener: Aída O'Brien, 6:30 pm
Aída O'Brien is an Americana and roots musician from Belchertown, Massachusetts. Her music is a blend of old time, indie rock, blues and country. In June of 2020, she released an EP called Girl in the Blue Dress, which spans seven years of songwriting and chronicles the beginning of her gender transition. She has performed at music festivals and well known venues like the Grassroots Festival of Music and Dance in Trumansburg, NY, Iron Horse Music Hall and Pearl Street Ballroom in Northampton, MA. Aída has been teaching guitar and performing in Burlington since graduating from Middlebury College as a music major in 2020. Past musical projects include Bench Clear, Paint, Flame n' Peach and the Liberated Waffles, Rocky Hill Revival and Cold Spring. 
www.instagram.com/obrien.aida/ 
www.facebook.com/aidan.obrien.146/  
---
Catch a concert on the lawn as the sun sets on City Hall Park with this beloved series that presents 16 free evening concerts on alternating Fridays and Saturdays featuring a  lineup of regional luminaries spanning the full spectrum of genres.
2023 City Hall Park programming is underwritten by the Pomerleau Family Foundation and The WaterWheel Foundation. Media sponsor, Seven Days. Twilight Series is presented by Soundtoys.
Back to Events