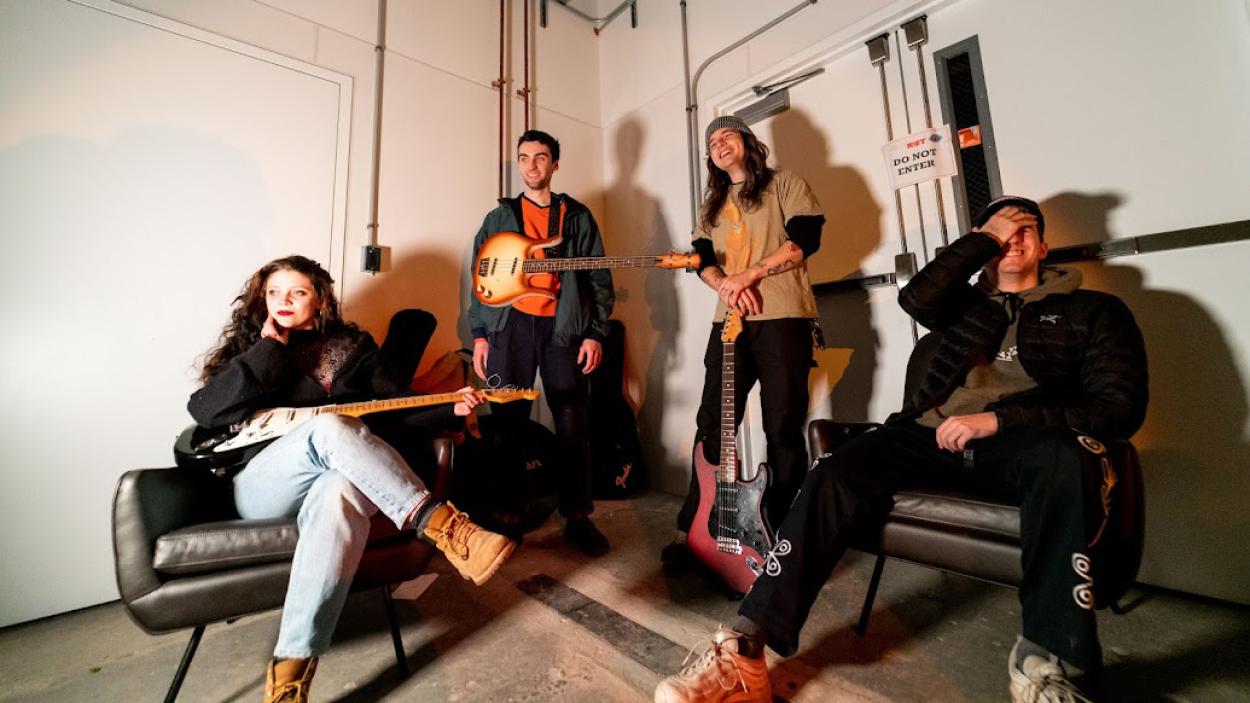 Twilight Series: Guy Ferrari (w/ Nate Gusakov)
Image

Guy Ferrari's driving force is the union of multi-instrumentalists Nina Cates and Zack James. Frequently appearing together on bass and drums in numerous bands over the years, their collaborations are inherently rhythm-forward, fusing songwriting curiosity with relentless syncopation. While Cates and James's appreciation of pop music shines through in glimpses, Guy Ferrari's music leans often into dissonant sounds and abrasive textures softened by wistful vocal delivery.   
https://www.instagram.com/guyferrari.info/ 
https://guyferrariband.bandcamp.com/ 
Opener: Nate Gusakov, 6:30pm
Singer-songwriter, banjoist, and Astrology Days Records recording artist Nate Gusakov lives with his family in the mountains of northern Vermont. He started picking clawhammer-style banjo when he was 20 years old, and he still does so with glee whenever the right porch or campfire presents itself. Recently he's begun exploring new directions in sound, wielding a solid-body electric banjo transmuted through pedal board and vintage tubes into a 5-string axe with capabilities that range far beyond his usual open-backed acoustic instrument. 
What's the genre? Well, it's folk music. Songs about the lived experience, both real and imagined. Neofolk when they're dark and honest, blues rock when they're gritty and loud, experimental old-time when they're just a fiddle and banjo bouncing happily along some old path by a creek, then darting suddenly off into an acoustic sonic wilderness... Maybe Greg Brown x John Hartford x Led Zeppelin x Mark Knopfler? 
Nate has performed from Alaska to Maine, both solo and with various bands at bars, weddings, listening rooms and festivals. He has shared the stage and studio with dozens of Vermont musicians including his dad David Gusakov, Jon Fishman, Jamie Masefield, Pappy Biondo, Moira Smiley, Lowell Thompson, Katie Trautz, Annie Nessen, Robinson Morse, Michael Chorney, Michael Roberts, Abby Sherman, The Suitcase Junket, Banjo Dan Lindner, and so many more. 
In addition to writing and performing music, Nate is proud to be a faculty member at the Middlebury Community Music Center in Middlebury, VT teaching banjo to students of all ages.  
---
Catch a concert on the lawn as the sun sets on City Hall Park with this beloved series that presents 16 free evening concerts on alternating Fridays and Saturdays featuring a  lineup of regional luminaries spanning the full spectrum of genres.
2022 City Hall Park programming is underwritten by the Pomerleau Family Foundation and The WaterWheel Foundation. Twilight Series is presented by Soundtoys with support from Aqua ViTea. 
Back to Events